Organizing corporate travel in USA may be a nightmare. There are flights to plan, accommodations to make, and a never-ending list of other expenses and tasks to keep track of because employees travel all over the world.
Most of the time, this is just tedious work. Which is unfortunate. because employees may find business travels to be both very productive and enjoyable. They ought to be a means to broaden your network, raise the visibility of your business, and establish enduring relationships.
Why then is planning travel such a hassle? How can you make it right? In this blog. We will go into the greatest problems with corporate travel in USA. We also explore how travel and spending management are interrelated and take a look at some helpful tools. Let's begin !!
What is Corporate Travel?
Simply explained, corporate travel is any travel made by team members or workers for the sole purpose of conducting business on behalf of the firm. A lot goes into planning a productive corporate travel program, corporate meeting travel, and conducting effective business trips.
Corporate travel is one of the most important aspects of a company's overall growth. With the rise in technology, communication has become easier and quicker, but there are still many reasons why companies need to send their employees on business trips.
According to Statista, the global corporate travel market was valued at $502 billion in 2017 and is expected to reach $622 billion by 2023. This indicates that there is a lot of potential for companies that want to expand their businesses globally.
Benefits of Corporate Travel
Builds Relationships With Employees And Clients
Corporate travel allows you to get out from behind your desk and meet face-to-face with clients or employees who may not visit your office often. This allows for more personal interaction between parties involved in business transactions, which can lead to better relationships overall.
It Saves Money On Transportation Costs
The cost of gas alone can add up quickly when traveling long distances by car or plane every day! By using public transportation options instead of driving yourself around town all day long (which would mean paying for parking fees too), you'll save money on gas while also getting exercise at the same time!
Corporate Travel in USA Visa Requirements
Visas are not required for short-term stays of less than 90 days for nationals of countries participating in the Visa Waiver Program. UK, Germany, Italy, and France are among the nations. Changes in regulations and procedures may affect visa needs.
USA Climate and Weather
Because of its size and latitude, the USA experiences a wide range of regional weather conditions, including desert, humid continental, humid temperate, humid subtropical, and tropical climates.
Hawaii has a tropical climate, whereas Alaska has an arctic one. Families frequently go to the United States during the summer (June to August), and many people also travel there during the winter to ski destinations like Aspen and Lake Placid.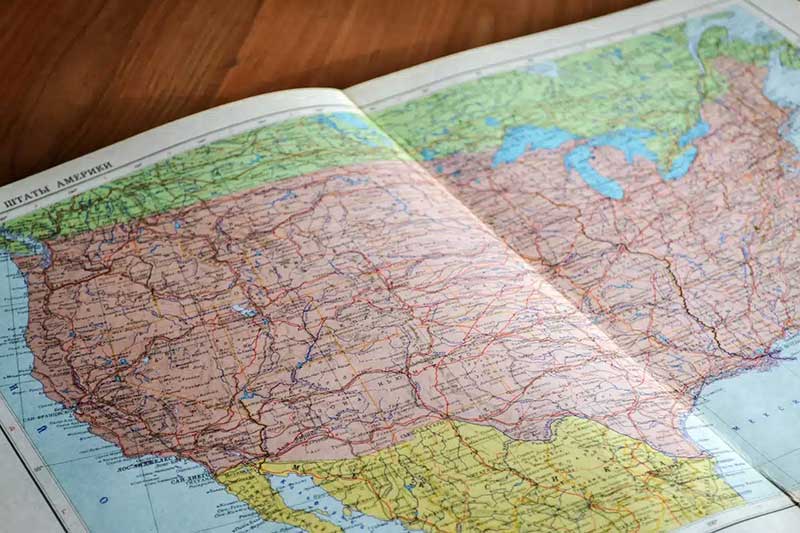 Easter, Spring Break, Thanksgiving, and Christmas are all popular seasons for Americans to travel locally, and during these times, hotels, attractions, and entertainment venues can become crowded. The winter months (November to February) are typically cooler in the northern part of the USA than the southern.
The Top Business Events in USA
Washington International Strategic Leadership Conference
Type: Business Services
State: Washington
Date: 11 – 13 June 2023
The New York Times Travel Show
Type: Travel & Tourism
State: New York
Date: Postponed
Travel Agent Forum – Las Vegas "TAF"
Type: Travel & Tourism
State: Las Vegas
Date: 31 March – 03 April 2023
International Entrepreneurship Finance and Business Management Summit "IEFBMS"
Type: Banking & Finance
State: Washington
Date: 24 – 27 April 2023
Global Travel Marketplace
Type: Travel and tourism
State:  Las Vegas
Date: 04 – 06 May 2023
The Energy Expo
Type: Power & Energy
State: Miami
Date: 22 – 24 August 2023
International Wireless Communications Conference and Expo "IWCE"
Type: IT & Technology
State: Las Vegas
Date: 27 – 30 March 2023
IMEX America
Type: Travel & Tourism
State: Las Vegas
Date: 17 – 19 October 2023
The Biggest Challenges for Corporate Travel in USA
Most businesses continue to struggle with employee travel. Even if you believe you have it under control, handling what ought to be straightforward duties could end up costing you a lot of time and effort. Some of the biggest challenges for corporate travel in the US include:
1. No Backup Arrangements For Crucial Events
When there's no plan b for your meeting corporate travel in USA or MICE Travel so you are not ready for changes that will inevitably occur in the future. Your team business trip's plans could be abruptly altered. Try to anticipate the changes, and if necessary, find detours. Keep a schedule of emergency hotel bookings, home-return alternate flights, and nearby airport limo services handy.
2. Taking Care Of A Lot Of Requests
Most businesses in USA have someone who is ultimately in charge of overseeing travel. There will be a dedicated travel manager in major businesses. However, this position frequently goes to a member of the administrative or financial teams in smaller, developing businesses. And it's just one of their jobs.
This becomes a significant hardship when business travel is frequent. You get requests from throughout the company, and sometimes they don't follow the right steps.
You receive emails from one team member and Slack messages from another. Even worse, you have employees visiting you in person, taking your attention away from what you should be doing.
3. Flight Delays And Changes
Stress brought on by last-minute communications regarding travel changes and delays in USA airports. Even seasoned passengers may become confused by this as they race around terminals in search of their updated trip plans and information.
Also Read: In The Age Of Disruption, How Do Business Travelers Feel?
4. Keeping Expenses Under Control
Travel is a necessary component of running a business and is thought to encourage expansion. But it can be difficult to tolerate the associated cost. But the cost of travel might swiftly increase as a result. Managers must then begin rejecting legitimate requests.
The experts at TravelPerk claim that one major factor in this is that companies don't allow themselves access to inexpensive goods. They utilize "business hotels", use travel agencies to make their reservations, and pay a premium in some cases.
In our personal lives, we scout out the best offers on websites like Airbnb, Booking.com, and Kayak. However, businesses in USA typically choose to overlook these due to convenience or a desire for more "professional" business solutions.
5. Planning Errors
Errors can be expensive. Your finance staff wastes time every time it needs to correct an employee's work. Unable to identify who approved of a specific expense? This is an issue because it occurs frequently. The same can be said for misclassified expenses, incomplete expense claims, and misplaced receipts. All of this causes an unpleasant back-and-forth that keeps your team from focusing on its actual work.
How To Make Corporate Travel  to USA Stress-Free For Your Team
There are many things on your employee's mind, including notes for a meeting that is coming up, a presentation, and more. Your top priority should be to make their work travel simple, especially when traveling internationally. You may achieve this without a business travel planner or advisor by following a few easy steps. Today, airssist offers you a list of tips for relieving your team's stress during business travel.
· Airport Concierge Companies
Airport concierge services were developed to make problems at US airports easier as comfortable and enjoyable as possible. With just a few clicks!! You can reach many service providers through airssist marketplace. Contact us
· Team Flexibility
Varied companies have different rules; some let employees reserve their flights and then get reimbursed. They also received business credit cards from others.
The goal is to give your team freedom, regardless of the type of business you are a part of. Giving them the freedom to travel at their convenience demonstrates your faith in them and concern for their comfort.
· Airport Meet and Greet Service
Airport Meet and Greet is among the nicest travel experiences you can provide for your employees. Meet and Greet at USA airports makes travel for your team quick, easy, and memorable.
airssist Meet and Assist can make your corporate travel in USA easier:
No More Long Queues
Dedicated Porter
Fast Track Your Passage
Buggy Transportation Between Terminals
Access To Airport Lounges
Owing to the ease with which millennials can switch professions nowadays due to a lack of job satisfaction, businesses have begun to place more emphasis on benefits to keep employees. Global corporate travel has now grown significantly dependent on travel incentives like Meet & Greet.
· Gain Entry To The Airport Lounge
Having access to the airport lounge is necessary for all types of travel, including pleasure and business trips. Free high-speed Wi-Fi, free meals, a workspace, a place to unwind, entertainment, and more are all included. The whole experience of your employees is improved by including an airport lounge in the Meet and Greet service. Book Now !!
List Of Top Busiest Airport In US
The busiest airports in America are those with the most flight and foot traffic, but which ones are the busiest airports? Let's see:
(The most recent enplaned passenger data from the US Department of Transportation are used to calculate annual figures)
Atlanta International Airport – 53.4 million PAX
Los Angeles International Airport – 42.8 million PAX
Chicago O'Hare International Airport – 40.8 million PAX
Dallas/Fort Worth International Airport – 35.7 million PAX
Denver International Airport – 33.6 million PAX
New York JFK International Airport – 31 million PAX
San Francisco International Airport – 27.7 million PAX
Seattle International Airport – 25 million PAX
Orlando International Airport – 24.5 million PAX
Las Vegas International Airport – 24.4 million PAX
Due to the availability of airssist services at the busiest US airport, you can depart the airport in minutes rather than hours, regardless of the volume of travelers, the size of the airport, or the length of the queues.
The airports are a real challenge for business travelers. Not because of the size, but because of the traffic congestion, unfavorable baggage management, and dozens of other issues that can be solved by booking airssist concierge services.
Arrive ahead of the crowds and Book Now !!