On November 8th, the USA announced that the ban on international visitors has been lifted. This announcement got everyone excited about finally being able to travel internationally again, and no destination is better than the sleepless city of New York.
New York is often described as the cultural capital of the world as countless monumental American cultural movements began in this historied city. New York became the center of stand-up comedy and jazz back in the 1940s and has maintained that status ever since. The city is also considered the dance capital of the world and is frequently the setting for novels, movies, and tv shows. The city that never sleeps is also frequently ranked as the top fashion capital of the world on the annual list compiled by the Global Language Monitor.
If you want to take advantage of the lifted travel restrictions, then you can't go wrong with visiting New York. A lot of things can be said about the city, but no one can deny the appeal of its prominent performing art, visual art, cuisine, sport, and music scenes.
If you decide to go to New York, then you're probably going to arrive at the John F. Kennedy International airport as it is the primary gateway into North America. Due to its status as a major gateway, it is also the busiest airport in the New York airport system, having handled over 62.5 million passengers in 2019 alone. Book your concierge services at John F. Kennedy International Airport today to speed up your journey through the airport and start exploring New York as fast as possible.
Transportation options in New York City
New York is one of the most prominent tourist hotspots in the world. You've just stepped out of the busy airport and are looking forward to visiting some of New York's most iconic attractions, such as The Statue of Liberty, the Brooklyn Bridge, or The Empire State Building.
Fortunately for you, there are multiple transportation options that can get you to your destination, all of which have their own advantage and disadvantages. Knowing all there is to know about possible transportation methods is vital to conserving your energy and ensuring that your time isn't spent on transit.
It can be difficult to choose the correct transportation method, which is why we've summed up all the details about every available option for your ease of access. Chauffeured limousines, taxi cabs, busses… decide which best suits your needs during your journey through New York.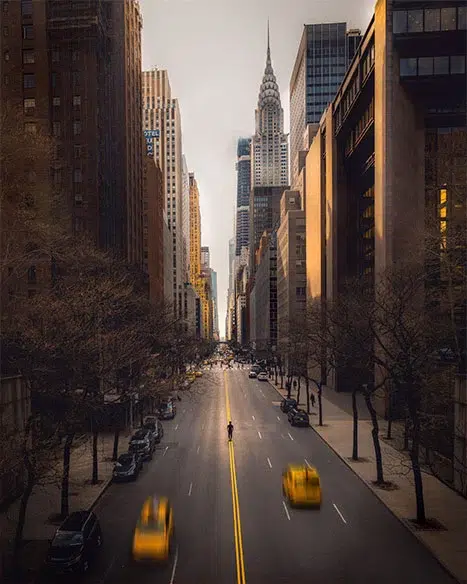 Chauffeured Transportation
Chauffeured transportation is safe, comfortable, fast, and convenient. You won't have to scramble to find transportation, and you won't put yourself at the risk of getting lost or falling for scams. Chauffeured transportation is more expensive than public transportation, but it also provides a hassle-free, reliable, and extravagant experience that will surely make your journey unforgettable. You can enjoy attractive and affordable prices by using our premium chauffeured transportation services, designed to serve VIPs, HNWI, and businessmen by providing luxury transportation options within New York. Treat yourself to an unforgettable experience today by using airssist!
Airport Transfer
Traveling is always accompanied by several stressful and exhausting procedures, both at the airport and during the flight. So, why don't you at least make your journey from and to the airport smooth and comfortable? Airport transfers offer timely pickups and drop-offs, expert drivers, and spacious vehicles so you and your luggage can fit comfortably. Airport shuttles are probably the best option for large groups of travelers as you can request different sizes of vehicles. Airport shuttles will always be ready to pick you up as soon as you arrive at the airport, ensuring your peace of mind and mitigating some of the stress of traveling. Enjoy unparalleled peace of mind by booking your airport shuttle with airssist!
Full day/Inter-city Transfer
There are countless charming tourist attractions and fascinating locations in New York City, and it takes a while to visit them all. Wasting your time tracking down transportation will ruin your plans and leave you exhausted. Our reliable service will help you stick to your schedule and maximize your time limits. Tour New York in a luxurious vehicle driven by expert chauffeurs who will accompany you for a full-day transfer according to the service period you book. We also offer special chauffeur services for seniors to assist them during their transfers. Book your full day or Inter-city transfer service today!
Corporate Transfer
Everything revolves around time according to businessmen, C-level executives, and corporate officials. Our service helps you save valuable hours and stick to your tight schedule while you run your business or attend corporate meetings and events in New York City. Our elite chauffeurs will drive you from one meeting to another by your choice of fancy business car option. Book your corporate transfer service in New York City today!
Public Transportation
Public transportation includes taxis, busses, trains and car rentals. The defining trait of public transportation methods is the low cost. Affordable pricing makes public transportation accessible and allows travelers to save money, but it doesn't mean that public transportation is without flaws. Public transportation offers no privacy or security whatsoever, and tourists are likely to get scammed if they don't know their way around the city. However, there is still a strong case for public transportation options being viable if you do your research.
Taxis
Taxis offer the most privacy out of all public transportation options. You can enjoy a private and quiet ride on your ride towards your destination without having to stop whenever someone needs to get off. However, taxis can be inconvenient because you need to wait for an empty car to get close, hail the cab and hope it stops, then haggle with the driver before getting in. Tourists should also research and beware of taxi scams because their limited knowledge of the city makes them the prime target to falling for them.
Busses
Busses are widely available around New York and offer safety in numbers, but they can be very confusing to tourists or people visiting the city for the first time. Despite being very cost-effective, they are probably not the best option if you're in a rush to get somewhere as busses make frequent stops whenever a passenger needs to get off.
Trains
Trains in New York are often crowded and hectic, but they are cheap, fast, convenient, and can get you almost anywhere. Despite their many advantages, they are probably the worst public transportation option for tourists as they run on a very tight schedule, have no assigned seating, and provide very limited luggage space.
Rental Cars
Driving a rental car is comparable to driving your own car back home. It's mostly safe, reliable, private, and you won't have to wait on transportation to arrive. However, driving around in an unfamiliar city can be confusing and exhausting, which detracts from the enjoyment and excitement of touring the wonderful city of New York.