Cyprus, a Gorgeous island nation in the eastern Mediterranean, is a sovereign state. There are primarily 3 airports that provide access to Cyprus, allowing visitors to see the island's glorious and vivid nature. The beaches, mountains, and gorgeous environments dispersed across a large area justify the adoration of the Greek Goddess of love. Here are airports you can fly into at any time, no matter where you happen to become from, making it easy to travel anywhere for a vacation, whether it be a honeymoon or a trip to see ancient ruins.
Top 3 International Airports In Cyprus
Cyprus is a tiny but self-governing island republic with just 3 major airports. Of course, there are additional airports, but they serve the military exclusively. More than hundreds of millions of passengers use airports annually because of their convenient connections to virtually anywhere in the world. What follows is information on top airports in Cyprus, which you should know before booking your next trip there.
Larnaca International Airport
Airport Code: (IATA: LCA, ICAO: LCLK)
Airport Name: Larnaca International Airport
Location: Larnaca
of Terminals: 1 Terminal
Distance from City: 4 Kilometers
The largest international airport in Cyprus, Larnaca international, is located around 4 kilometers southwest of the city. It is the primary point of entry to Cyprus, where the majority of international planes from around the world enter.
Back in that year, the airport underwent renovations to become the island's premier airport. It was necessary to increase investment in its services and amenities due to the annual influx of millions of tourists. Today, the Larnaca international airport is renowned for its modern architecture and infrastructure, its beachfront location, and its closeness to nearly all of the city's attractions. There are local bus and taxi services that facilitate travel to and from the airport for passengers.
Regarding the services and facilities offered by the international airport in Cyprus, 75 check-in desks and 21 boarding gates have made travel through Larnaca international airport more convenient for everyone. Additional amenities include parking, baggage carousels, restaurants, and pubs. Cut your time in half at busy Larnaca Airport by booking your concierge services with airssist today!
Larnaca Airport Services and Facilities
Financial Services: ATMs, foreign exchange, and the post office.
Business and Conference: A business center is located in both departures, and the Cyprus Airways Lounge is a refuge for business and conference travelers. Internet, photocopying, fax, telephones, and courier packaging and delivery are provided as services and facilities.
Shopping: Larnaca has a massive 6,000-meter duty-free retail complex with stores selling everything from luxury and sporting items to toys, stationery, electronics, cigarettes, and alcohol.
Catering: Restaurants include, among others, Cafe Ritazza, Costa Coffee, and Segafredo. Burger King delivers a uniquely American dining experience, while Yum Cha offers travelers a taste of the Orient.
Other Facilities: There is a VIP lounge, a medical center, and a family care room.
Wi-Fi: is accessible throughout the airport at no cost.
Statistics About Larnaca International Airport 2023
of Flights: 2,761
of Countries: 30
of Routes: 89
of Airlines: 27
Paphos International Airport
Airport Code: (IATA: PFO, ICAO: LCPH)
Airport Name: Paphos International Airport
Location: Timi and Acheleia, Cyprus
of Terminals: 1 Terminal
Distance from City: 6 Kilometers
Paphos International Airport may not be as large as Larnaca Airport, but it provides travelers with every facility and convenience. It is situated within a shorter distance of 6.5 kilometers from Paphos city and connects visitors to several of Cyprus most recognized attractions.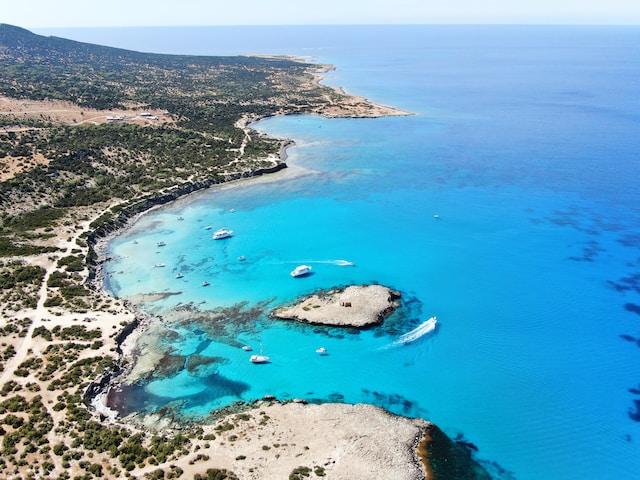 Tourist destinations such as Limassol and Coral Bay are only a few miles away. The airport's position makes it popular with people arriving on the island, and this is why Paphos international sees such a large number of passengers each year.
Paphos airport facilities include 22 aircraft stands, 28 check-in offices, one special baggage check-in, and seven gates.
Paphos Airport Services
Financial Services: ATM, Currency Exchange, and a Bank.
Business Facilities: There are no conference and meeting rooms available.
Other Services: include baby rooms, restaurants, cafes, and a duty-free shop, a gift shop, an assistance desk, a first-aid room, and services for elderly and disabled passengers.
Internet Access: cannot be accessed in airport public places
Statistics About Paphos International Airport 2023
of Flights: 1,542
of Countries: 20
of Routes: 43
of Airlines: 5
Ercan International Airport
Airport Code: (IATA: ECN, ICAO: LCEN)
Airport Name: Ercan International Airport
Location: Tymbou
of Terminals: 1 Terminal
Distance from City: 13 Kilometers
Ercan International Airport, the sole airport in northern Cyprus, is the third and final airport to reach the island. Even though the airport takes you to a distinct section of the island with a different culture and beauty, you can simply reach the airport from any city in Turkey or neighboring countries.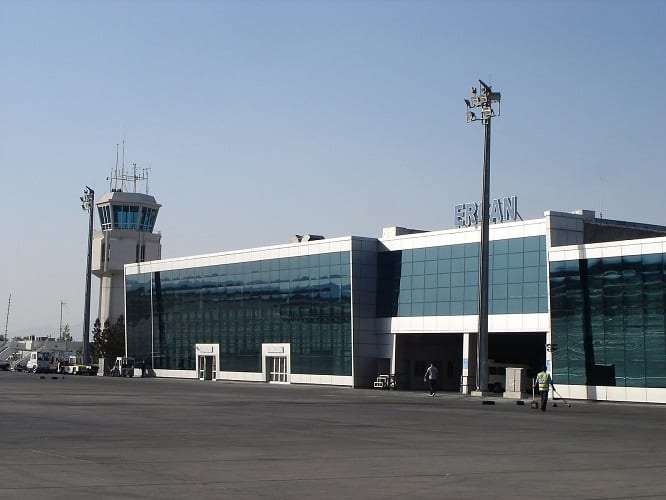 The flights to Ercan are inexpensive, allowing you to purchase airline tickets at a reasonable price.
The 2,75-kilometer-long runway at Ercan Cyprus Airport can accommodate 7 aircrafts. Travelers have access to check-in counters, security checkpoints, baggage storage areas, and other vital services.
Ercan Airport Services and Facilities
Financial Services: ATMs – 10 distinct banks offering machines.
Shopping: Airside duty-free shopping is accessible to leaving and arriving passengers, with two outlets at Departures and one at Arrivals. Prices are reportedly cheaper than Ercan's street prices. Additionally, there is a convenience store located on the landside in Arrivals.
Other Facilities: There is an Airport lounge, a medical center, a prayer room, and a baby care facility
Wi-Fi: At Ercan Airport, eateries located airside in Departures and landside near the arrival's hall exit offer free Wi-Fi.
Statistics About Ercan International Airport 2023
of Flights: 108 flights per week
of Countries: 23
of Routes: 55
of Airlines: 4
airssist Has Your Back No Matter What
The airport experience is fraught with tension and inconvenience due to the long queues, never-ending security checks, and many terminals. Most international airports are getting increasingly challenging for your arrival, departure, and transit flights.
However, airssist Airport Concierge Service has the answer!