The big move from Istanbul Atatürk Airport to the new Istanbul Airport finally happened on 29 October 2018. People can't stop talking about the massive airport.
Once IST (yes IST! It is now the code for the new Istanbul airport while ISL will be for Istanbul Atatürk Airport) is complete it will handle 200 million passengers annually. The airport is expected to be the world's busiest airport soon.
If you are excited to see the airport but aren't going to travel to the new airport soon, explore it in a virtual tour of IST with 360 – a degree interactive map.
General Information About The Airport
The Turkish project Istanbul's new airport, which debuted on October 29th, is anticipated to be finished in its entirety by the year 2028. By the time the four airport development phases are complete, Istanbul's new landing field will be the largest airport in the world, serving up to 500 aircraft on 6 runways and welcoming more than 200 million passengers annually!
The new, modern, opulent, and spacious airfield also boasts the biggest duty-free shop in the world and a striking control tower with tulip-inspired architecture.
It's the primary international airport servicing Istanbul, Turkey, is Istanbul Airport. It is located in the Arnavutköy district on the European side of the city.
Airport type: Public
Location: Arnavutköy, Istanbul
Hub for: Turkish Airlines, Turkish Cargo
of Terminals: one Terminal
Distance from City: 40 Km away from Taksim, 52 away from both Sultanahmet and Kadıköy
Distance from Important Locations
European Side
Avcılar – Istanbul Airport – 53 km
Gayrettepe – Istanbul Airport – 38 km
Taksim – Istanbul Airport – 40 km
Levent – Istanbul Airport – 36 km
Maslak – Istanbul Airport – 35 km
Asian Side
Kavacık – Istanbul Airport – 42 km
Üsküdar – Istanbul Airport – 47 km
Kadıköy – Istanbul Airport – 52 km
Pendik – Istanbul Airport – 73 km
You can gain insight from our earlier blog on the corporate travel management guide for 2023
Terminals
The world's largest terminal building is located under one roof at the brand-new Istanbul airport. Both domestic and foreign flights ate handled by a massive terminal spread across 5 piers. The Istanbul terminal is impressive, yet it is not as useful as one might anticipate. Three additional terminal buildings will be erected in the Istanbul airport complex in the upcoming years, enhancing airport operations.
Hotels
Istanbul has a wide range of lodging options, so you can choose whatever meets your needs and budget, from quaint, traditional guest houses to opulent, modern hotels, as well as hostels, motels, and pleasant B&Bs. Additionally, there are other places to stay distributed across Istanbul and close to the airport. Finally, YOTEL Istanbul Airport Hotel will provide you with an undeniably enjoyable stay if you choose to stay at the airport.
Facilities and Services
The new Istanbul airport offers first-rate services, cutting-edge security measures, high-tech facilities that enable boarding and checking-in operations, and environmentally friendly operations.
Therefore, there is no way you won't enjoy your downtime at Istanbul International Airport. Make the most of your time by checking out the amenities and services at Istanbul Airport!
Transit Assistance At Istanbul Airport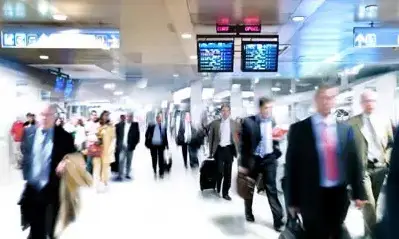 Since there are numerous connected flights through Istanbul Airport in turkey and a limited time to catch the next flight. Therefore, we have a dedicated team for transit flights to ensure that passengers arrive on time for the next flight and take advantage of buggy transportation to shorten the distance between terminals. Also, we also provide service for arrival and departure.
Parking
Do you have any concerns about leaving your vehicle parked at Istanbul's airport?
The largest multi-floor parking structure in the world, Istanbul Grand Airport (IGA) offers first-rate, exceptional parking services together with ancillary amenities like car washes, tire changes, etc. Parking at Istanbul Airport can hold up to 40.000 automobiles!
So, do you worry now?
VIP Terminal at The New Istanbul Airport
Any traveler can now easily make reservations for the VIP terminal facilities at Istanbul Airport through airssist platform. Also known as the private lounge, provides passengers with the most opulent travel conveniences at Istanbul Airport Terminal.
The VIP Terminal airport access for CEOs & VIP Business Travelers at Istanbul Airport offers personalized service in a welcoming environment, together with the highest level of flexibility and privacy.
Private Entrance
Chauffeur Transportation To Aircraft/ Tarmac Transfer
Private Suite With Bathtub
Dedicated Valet Parking
Major Formalities Are Done By Our Greeter
And More…
Top Lounges at The New Istanbul Airport
Turkish airline's main hub is Istanbul airport; thus, it should come as no surprise that the airline provides a wide selection of cozy and opulent lounges. Other airlines also provide their customers the chance to unwind and reenergize before takeoff. Consider your options as you pass through Istanbul.
Turkish Airlines lounge – departures
"Primeclass" Lounge
Turkish Airlines Lounge – Departures
Turkish Airlines Lounge – Arrivals
ISG lounge
Turk Hava Yollari Miles & Smiles Lounge
Turk Hava Yollari Business Lounge
IGA Lounge
Plaza Premium Lounge (Domestic Departures)
Plaza Premium Lounge – Marmara (International Departure)
Layover At The Airport
Do you have a lot of downtime at the airport in Istanbul? Make the most of your waiting time by exploring the stunning and unique Istanbul. How much time exactly do you have? What do you feel like doing? It will be difficult to choose in Istanbul because there are so many options.
Therefore, you can check out our suggestions for your layover at Istanbul Airport if you'd want to tour both the city and the new airport while there.
The Istanbul terminal building is the largest terminal (under one roof) in the world. It will be the first operation of the airport's 4 terminals once construction is complete. Consider all the possibilities you have, then!
1.      Ceaseless Shopping
You have access to a vast Duty-Free area with the most up-to-date digital infrastructure, as well as many retail stores. (if you find yourself short on cash, ATMs and Currency Exchange offices may be found all across the airport).
2.      Free Wi-Fi
Browse the internet, check your social media, or even do your most recent project for work.
3.      Art Galleries
Passengers traveling through the IST airport can enjoy two IGA photo exhibitions. A Victory Monument Exhibition recounts the history of the airport's construction, while the Ara Güler Exhibition showcases the photography of the eminent journalist and photographer.
4.      Spoil Yourself
During your downtime, indulge yourself in some SPA services at the airport and reward yourself with an exciting and soothing experience.  Additionally, there are showers available for you to freshen up.
5.      Prayer Rooms
At the airport in Istanbul, there are separate prayer facilities for men and women. You may relax or carry out your religious obligations in peace.
Airport Transfer Options From/To Istanbul Airport
Driving your Car
Locals in Turkey with a personal car can drive to the airport with the help of the driving directions provided by the new Istanbul Airport.
Take a Taxi
Taxis can be hailed to the center of Istanbul to TRY 200. But understanding the language of the driver and waiting for the taxi can be a hassle.
Use Public Buses
Public buses (New Airport Transit Bus) run from and to the airport. Traveling with luggage is always an issue in buses, along with the travel time.
airssist Chauffeur & Limousine
The most convenient and comfortable option would be to pre-book airssist Chauffeur & Limousine service. You will save money and time at the airport and have much-needed peace of mind. The multi-lingual driver will be courteous and professionally licensed. The driver/ chauffeur will take you anywhere to want to go to Turkey in the car of your choice.
Sail Smoothly Through the New Istanbul Airport (IST)
To enjoy a smooth journey at the new Istanbul Airport we suggest you use the airssist Airport Meet and Greet service. Is Airport Meet and Greet available for both Domestic and International flights? Yes! But how does it work? Read along to know how airssist offers you an enjoyable journey for your arrival, departure, and transit at IST.
Also Read: How We Assist High Profile and Royal Travelers
Airport Meet and Greet for Arrival flights
Personalized welcome with a name board at the start of the arrivals gate or the end of the air bridge (depending on the aircraft parking position)
One-to-one assistance
Fast-track through the airport formalities including Immigration, Security, and Customs
Dedicated porter service
Assistance with any unexpected travel-related issues
Airport Meet and Greet for Departure flights
Personalized welcome you at the Curbside of the Airport
One-to-one assistance
Dedicated porter service
Fast-track through the airport formalities
Priority check-in
Assistance with any unexpected travel-related issues
Airport Lounge access
Dedicated buggy service
Airport Meet and Greet for Transit flights / Transfer
Personalized welcome with a name board at the start of the arrivals gate or the end of the air bridge (depending on the aircraft parking position)
Dedicated porter service
One-to-one assistance
Fast-track through the airport formalities
Airport Lounge access
Dedicated buggy service for transfer to the departure gate
Travel Smoothly with VIP Airport Services at the New Istanbul Airport
And regardless of whether you are traveling on a business trip, on vacation, or are simply passing through, airssist VIP Concierge services at the New Istanbul Airport offer everything you could want, including meet and greet, private lounge, executive car transfer services, airport fast track and every other preference you can ever imagine.
airssist Meet and Greet- A pleasant airport journey
Currently, the new Istanbul Airport can handle 90 million passengers annually. This huge number is going to increase to reach 200 million once all four phases are complete. 90 million itself seems a gigantic number. So, if you're traveling from IST and want a smooth and enjoyable time then select airssist Airport Meet and Greet.
Easily reach your gate with dedicated assistance, fast-track through airport formalities, dedicated buggy, and airport lounge services all are included in the airssist Meet and Greet service. There is more than one Turkish Airlines Lounge for the ones traveling with Turkish airlines. If quick airport travel is all you want, then you can just select Fast-track service. Available for international and domestic, departure, arrival, and transit flights at IST.
airssist VIP Terminal Service at IST airport
For an unforgettable airport experience at IST, select the exclusive airssist VIP Terminal service. The exclusive luxury airport gateway is available at the new airport for VIP travelers. For passengers who do not like to travel through the main terminal, airssist VIP Terminal is a perfect service. They get to enjoy special attention and care as a personal assistant takes care of their airport formalities. They get to travel to/from the aircraft in a luxury chauffeur-driven limousine. This exclusive and premium service is available for passengers of all travel classes.
airssist Chauffeur & Limousine Services- A Comfortable Transfer To IST
If you have opted for airssist Airport Meet and Greet at IST, then the buggy service will take you wherever you want in the airport. But what about outside the new airport? The airport is at a distance from both the European side and the Asian side of the airport. Currently, only bus services are available from the airport, but it is not a convenient transfer option. Train and metro service will start in 2020. The best option is airssist Chauffeur & Limousine services. airssist offers you a comfortable and reliable airport transfer in the car of your choice. Read along our blog to know Why Should You Book airssist Chauffeur & Limousine Service?
For an extra layer of privacy, security, VISA assistance, or more, please ask for our available add-ons when making your booking,