A key aspect of traveling in business class is having access to opulent airport lounges. If you have the opportunity to travel in business class, you might also be able to take advantage of the business class lounge. You may have an attention to detail because you are an astute, seasoned traveler. This implies that every aspect of the trip, including the airport lounge, adds to the entire experience.
Therefore, we'll show you the top business class lounges in the world in this guide. Let's get started!
What Characterizes a Great Airport Business Class Lounge?
An airport lounge's major function is to offer a luxurious and private location away from the main terminal where one can enjoy a meal, sip a drink, get some rest, refresh up with a shower, or work quietly
The following traits can be found in a top-notch business class airport lounge:
Spacious And/or Uncrowded
Excellent Features Include Sleep Rooms, Shower Suites, And Comfortable Seating
Options For Thoughtful Food And Drink, Including À La Carte Dining
A Centerpiece, Unique Facilities Such As A Spa, Game Area, Or Cocktail Bar
Intimate Atmosphere
The Top Business Class Lounges In The World
We dug all of the major business class lounges throughout the world, weighted their advantages and disadvantages, and compiled the results into a clear list for you.
Although many of these choices won't come as a surprise, you might come across a few business class lounges that you weren't looking for!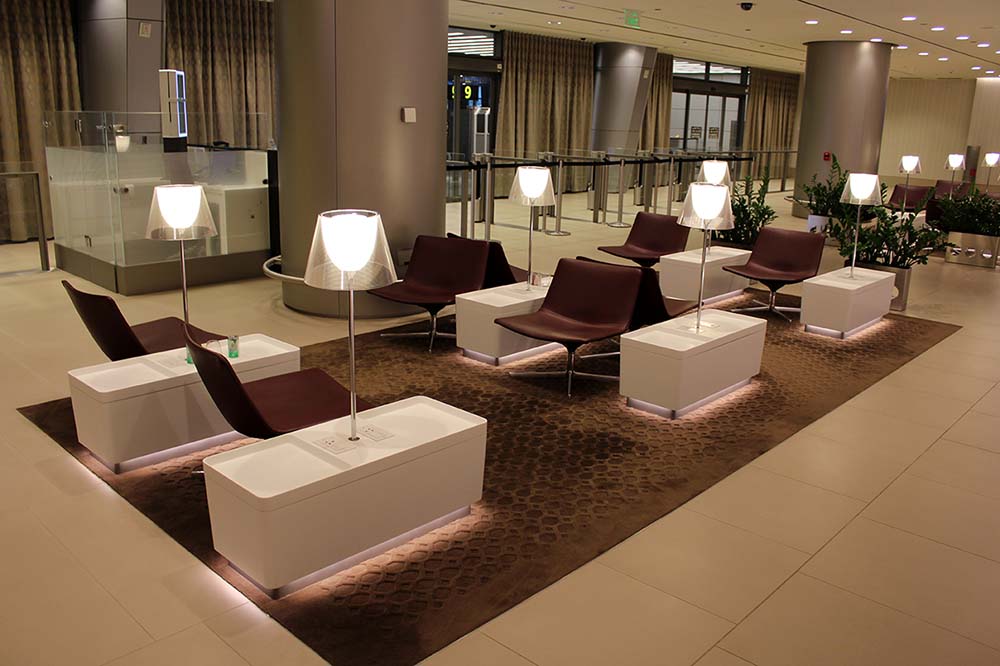 Qatar Airways Al Mourjan Business Lounge at Hamad International (DOH)
Location: Level 3
Opening Hours: 24/7
The renowned Al Mourjan Lounge on Qatar Airways is the best business class lounge in the entire world and is a true architectural masterpiece.
This enormous, 2.5-acre lounge, which can be found in Doha's Hamad International Airport (DOH), is a colossal room that is reminiscent of a museum because of its enormous ceilings and expansive real estate.
Numerous seating options are available, including lounge chairs, private pods, dining tables and chairs, booth seating, and private alcoves with sofas and recliners. This is true even when social distance is taken into account.
A full business center with 4 desktop workstations, office chairs, cubicles, and a meeting room are all available. There are also power outlets, lighting setups, magazine racks, and power outlets
A buffet restaurant with a cocktail bar serving premium drinks and an a la carte portion with sandwiches and light fare are the two dining options. The buffet restaurant offers a wide selection of cuisines and boasts stunning, voluminous ceilings.
Along with the restaurants, there is a location with shower facilities and quiet spaces for a little nap. AL Mourjan Lounge also features a superb selection of family-friendly amenities, such as family rooms with video game consoles and football, as well as nursing and changing areas.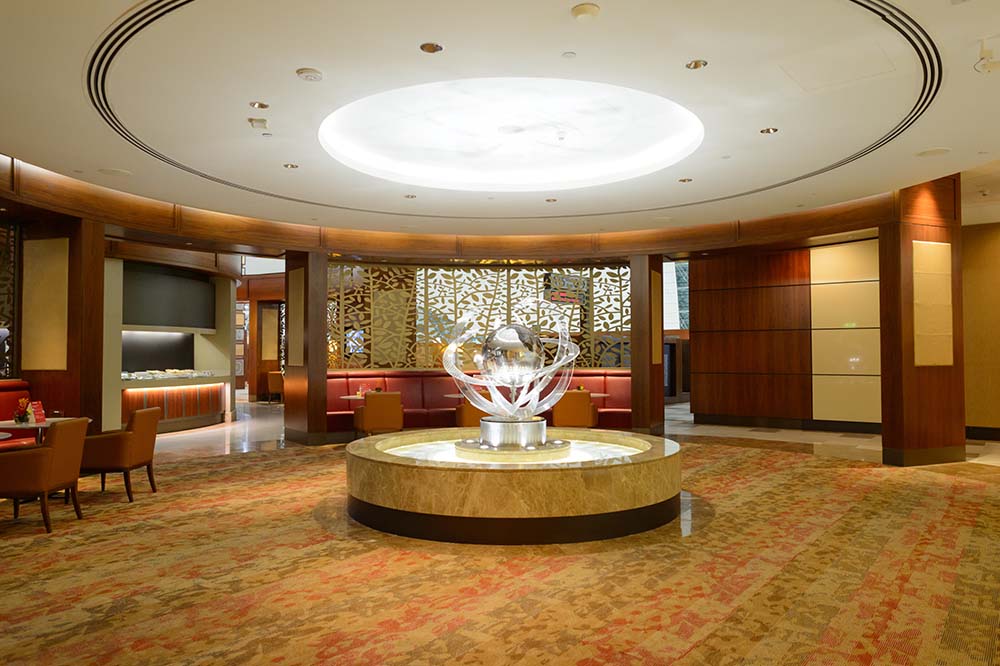 Emirates Business Class Lounge at Dubai international airport (DXB)
Location: Terminal 3, Concourse B (Inside Security)
Opening Hours: 24/7
In the same way that Emirates is renowned for its opulent first and business class seats, so too are its world-class lounges. At its flagship airport in Dubai (DXB), they are considerably more opulent.
Emirates offers a first-rate business class ground experience, complete with a separate airport entrance, check-in lines, security screenings, and more before you even reach the lounge. But as soon as you enter the lounge, you'll be astounded by the excellent amenities on offer. However, we'll do our best to describe everything even though its list of amenities is so long.
Starting with the seating sections, there are chaise couches for a quick nap as well as lounge chairs, armchairs, dining chairs, and tables. The lounge has wide areas, tall ceilings, and great people-watching because it is located above the main concourse.
The buffet is enormous and offers a wide variety of hot foods, including an Asian section, a Mediterranean section, a dessert bar, a Mot & Chandon Champagne lounge with small bites like pomegranate macaroons, a Costa Coffee bar, and several self-serve drinks, including liquor, fine wines, VOSS water, and even Häagen-Dazs ice cream.
A few business centers with desks, cubicles, and desktop computers are also available. More leather armchairs with ottomans and blankets can be found nearby.
Of course, there are shower rooms, a ton of restrooms, a spa (with a fee), book aisles, televisions, quick and unrestricted Wi-Fi, and a ton of power outlets so you can stay connected. The lounge offers a sizable play area for kids that is filled with video game consoles, arcade games, and other activities.
Turkish Airlines Business Lounge at Istanbul airport (IST)
Location: International Terminal, Up The Escalator, Opposite Gate E1
Opening Hours: 24/7
The Turkish airlines business lounge at IST is one of the favorite business class lounges in the entire globe. This new business class lounge at Ataturk surpasses the previous one with its enormous, outdoor space spread across two floors.
In contrast to the opulent previous lounge, Turkish Airlines ascends above the main terminal and displays functional design features. A stunning, self-playing grand piano, an open stage area with a sizeable projector screen, and a variety of comfortable seating options are some of the first things you will see.
A spacious area with plenty of storage lockers, Wi-Fi kiosks where visitors can obtain access credentials, a group of comfortable white leather chairs, and a business center with PC and Mac desktop computers, a printer, and shared workspaces can be found right next to the entrance. Additionally, there is a TV room with 12 televisions and additional lounge seats.
Turkish Airlines is renowned for its delectable cuisine, so you should head over to the food and beverage area right once. There are self-serve buffets, live cooking stations, and open kitchens in this lounge. The self-serve section opens with a massive salad bar, soups, Asian entrees, and a mouthwatering display of Turkish pastries.
In addition, there are staff-operated coffee and tea stations with Gaggia espresso machines, barbecues where you can order meat and side dishes, a self-serve beverage area, and much more.
The stunning shower rooms and restrooms in this lounge, which are marble-clad and include high-end amenities, are one of its attractions. Unbelievably, there are also about 15 private suites, each of which has a twin bed with plush bedding, a wall-mounted TV, a desk, a chair, and individually-adjustable air conditioning!
Air Canada Signature Suite at Toronto Pearson (YYZ)
Location: International Departures, on the upper level next to gate E77
Opening Hours: Daily from 6:30 a.m. to 11:00 p.m.
the signature suite, which is only available in Toronto (YYZ) or Vancouver (YVR), is Air Canada's premier on-ground experience. Even though the Vancouver location debuted before the Toronto site, despite being a little older, this location is still regarded as the best one.
Since this lounge is one of the most upscale lounges in the entire globe, the enjoyment just increases from there. A porter will first store your luggage for you.
Elegant fine dining seats, booths, and dining tables occupy the majority of the lounge. This lounge is on the smaller side, but due to stringent admission requirements, you'll rarely see more than 50% capacity.
There is a small buffet available to get you started, but you should leave room for the à la carte service, which features favorites like beef tenderloin with matchstick potatoes, lingcod that has been marinated in harissa, lamb shank that has been cooked in Moroccan spices, and vegetarian options.
A VIP private room, a leisure space with couches, recliners, square armchairs, and more are all located elsewhere in the lounge. The lounge was intended to be more of a fine-dining, privacy-first experience rather than a huge place with plenty of amenities, thus there are no family rooms, spas, or nap rooms.
There are numerous USB ports and power converters available everywhere. There are 6 separate restrooms, each of which is clean and has Molton Brown hand soap and lotion available.
Air France Business Lounge at Charles De Gaulle airport (CDG)
Location: Hall L of Terminal 2E
Opening Hours: Daily from 5:30 a.m. to 11:30 p.m.
The Air France Business Lounge at CDG is a brand-new, incredibly stunning place with incredible amenities that spans over 34,000 square feet. Keep in mind that only passengers flying outside of the Schengen region have access to this lounge.
A white marble bar with blue velvet seating surrounds it in the main leisure area, which was conceptualized by luxury French interior design expert Mathieu Lehanneur. The ceiling of the space is made of gold panels.
The Gourmet Table, where the chef freshly makes the meal of the day, is the focal point of the food and beverage section. The buffet should assist you to sate any additional cravings you might have even if it is by no means a complete à la carte menu.
In addition, this lounge features a 6,000 square foot wellness area with chaise lounges, mini-suites with curtained chaise lounges, a detox bar serving Evian infusions and detox teas from Palais des Thés, 2 private saunas, and boudoir shower suites. Additionally, complimentary 20-minute facial treatments from the Clarins spa are also provided in this area.
Along with other games, the kids' room features video game consoles as well. Free Wi-Fi, complimentary newspaper racks, and more are available as extras.
You Can Gain Insight From Our Earlier Blog About The 5 Benefits Of Airport Lounge Uses
Qantas Lounge at London – Heathrow Airport (LHR)
Location: Terminal 3, near gates 1 through 11
Opening Hours: Daily from 8:00 a.m. to 8:30 p.m.
There is nothing ordinary about the Qantas Lounge at LHR. Why? Because it is a private haven of luxury, bliss, and solitude while being a business class lounge. A bar and restaurant are located on the ground floor of the lounge, and the remaining seating areas and amenities are located upstairs.
The lounge is loaded with colorful, unusual furnishings, such as orange tufted couches, velvet armchairs with diamond stitching that look like they belong inside a supercar, dining tables, and chairs, and a large number of semi-private booth-style seats with towering privacy screens.
With à la carte dining, this lounge functions as a real restaurant, with dishes like eggs Benedict and salt and pepper squid. A gin bar serving some of the most inventive gin-based drinks around can be found on the same floor
The heated buffet area upstairs provides all the traditional morning fare, including sausage, scrambled eggs, and other items. Various other foods are also offered for lunch, including stew, rice, soup, bread, salad, fresh fruit, cakes, and more. You'll be better off staying in the restaurant downstairs, though.
A private toilet, floating marble vanities, quality ASPAR products, a walk-in shower with a rain shower head and shower wand, and all the other facilities need to freshen up are all included in the shower suites, which mimic those found in a 5-star hotel.
Other features include a play area for children, a quiet area with comfortable recliners and a fantastic view of the runway, among others.
With airssist, You Will Have Lounge Access At Any Airport
There are several options available for business class lounges all over the world. Therefore, why not enjoy an outstanding lounge experience in addition to your business class travel?
airssist offers airport business lounge access to passengers from all classes. Whether you are traveling first-class, business, or economy class, you can ask for airssist services to obtain access to the most luxurious airport lounges
Additionally, you may get regular information regarding the Meet and Greet Service packages to enter airport lounges by getting in touch with our team. Contact us