Business travel in the second-largest expense, and when it's well managed, businesses may generate $12.5 or more in additional revenue for every dollar spent on business travel. It is a well know commercial requirement that does have considerable expenses.
Todays business travelers want more flexible travel alternatives and simple self-booking. Companies aim to save expenses while increasing the return on investment of business travel. You can accomplish it by using managed travel programs or cutting-edge travel management tools.
You can reach all of these objectives and more with the aid of our corporate travel management guide.
What Is Corporate Travel Management?
Controlling, monitoring, and reporting on a company's travel-related expenses is the practice of travel management. Business travel can be handled by in-house travel coordinators, outside business travel firms, or administrative professionals in charge of running an office.
What Does A Travel Manger Do For Businesses?
Corporate Travel Manager is often an internal employee who oversees the travel program and all business travels for the entire corporation (An external resource who is not on staff is referred to as a Corporate Travel Agent).
They establish the company's travel guidelines, take care of duty of care and risk management, and assist the organization in successfully navigating international business travel.
Depending on the size of the company, an entire staff of corporate travel managers might be there. Their primary responsibilities consist of: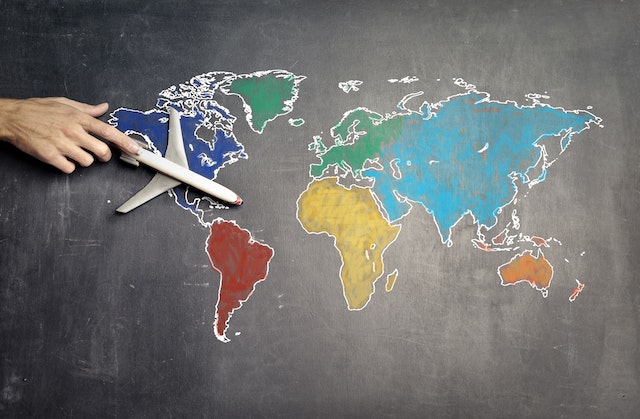 Arranging transport for passengers (not only c-suite executives, but employee in any role)
Assisting particular departments in tracking their travel expenses to stay below budget
Provide assistance with travel before, during or after a journey
Choosing and controlling any Travel vendors or tools used
Working to secure corporate discounts at hotels the business frequently utilizes
Organizing for a business group travel
Arranging ground transportation through trains or rented cars
Analyzing business travel spend or providing the CFO with travel expense reports for analysis
What Is The Procedure For A Travel Management Company?
A travel agency is not always a corporate travel management company. Additionally, software providers and online booking tools that belong under the umbrella of travel management offer self-booking platforms for businesses together with round-the-clock support.
A travel management business is in charge of either taking over all aspects of travel management or providing your staff with the resources they need to do it quickly. This may consist of:
Self-booking within policy
Group booking
Travel support
Travel spend reporting
Travel policy creation
Travel budget tracking
Tagging and categorizing travel spend
Common Issues with Corporate Travel Management
Endless email threads required for booking flights will wreck your day and your productivity.
By managing all travel preparations, booking requests, flight changes, and cancellations, the administrative personnel is overburdened and under stress.
The finance team is at the breaking point trying to figure  who is paying for what travels and why
A travel policy that nobody reads was created by the operations team in great detail.
The only method the finance staff has found to control spending is through micromanaging, which they do for every travel booking.
Travelers are unable to customize their trips as they would when making personal travel arrangements.
Travelers typically insist on booking online  since they feel obligated to make travel arrangements. outside of company policy
Also read: Travel Coordinators Guide for Airport Travel Arrangements
5 Steps To Managing Corporate Travel Effectively
Here are some tips for organizing business travel at any size of organization:
Pick a clever booking tool.
Ensure round-the-clock assistance for travelers
Create guidelines and approval processes.
Real-time organization and use of travel expenditure data
Increased coordination between administration and finance
1-      Pick a clever booking tool
It is not surprising that businesses from all over the world began to book trips on consumer websites with the introduction of internet booking services.
Guess what happens when a company uses consumer tools to make travel arrangements? Because there is no oversight, the CFO is obliged to play the bad cop. Every department's travel expenses must be managed by finance departments in an excessively conservative and controlling manner.
Without the technology, the transition is not possible. The first step in managing travel in the current day is to choose a solution based on simplicity, trust, and transparency.
The following are the key characteristics to watch for in your new travel management platform:
Trust your travelers to make the reservations they need, and establish rules and guidelines
having access to a single monthly trip invoice from a single vendor rather than having to search through multiple websites
All finance and administrative team members may easily access the information they need to track travel expenses and itinerary specifics using cost centers, tags, or labels.
Easy booking process that travelers love
Pick a tool that's smooth to use with consumer-level UX
Check to see that the platform you choose includes all of the options you may find online and that the business is committed to expanding its inventory.
You require 24-hour, in-language travel assistance so that staff members can receive assistance even when the internal administrative team is not available.
2-      Ensure Round-The-Clock Assistance For Travelers
Providing travel support 24/7 isn't easy, unless you're a vampire who never sleeps, The logical option is to rely on a partner that can give 24/7 travel assistance so you
3-      Create Guidelines And Approval Processes
Your business travel management procedures will benefit from automating your travel policy in three different ways. You improve and continuously uphold compliance with the travel policy.
Due to the fact that they are no longer booking every trip, the administrative team gains time. The freedom of making their own reservations is available to travelers.
Do some offices, departments, or travelers have special demands when it comes to travel? If this is the case, your travel policy will be more complicated because there won't be a single, company-wide policy.
4-      Real-Time Organization And Use Of Travel Expenditure Data
Travel management that works is not just for your administrative staff. Collaboration between your finance and operational teams while managing expenses is also crucial. Why? You want travel spend reporting that is not only precise but insightful!
You may create intelligent reports that will assist the finance team in finding trends, leaks, and chances for budget optimization by using cost centers, labels, and making sure all of your trips are accessible in the reporting tool.
5-      Increased Coordination Between Administration And Finance
The fact that modern travel management helps the entire organization is its most crucial component. We've discussed providing stellar support for travelers. We've talked about saving time as an admin. So, what about finance?
What the finance team needs and desires is as follows:
Streamlined approvals process
Make the administrative and financial teams' participation in the approval process as seamless as you can.
All invoices must be swiftly collected by the finance team so that spending can be reconciled and clear reimbursement procedures can be established. Utilizing a platform that complies travel expenditure into a single monthly invoice is the most effective method to do this.
Ability to track spend instantly
Consolidate all travel spending onto a single platform so that reports on what is being spent, by whom, and why can be produced (when using tags and labels). Determine whether you need to give them a monthly report or whether they prefer to download it themselves, just like with the bills.
Saving time is only one aspect of fixing travel. Platforms for booking travel from the 1980s and 1990s are still in use by many businesses. This indicates that they markup the inventory to a higher price than what a customer would pay. Reduce travel expenses and implement consumer-grade trip charges to impress the finance staff.
Arrange your Travel by Partnering with airssist
Let's bring it all together!
Many travel coordinators/ Manger are now praising airssist as the best assistance with a high score for airport services provided to business travelers worldwide because of the exceptional services it provides from the online booking platform airport concierge VIP services worldwide, Airport Meet & Greet, Chauffeur and Limo services, VIP terminal, and much more.
It's significant to note that the airssist has been nominated for the 2022 World Luxury Awards' Airport Concierge Services category. We're thrilled to let you know that airssist respects and appreciates your priceless time.
They are designed to improve a challenging airport travel and to customize the airport experience by transforming it into one that is genuinely luxurious in ease and pleasure.