Singapore Changi Airport, commonly known as Changi Airport, is a civilian international airport that serves Singapore and is one of the largest transportation hubs in Asia. Changi Airport is currently rated "The World's Best Airport" by Skytrax and has held onto that title for eight consecutive years. Despite being one of the world's busiest airports, the Singapore Changi Airport is also rated as one of its cleanliest.
The airport is located within its namesake district of Changi, at the eastern end of Singapore, approximately 24 km east from Singapore's Downtown Core at the Central Region on a 15-Square-Kilometre site. It Is the home base of the country's flag carrier, Singapore Airlines, as well as its cargo division Singapore Airlines Cargo, and its low-cost subsidiary Scoot. Due to Singapore's strategic location making it a favorable destination for high-demand layovers, the airport servers as a focus city for AirAsia, All Nippon Airways, and Qantas.
Changi Airport is operated by the Changi Airport Group, a subsidiary of the Ministry of Finance and the Government of Singapore. Singapore's elite airport has served over 68 million passengers in 2019, making it the 18th busiest in the entire world. Experience a warm welcome and avoid the massive crowds at Singapore Changi Airport by booking your concierge services with airssist.
All You Need to Know About Singapore Changi Airport
The Singapore Changi Airport houses four terminals, with the first three terminals being closely connected through the Changi Airport Skytrain and the Jewel Changi Airport. A fifth terminal is currently under construction and slated for completion by 2030.
Travelers can download the iChangi app on their smartphones to help them find their way through the airport; they can also access flight times, information about shopping and dinners, maps, updates, and enjoy free Wi-Fi. The iChangi app is available for download on IOS and Android devices.
Visitors can use a multitude of transportation options available at Changi airport, such as busses, MRTs, and taxis to travel around Singapore. Chauffeured transportation services, however, are the fastest, safest, and most convenient method of traveling around Singapore for tourists and visitors.
Bus Terminals are available at the basements of the first, second, and third terminals, providing direct access to Singapore. The most convenient bus for visitors is probably Bus #36 as it loops from the airport to the Marina Bay district, then Orchard Road, and back to the airport.
The MRT terminal is available in the basement of the second terminal, providing direct train access to all of Singapore.
Taxi stands are available just outside of Changi Airport's arrival terminals and can be reached immediately. Cab fares are metered, and extra charges can be added for airport access or traveling late into the night.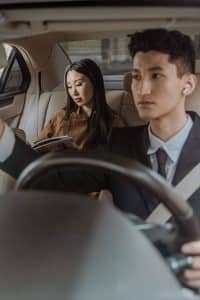 Chauffeured Transportation
Chauffeured transportation is safe, fast, and convenient. You won't have to scramble to find transportation, and you won't put yourself at the risk of getting lost or falling for scams. Our premium chauffeured transportation services are designed to serve VIPs, HNWI, and businessmen by providing luxury transportation options within Singapore. Treat yourself to an unforgettable experience today by using airssist!
Singapore Changi Airport isn't just the world's best airport, it is also one of its hottest shopping centers. The airport contains over 400 shopping outlets selling tax-free clothes, alcohol, tobacco, electronics, tech, and so much more. Singaporeans are so crazy about shopping that Changi Airport created a way for people to shop before even arriving at the airport. You can visit iShopChangi to select your desired items, so you can pick them up at your preferred departure terminal later.
Changi Airport also provides foods in different styles from all around the world. The airport houses more than 150 restaurants, boasting international delicacies, vegan foods, and Singaporean classics of the highest quality.
Waiting for your flight at Changi Airport can be a relaxing and luxurious experience if you decide to spend your time at one of its many magnificent lounges. Singapore Airlines, Cathay Pacific, and others run world-class lounges where travelers can relax, unwind, and enjoy the most amazing amenities. Access Singapore Changi Airport's luxurious lounges using our VIP Terminal Service today!
7 Amazing Facts About Singapore Changi Airport
1.      Changi Airport Has the Biggest Slide in Any Airport
Changi Airport visitors get a free ride on the 12-meter slide for every 10$ they spend at the airport. Visitors can also pay directly to use the massive slide, or they can try out the smaller slide for free.
2.      Changi Airport Offers Free Sightseeing Tours
Tourists can enjoy a free 2 – 3 hours tour of Singapore. This tour is called "The Heritage Tour" and it runs five times a day, going through Chinatown, Little India, Kampong Glam, and Merlion Park. An alternative option is the City Sights Tour that takes visitors through the Marina Bay Sands, Garden by the Bay, Singapore Flyer, and more breathtaking locations
3.      Changi Airport Houses a Jacuzzi and Swimming Pool
Visitors can pay a fee to enjoy the rooftop pool and jacuzzi while waiting for their flight. The pool is at the Aerotel Transit Hotel in the first terminal and is open from 6 AM to 12 AM.
4.      Changi Airport was one of the first to introduce the aerobridge
Before the introduction of the aerobridge, passengers were required to disembark the plane by walking down a shaky flight of stairs that is loosely connected to the aircraft. Changi Airport was one of the first airports to change its model of operation by introducing aerobridges, a walkway that links the terminal building to the aircraft. Aerobridges have become an industry-standard ever since.
5.      Changi Airport Was Presented an Award by Princess Diana
Princess Diana visited and toured Changi Airport in 1993; where she presented the airport's secretary, Mr. Tjong Yik Min, with an award after it was rated the 6th best airport by Business Traveller UK.
6.      Changi Airport Received an Award on its 25th Anniversary
Changi Airport was presented with the "Airport of the Year" award for the first time in 2006. Coincidentally, this award was in correspondence with the airports 25th anniversary making it a magnificent occasion
7.      Changi Airport Was Named "The World's Best Airport" 8 Times
Changi Airport won Skytrax's "World's Best Airport" award for 8 consecutive years, starting in 2013 and ending in 2020, losing only to Qatar's Hamad International Airport.