Planning a trip and traveling can be stressful due to the many issues that can come up along the way. Flight delays, long queues, security checks, and the increased difficulty of arrival, departure, and transit flights have made traveling difficult and draining.
There's nothing more annoying than being on time and still having to wait around for hours due to flight issues and delays. Baggage troubles are another major issue that travelers have to deal with because of the outdated, confusing and unreliable baggage handling system in airports.
All these problems and more can be solved by researching and making use of the concierge service that best suits your needs. Read on to get airssist's top tips for a convenient and hassle-free airport experience anywhere in the world.
1.    Preparation is key
Preparing for your flight is key to having a hassle-free airport experience, whether you're flying alone or with people. When booking your flight, always make sure to book your seats near the front of the plane to ensure that you'll be one of the last people to board the flight and one of the first to leave it. You can also book an overnight flight to speed up your journey as airports are less crowded at night. Do not cram your carry-on, instead fill it only with essentials like medication and personal items, as larger bags are more susceptible to gate-checks. We also advise you to do your research on the airport's layout a couple of days before your trip if you have the time to spare so as to reduce the chances of getting lost.
COVID-19 Preparation
Each country has its own COVID-19 regulations, so make sure you research the requirements of the arrival country/city. The best thing to do is to check all requirements with your airline in advance to know all details related to vaccines, PCR tests and quarantine procedures. This will help you avoid any surprise that can interrupt your trip at the airport.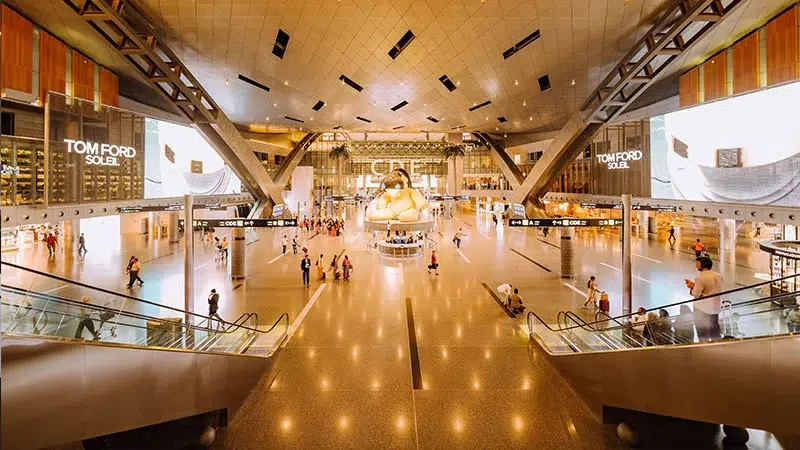 2.      Check-in online
Some Airlines are expecting more than 400,000 passengers during December.
We advise you to Check-in online before reaching the airport so you can spend less time on airport procedures and avoid waiting at check-in queues. Almost all airlines allow travelers to check-in online before they've reached the airport. Checking in online allows you to print your boarding pass and skip the check-in line at the airport. Most airlines have apps that can show passengers important information such as flight delays or cancellations. If you can't or don't want to check in online, we encourage you to arrive at the airport at least three hours before your departure time to avoid any delays. Arriving 45 minutes early at your gate can save you a lot of trouble as gates usually close 20 minutes before departure. Passengers who arrive late will not be allowed to enter even if they have checked-in for their flight. Skip the hassle and avoid the long queues by using our fast-track service!
3.    Book transportation ahead of time
Researching and booking your transportation can save you heaps of time. Instead of getting lost and waiting around for a taxi or bus, travelers should always book their airport pick-up and transportation using airport service providers such as airssist. Book your transportation now!
4.    Make use of Meet and Greet services
Meet and Greet services offer travelers an effortless experience on their journey through the airport. This service allows travelers to skip the long queues and endless security checks. It also allows travelers to access the VIP Terminal and provides them with top-quality privacy and security. airssist offers world-class Meet and Greet services in over 700 airports around the world.
5.    Give yourself extra time
A simple but effective way to ensure a hassle-free airport experience is to give yourself extra time. Arriving at the airport 2 or 3 hours before your departure time is a much better alternative to rushing through traffic and forgetting essential items or documents. Trust us when we say that the stress of being late is not worth it. You can also weigh your bags to eliminate the possibility of exceeding airline weight limits. This can save you a ton of time and ensure that you're not left scurrying to repack your bags at the airport.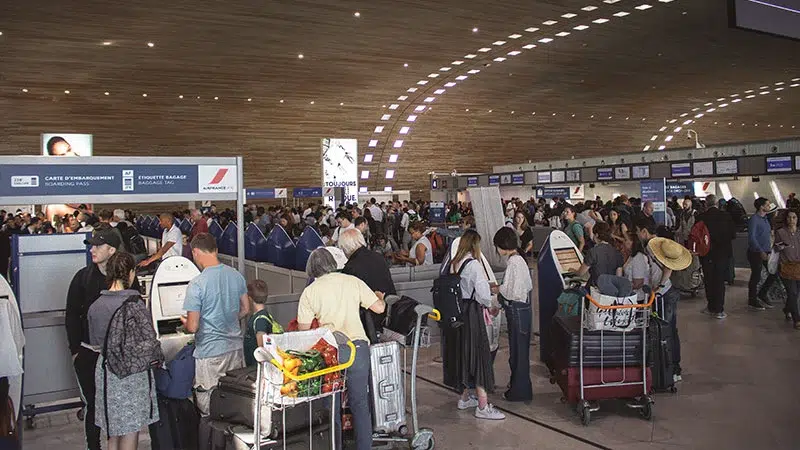 6.      Traveling with kids? We've got your back.
Traveling with children is an entirely different experience than traveling alone, as it is much more challenging and stressful. Packing in layers can save your life when traveling with kids. Keep any items that you'll need to frequently use at the very top of your bag so you can pull them out effortlessly. Read on for our top tips for traveling with children.
Pack a lot of snacks
Parents can easily entertain their children using a few simple tricks. The best way to distract them from the long flights and queues is to offer them a tasty snack! Treat them if they're behaving well and make sure that they don't get hungry during the long trip. Try to avoid sugary foods because nothing is worse than a hyperactive child on a plane.
Bring their favorite toys
Giving your children their favorite toys could be the secret to having an easy and relaxing journey through the airport. Children can usually keep themselves entertained if you provide them with fun toys to play around with.
Download their favorite movies and shows
Children's media is bright, colorful, and entertaining. Kids can spend hours upon hours watching the same episode of the same show, and every parent should use this to their advantage, especially on long flights. A little bit of screen time won't harm your children, but it can certainly be good for giving you a break during long stressful flights.
7.      Our Top Tip for a Hassle-free Airport Experience. Use airssist!
airssist is a digital marketplace for booking airport concierge services worldwide, airssist's award-winning service offers a comfortable and personalized experience for our customers. Booking an airport concierge service has never been so easy! Services include but are not limited to:
Meet and greet
Fast Track
VIP Terminal
Airport Assistance
VIP Services
Your luxurious airport experience is only a few clicks away. We designed our platform to enhance your airport travel experience by connecting you directly with the best airport concierge providers around the globe. Book airport services using our simple website or our user-friendly app available for both android and iOS.