If we ask you about memories of your last trip to a busy airport, what will you think about?
Tired people standing in long immigration queues after a 12-hour trip? Or a confused elderly lady struggling alone to go through airport procedures without a companion? Or maybe a hopeless businessman who lost a great opportunity after delays at airport queues, which resulted in missing his flight? Not to mention what you have witnessed in this long-crowded journey.
We know it's a bad memory though!
However, with the Meet and Greet service, you don't need to experience all these difficulties anymore.
Whether you are a first-time traveler, VIP traveler, business traveler, the parent of a child who is traveling without a companion, or an elderly who needs assistance, the Meet and Greet service became a necessity for you because it facilitates your airport experience and guarantees a quick, smooth, contactless, and safe journey at the airport, by having a personal assistant who speaks your language and guides you through the all procedures to fast track your airport journey.
Read airssist blog to learn more about the importance of the Meet and Greet Service.
What is Airport Meet and Greet?
Meet and Greet, or sometimes called Meet and Assist, is an airport service that helps travelers to skip long airport queues and forget the hassles of airport complicated formalities, by offering personal assistants, fast track services, airport lounge access, buggy service, porter service, and more…
So, basically, travelers won't need to think about where to go or what to do at the airport, as personal assistants will guide travelers through all airport procedures and make sure to escort and transfer passengers to the departure gate or the chauffeured car in case of arrival.
airssist provides its clients with a personalized Meet and Greet service that includes whatever they may need to have a smooth airport journey.
What Kind of Issues Does Meet and Greet Service Solve?

Airport procedures queues have always been unbearable. However, after the outbreak of COVID-19, a new essential COVID-19 check has been added to the lengthy process, making it out of control.The best-case scenario is that passengers will wait in queues for hours no matter how early they show up at the airport. If you think this is too bad, you'll have to know that some people miss their flights and stay at airports overnight while they book another flight the next day.
According to BBC, the long queues of the massive COVID-19 checks at Heathrow airport – one of the busiest airports worldwide – are causing travelers to wait on queues for up to six hours or more, as about 10,000-15,000 people arrive at Heathrow airport daily, at least more than half of them are facing 2-3 hours delays every day!
That was the case after the outbreak of COVID-19. However, even before the pandemic, statistics show that the crowding situation was not much better. According to ACI, 2019 – one year prior to COVID-19 –witnessed a 1.7% increase in passenger traffic at the world's top 20 busiest airports, as more than 1.5 billion travelers passed through the terminals of these airports.
It's easy to conclude that passenger traffic at worldwide airports is most likely to increase again at any moment once the pandemic is down. So, during and after the pandemic, travelers will always need the Meet and Greet service to complete their airport formalities quickly and without effort.
Overcrowded airports can cause several issues, but the good news is, all these issues can be solved through one service only, which is Meet and Greet. Check the airport issues that the Meet and Greet service can solve for you:
Worrying to be lost and confused at a crowded airport – our personal assistant will guide you through the airport formalities to get you from the airport door to the aircraft door (and vice versa) without any effort required from your side. Just follow your personal assistance without having any worries.
Waiting in long queues – do you have an important appointment soon after your flight? Whether it's a personal or business appointment, we all hate to be late and unpunctual! Or maybe you are free of any time restrictions but just get tired of waiting in queues for several wasted hours. The solution is simple, as the Meet and Greet service can fast-track your airport journey to get it done in minutes instead of hours.
Productivity and important business calls – When businessmen are on a business trip, it's all about work, even the time spent at airports waiting for flights is priceless. So, it is highly important to stay productive during this time or at least stay connected to make important business calls. Airport lounge access provides you with the perfect atmosphere for productivity and business communications during airport waiting time.
Transit trips with a short time between flights are stressful and confusing, especially if the transit airport is large with long distances between its sections. In such cases, our personal assistance and buggy services are essential to get on the next flight right on time.
Why to Choose Airport Meet and Greet Service?
Worldwide travelers trust and choose the Airport Meet and Greet Service for the following main reasons:
Luxury traveling for VIP people who enjoy a fancy lifestyle in every aspect including their airport experience.
Accelerating the airport journey to get in and out of the airport in minutes instead of hours.
Utilizing the time spent at airports in working or relaxing at airport lounges.
Have stress-free flights.
Avoiding crowds at busy airports.
What Does Airport Meet & Greet Service Include?
1- Airport Personal Assistance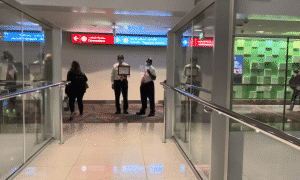 Whether you are on an arrival, departure, or transit flight, the Meet and Greet service will assist you in all steps and make sure you have a memorable airport experience.
A friendly greeter/personal assistant will be holding your name board and will meet you at the arrival gate if you are booking the service for arrival and transit flights, or at the airport entrance in case of departure flights.
The airport personal assistant will guide you through all airport procedures and help you to finish all the paperwork and formalities on the check-in, immigration, and COVID-19 test counters, without waiting in queues.
Not to mention that your personal assistant will take care of your luggage, so you won't have to worry about scrolling your trolleys or holding your heavy bags all over the way.
2- Airport Fast-Track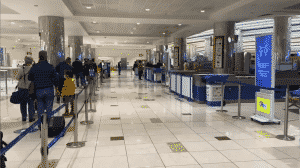 Airport queues are a major challenge for worldwide travelers, especially nowadays when people are avoiding crowds and looking for contactless solutions. That is why speeding up the various airport formalities and procedures is an important reason to consider the Meet and Greet service.
With the airport fast-track service, you will pass through unoccupied special lanes for check-in, immigration, security, and COVID-19 tests. You will also go through the airport clearance processes with ease, no delays, and without having to wait in the regular queues of the complicated airport formalities.
Your airport journey will be completed in a few minutes instead of several hours. No more waste of time doing nothing but waiting for your turn just to receive a simple stamp on your passport or have a quick security check.
Choosing the Meet and Greet service does not only fast-track your airport journey but also guarantees that you never get lost in huge airports, especially the busy ones that have many gates and directions.
Never miss this opportunity with airssist to turn your trip into an exclusive and comfortable experience.
3-  Buggy Transportation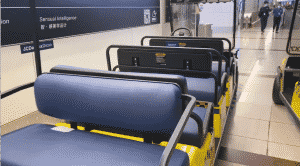 Buggy Transportation service saves your time and effort, especially at large airports that have long distances between check-in, customs, immigration, and gates.
Buggy service at the airport is usually included in meet and greet service upon request and availability at the airport. So, make sure that you request it when booking your service.
4- Porter Assistance
Undoubtedly, there is no need to struggle carrying your heavy luggage anymore. The porter service makes your journey effortless by providing a dedicated porter that will take care of your luggage at the baggage reclaim area. After collecting all your luggage carefully, the porter will deliver them to your car. Not to mention that before departure flights, the porter will be waiting for you with the personal assistant at the airport entry door, where all your bags will be unloaded from the car and taken to the scheduled check-in counter for drop-off.
5-Airport Lounge Access
Airport Lounge is the most luxurious part of the Meet and Greet service and your airport journey. The service provides you with an access to the airport lounge where you can sit and rest, enjoy some yummy food and drinks, take a quick relaxing nap, or maybe set your laptop and benefit from the waiting time in being productive or making business calls.
Airport Lounge access is included in the Meet and Greet service in most airports but not all of them, according to the airport facilities and service provider. So, sometimes you will need to request airport lounge access as an add-on to the Meet and Greet service.
airssist helps you to access the airport lounges of most of the airports worldwide.
Check out this video, which will show you all the steps in one minute.
Who Can Benefit from Airport Meet and Greet Service?
Luxury travelers.
Business travelers.
First-time travelers.
Children traveling alone.
People with disabilities.
How to Book Airport Meet and Assist Using airssist Platform?
Follow the simple steps below to book your service in less than a minute:
On airssist homepage at www.airssist.com  , please click on Sign In / Register.
Enter the email ID you would like to use to access your account and a password.
When the registration process is complete, you can start with booking airssist services. The first step is to choose whether you would like to search through our services by flight details or airport name. Then you will be directed to the booking page, which includes four main sections.
On the Flight Details section, you will be able to set and view your flight details i.e., flight date & time, flight number, and the operating airlines. Then, you will be asked to choose the service type and fill in passengers number, luggage count, and your ticket class.
On the Package section, you can view all the available packages according to the service type(s) you have chosen, check package details and prices, and compare between the several packages to finally select the most suitable one and move on to the last section.
You will also find different service providers with ratings on their services and multiple price ranges, so you can choose the best service provider for your trip.
On the Payment section, you can view your flight and invoice details, then you will have to fill up the lead passenger information. Later, you need to choose the preferred method of payment, whether by credit card or by an eWallet with an active balance and finally fill up your billing information to perform the payment action.
After making the payment, you will be directed to the Confirmation section, where you can view your booking ID, flight details, and fill in some info you need to provide any time before the flight, such as the information of all passengers, any optional extra documents, and the receiver/ transportation details.
After booking, there are certain pages that you can visit anytime. For instance, visiting the user's dashboard enables you to view your pending requests and upcoming bookings, while going to Booking History previews all of your bookings, you may use the available filtering options to choose among: All, confirmed, completed, pending, cancelled, rejected, or reported bookings. On the Wallet page, you may check your wallet balance or add balance to your eWallet, you can also preview all of your previous transactions to airssist.
After booking, you will receive a booking confirmation email from our team, including your greeter's contact information and service details. We will be ready 24/7 to receive all your questions in case you had any.
You can check this tutorial video to learn how to book the service using the airport name, or you can watch this video to know how to book the Meet and Greet service using the flight number.
Don't miss this opportunity to turn your trip into an exclusive and comfortable experience. airssist Meet and Greet service is tailor made as per your specific needs just to make any airport experience as seamless and stress-free as possible. Contact our team for inquiries about our services or booking process.