Countless Travel agents now are recommending airssist as the best assistance with a high score, due the outstanding services it provides from the online booking platform for booking Airport Concierge VIP services worldwide, Airport Meet & Greet, transportation service, VIP Terminal quickly and in a high quality, airssist is rated 4.9 on google and trust pilot and it's the winner of Best Airport Concierge Services Worldwide by the Luxury Travel Awards. 
How airssist can help Travel Agents?
Travel agents usually take care of organizing trips requirements like flights, hotels, transportation, insurance, visas and programs. But none of them covered the part of Airport Passage!
The airport Journey is where the trip starts and ends, so basically, it's the first and last impression your clients will create about your trip.
So make sure you catch a good impression by partnering with airssist.
You don't need to think of anything! You only need to inform us about the destination, number of pax, and date of trip, and our team will take care of booking the service for your clients on your behalf.
airssist services include Airport Assistance, Fast-track, Meet & Greet, VIP Terminal and Airport Transportation.
What is travel agents' concept?
Travel agents are persons who are engaged to meet their client's particular needs by selling and arranging various services for their travel to determine the best possible airport meet and greet, transportation, destinations, accommodations, etc.
Using travel agents minimize travel stress and booking time and expense reporting is tracked and far more efficient
7 Characteristics of a Successful Travel Agent
Knowledge
Professionalism
Enthusiasm
People Skills
Integrity
Resourcefulness
Empathy
What are airssist services?
airssist provides a multiple outstanding airport services in over 700 airports worldwide, as you can go into online booking platform for booking Airport Concierge VIP services worldwide, Meet & Greet, transportation service, VIP Terminal, Chauffeur & Limousine service with a highly qualified team in a fast track for a unique and relaxing traveling experience.
airssist provides more additional services such as:
VAT Reclaim
Visa Assistance
Personal Security Services
Multi-lingual greeter
Airport Lounge
Porter Service
Special needs & much more.
airssist Reseller Program
airssist reseller program enables users to sell our Meet and Greet, Lounge Access, and Chauffeured Transportation services to their clients at discounted rates in addition to a commission for every booking they make.
Travel agents and tourism companies can benefit from airssist Reseller Program.
The Commission details:
airssist reseller program offers a 5% commission rate for each booking made through a reseller account in addition to discounts on the service price. The total amount of commission is calculated and credited to the user's airssist wallet by the end of each yearly quarter to be used for future bookings.
10 benefits of using airssist / Why Travel agents should use airssist?
There are many advantages of using airssist, from cut quality to safety, airssist platform has a portal only for travel agents use, where they can do all their bookings easily and that it has a customer support team who can guide them through all the steps of booking and explain all services details and here we mention 5 advantages for travel agents using airssist :
Reseller Program
Offering travel agents clients competitive pricing quotes due to the discounts and commissions they will receive, which can set them apart from their competitors.
Cost-saving and increasing their profit margins to help their travel agency in growing faster.
Time-saving since travel agents don't have to handle providing any service themselves. It is airssist team serving their clients.
airssist cater to short notice request (Bookings can be made 2 hours prior to the flight) subject to availability.
airssist has multi-lingual greeter which can make clients at ease.
airssist is available at over 700 airports worldwide and 24/7 to cater to all client's requests. 
The services can be personalized for clients with the add ons available with the Meet and Greet package.
airssist is trusted by business travellers, CEOs and business.
How airssist could make travel agents client happy
It is important that travel agents focus on customer engagement and building trust, therfore with airssist services travel agents client will be definitely happy and satisfied due the below reasons:
airssist save customers' time, by making the booking process very simple and easy.
airssist is proactive with travel agent communication, and swift with its resolutions.
airssist is present wherever customers are to make their trips better, easier, less stressful, 
airssist deep personalization.
Who are airssist clients?
airssist has well trained and equipped service providers to ensure a unique experience to every kind of traveller, a fast track and comfortable trip for a business traveller/ executives in addition to serve groups such as families, in addition to serve elderly travellers, differently abled travellers, and unaccompanied minors.
At the end, airssist is an added value to travel agents' clients due the existence of a private Travel agents' portal for an easy access and booking for any service providers they prefer in addition to the well trained customer support team which will help them explaining all the procedures and existence services to achieve their clients' satisfaction
Who is this service for?
Meet airssist Travellers
At airssist we create the whole range of airport experiences in every city in the world, whether you are a big family who loves to travel together; a company who goes to a team building event;  a group of friends heading to the Brazilian Carnival; a couple who needs a romantic gateway;  a VIP or even VVIP, who needs extra privacy; a businessman attending a congress or just a traveller with his expected annual holiday- the point is, we got you covered with airport services and more…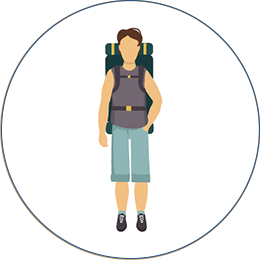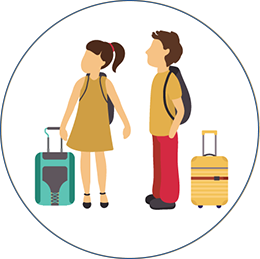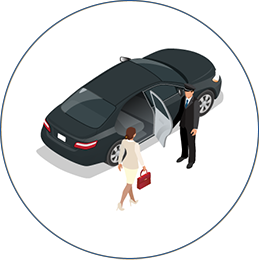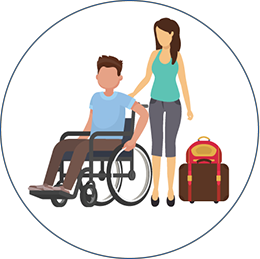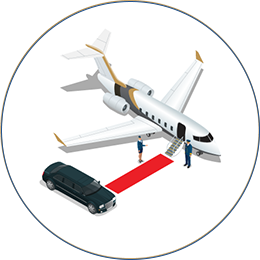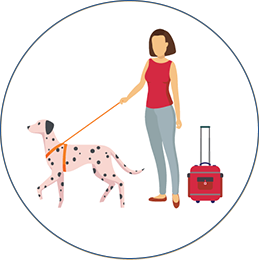 Wondering how it works? Click below to know how it is to be fast-tracked through airport formalities