Traveling by the airport might be stressful. The airport is probably the last place you want to spend your time because of the long queues, the heavy luggage, and complicated procedures.
The goal of the meet and assist airport service is to make travelers as comfortable and easygoing as possible by guiding them through all airport processes. Meet and greet service is more adapted to the dynamic challenges that come with modern-day international travel. If your priority is traveling in exceptional comfort, while still profiting from affordable prices, then airport meet and greet services are specially created for you.
You'll not only benefit from having a specialized greeter to guide you smoothly through all the airport procedures involved with arrival, transit, or departure. But you'll also enjoy a good number of perks when you use to meet and assist services.
What is Airport Meet and Greet Service?
Meet and greet, also known as Meet and assist, is an airport service that offers airport greeter, fast track services, access to airport lounges, buggy service, porter service, and more to help travelers avoid lengthy airport queues and forget the difficulties of tedious airport requirements.
Travelers won't have to worry about where to go or what to do at the airport since the airport greeter will lead them through every step of the check-in process and ensure that they are transferred to either the departure gate or the chauffeured car in case of arrival.
What Is Airport Assistance?
Airport assistance, also known as airport assistance services or airport assistance programs, refers to a range of services provided to passengers at airports to facilitate their travel and ensure a smooth and comfortable experience. These services are designed to assist passengers with various needs, including those with disabilities, elderly passengers, unaccompanied minors, or passengers requiring special assistance.
What is the meaning of "help at gate" at the airport?
At the airport, assistance is available to passengers who require support. This assistance can include guide assistance for individuals who are visually impaired or wheelchair assistance for those with mobility impairments. To receive this assistance, passengers must inform airline staff at the airport of their disability and their need for such services.
Who can Benefit from Airport Meet and Greet services?
Luxury travelers
Business travelers
First-time travelers
Children traveling alone
People with disabilities
Why Choose the Airport Meet and Greet Service?
Worldwide travelers trust and choose the Airport Meet and Greet Service for the following main reasons:
Luxury traveling for VIP people who enjoy a fancy lifestyle in every aspect including their airport experience.
Accelerating the airport journey to get in and out of the airport in minutes instead of hours.
Utilizing the time spent at airports in working or relaxing at airport lounges.
Have stress-free flights.
Avoiding crowds at busy airports.
What kind of Issues Does Meet and Greet Service Solve?
Airport procedure queues are always unbearable. long Queues have always been a problem.
You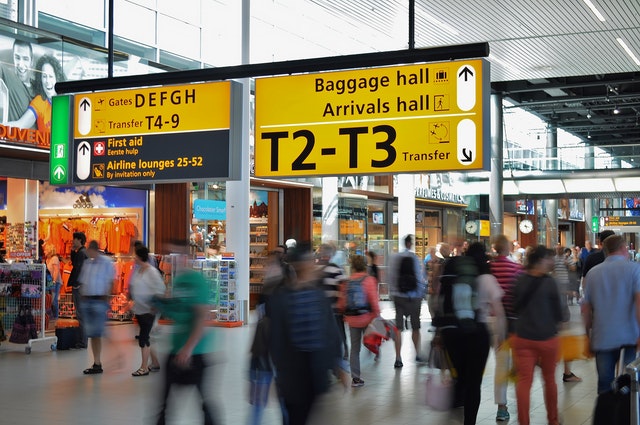 won't believe this, but you will be surprised at how many people delay their flights or stay at airports overnight to look for another flight.
After the pandemic is over, passenger traffic will increase globally. During and after the outbreak, travelers will need to employ the Meet and Greet service to pass airport formalities quickly and efficiently.
Many issues can arise from overcrowded airports. But the good news is that all these problems can be resolved by meet and greet services
Avoid getting lost
Don't worry about getting lost in a crowded airport. The greeter will help you navigate the airport formalities and get you to your aircraft door.
Skipping Long queues
Long queues and waiting in line. It's easy to find a solution with meet and greet services at the airport. They can speed up your airport journey and get it done In a few minutes, instead of hours.
Productive trip
With meet and greet services you can get access to the airport lounge provides the ideal environment for business communication and productivity during the airport wait time.
Avoid Transit difficulties
Only having a few hours between flights makes transiting difficult and confusing, especially if the distances between terminals are long. To ensure that you board your subsequent aircraft on schedule in such circumstances, meet and greet service help and buggy are essential.
What does airport meet and greet service include/ How Does it Work?
Airport Personal assistance/greeter
Whether you are on an arrival, departure, or transit flight, the Meet and Greet service will assist you in all steps and make sure you have a memorable airport experience.
A friendly greeter/personal assistant will be holding your name board and will meet you at the arrival gate if you are booking the service for arrival and transit flights, or at the airport entrance in case of departure flights.
The airport personal assistant will guide you through all airport procedures and help you to finish all the paperwork and formalities on the check-in, immigration, and COVID-19 test counters, without waiting in queues.
Not to mention that your personal assistant will take care of your luggage, so you won't have to worry about scrolling your trolleys or holding your heavy bags all over the way.
Airport Fast-Track
Airport queues are a major challenge for worldwide travelers, especially nowadays when people are avoiding crowds and looking for contactless solutions. That is why speeding up the various airport formalities and procedures is an important reason to consider the Meet and Greet service.
With the airport's fast-track service, you will pass through unoccupied special lanes for check-in, immigration, security, and COVID-19 tests. You will also go through the airport clearance processes with ease, with no delays, and without having to wait in the regular queues of the complicated airport formalities.
Your airport journey will be completed in a few minutes instead of several hours. No more waste of time doing nothing but waiting for your turn just to receive a simple stamp on your passport or have a quick security check.
Choosing the Meet and Greet service does not only fast-track your airport journey but also guarantees that you never get lost in huge airports, especially the busy ones that have many gates and directions.
Buggy Transportation
Airport buggy transportation, also known as airport buggy service or airport shuttle service, refers to the transportation of passengers within an airport using specialized vehicles called airport buggies or airport shuttles. These vehicles are typically small, electric-powered, and designed to transport passengers and their luggage efficiently and comfortably between different terminals, concourses, or specific areas within the airport premises.
Buggy Transportation service saves your time and effort, especially at large airports that have long distances between check-in, customs, immigration, and gates.
Buggy service at the airport is usually included in meet and greet service upon request and availability at the airport. So, make sure that you request it when booking your service
Porter assistance
Undoubtedly, there is no need to struggle to carry your heavy luggage anymore. The porter service makes your journey effortless by providing a dedicated porter that will take care of your luggage at the baggage reclaim area. After collecting all your luggage carefully, the porter will deliver them to your car. Not mention that before departure flights, the porter will be waiting for you with the personal assistant at the airport entry door, where all your bags will be unloaded from the car and taken to the scheduled check-in counter for drop-off.
Airport Lounge access
Airport Lounge is the most luxurious part of the Meet and Greet service and your airport journey. The service provides you with access to the airport lounge where you can sit and rest, enjoy some yummy food and drinks, take a quick relaxing nap, or maybe set your laptop and benefit from the waiting time in being productive or making business calls.
Airport Lounge access is included in the Meet and Greet service in most airports but not all of them, according to the airport facilities and service provider. So, sometimes you will need to request airport lounge access as an add-on to the Meet and Greet service.
3 ways to ensure that you never miss your meet-and-greet service
Your greeter is the key to expediting your whole airport journey smoothly and in the most hassle-free way possible.
Are you worried that you might miss your greeter at the airport? At airssist, we have often encountered travelers who sometimes feel it a hard task to find their greeter. Worry no more, as today we let you know ways that will ensure that you never miss your greeter.
Where to find your greeter?
For your arrival and transit flight, your airssist greeter will be waiting for you at the end of the aerobridge or the start of the arrival gate (depending upon the aircraft parking). For your departure flight, the greeter will meet you at the Curbside of the Airport.
Look for your name board
Your airssist Meet and Greet start with a personalized welcome, which means your greeter will be carrying a board with your name on it. All you've to do is look for the person carrying it.
They would be in a uniform or in formal
A pro tip, to find your greeter amidst an array of travelers, is to look for someone in a uniform or formal clothing.
4 things you need to know about your airssist greeter
Meet and Greet or Meet and Assist makes your airport journey fun, memorable, and stress-free. You've booked your airssist Meet and Greet online but now you are wondering what your airport greeter will do? A professional greeter is employed to make your airport experience smooth and swift.
He or she is a PRO with the airport layout and guides your way through the terminals using the shortest and fastest routes possible.
we tell you all about how an airssist greeter makes your life at the airport easy.
1- Native speakers make your airport experience relaxing
Wherever and whenever possible we will assign you a native greeter who knows your language. You longer must worry about juggling with foreign languages at the airport as the greeter will take care of all your formalities.
2- A friendly face before/after the flight
Imagine a warm welcome by your greeter after a long flight? Travelling can be tiring and hectic but if you have a friendly face who accompanies you throughout your airport journey, it becomes a pleasing and comforting experience.
3- Never get lost in the airport
Airports can be a confusing maze with so many gates and so many lefts and rights to make. But having a greeter who not only fast-tracks your airport journey but leads the way to ensure you never get lost in a big airport is a bonus to your airssist Meet and Greet.
4- A dedicated porter to take care of your luggage
You do not need to carry your luggage once you have seen your greeter. He/she will ensure that a dedicated porter will trolley your luggage along, as well as help you to collect it quickly from the baggage claim carousel.
With a greeter fast-tracking your travel journey and ensuring things are done right and on time for you, along with giving you that comfortable feeling in the middle of the airport, you are guaranteed to have a truly memorable experience.
How to Book Airport Meet and Assist Using airssist Platform?
Follow the simple steps below to book your service in less than a minute:
On airssist homepage at www.airssist.com, please click on Sign In / Register.
Enter the email ID you would like to use to access your account and a password.
When the registration process is complete, you can start with booking airssist services. The first step is to choose whether you would like to search through our services by flight details or airport name. Then you will be directed to the booking page, which includes four main sections.
On the Flight Details section, you will be able to set and view your flight details i.e., flight date & time, flight number, and the operating airlines. Then, you will be asked to choose the service type and fill in the passenger number, luggage count, and your ticket class.
On the Package section, you can view all the available packages according to the service type(s) you have chosen, check package details and prices, and compare between the several packages to finally select the most suitable one and move on to the last section.    You will also find different service providers with ratings on their services and multiple price ranges, so you can choose the best service provider for your trip.
On the Payment section, you can view your flight and invoice details, then you will have to fill up the lead passenger information. Later, you need to choose the preferred method of payment, whether by credit card or by an E-Wallet with an active balance, and finally fill up your billing information to perform the payment action.
After making the payment, you will be directed to the Confirmation section, where you can view your booking ID, and flight details, and fill in some info you need to provide any time before the flight, such as the information of all passengers, any optional extra documents, and the receiver/ transportation details.
After booking, there are certain pages that you can visit anytime. For instance, visiting the user's dashboard enables you to view your pending requests and upcoming bookings, while going to Booking History previews all your bookings, you may use the available filtering options to choose among All, confirmed, completed, pending, canceled, rejected, or reported bookings. On the Wallet page, you may check your wallet balance or add balance to your E-Wallet, you can also preview all your previous transactions to airssist.
After booking, you will receive a booking confirmation email from our team, including your greeter's contact information and service details. We will be ready 24/7 to receive all your questions in case you had any.
You can check this tutorial video to learn how to book the service using the airport name, or you can watch this video to know how to book the Meet and Greet service using the flight number.
Don't miss this opportunity to turn your trip into an exclusive and comfortable experience. airssist Meet and Greet service is tailor-made as per your specific needs just to make any airport experience as seamless and stress-free as possible. Contact our team for inquiries about our services or booking processes.