France is the home to some of the world's most beautiful cities and one place where many travelers get their first taste of it is at the Charles de Gaulle Airport.
Charles de Gaulle Airport (CDG) in Paris, France, is one of the most important airports in Europe. It's a central hub for Air France, and also serves as a hub for many other airlines including Delta, British Airways, and Emirates. This airport is an excellent choice if you are looking for a comfortable & convenient airport experience.
Who is Charles de Gaulle ?
Charles André Joseph Marie de Gaulle, frequently abbreviated as CDG and referred to as "le général" in France, was a French army officer. In 1958, President René Coty nominated him, President of the Council of Ministers (Prime Minister), bringing him out of retirement.
About Charles de Gaulle Airport
Airport Code: (IATA: CDG, ICAO: LFPG)
Airport Name: Paris Charles de Gaulle Airport
Location: Roissy-en-France, France
of Terminals: 3 Terminals
Distance from the City: 23 Kilometers northeast of Paris
Website: parisaeroport.fr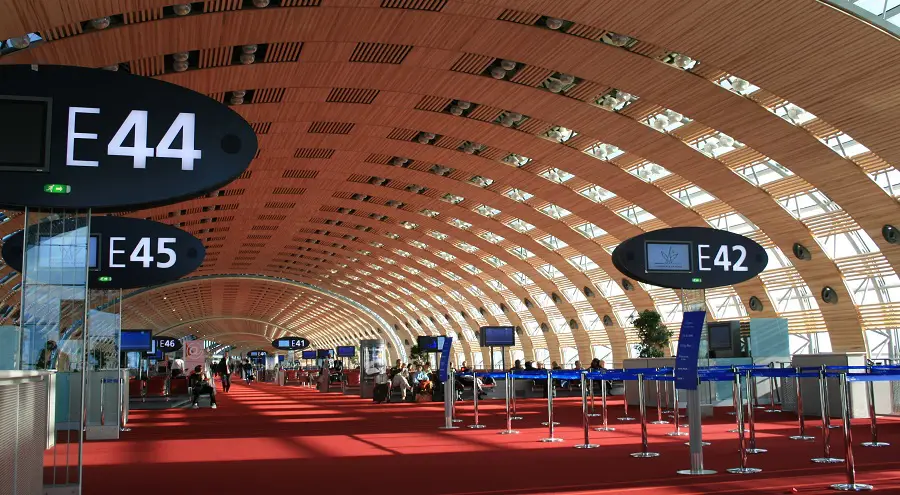 Paris Charles de Gaulle Airport, usually known as Roissy Airport or simply Paris CDG, is the primary airport servicing the capital of France and the largest international airport in France.
Charles de Gaulle Airport serves approximately 26,187,008 passengers annually, making it the ninth busiest airport in the world and the second busiest airport in Europe (behind Heathrow) in terms of passenger counts. The Charles de Gaulle airport is also the most active in the European Union.
How Many Terminals at Charles de Gaulle Airport ?
Most flights will arrive in Terminal 1 or 2, both of which are huge and complex mazes that you can get lost in for hours.
Terminal 1 was designed in the image of an octopus and consists of a circular terminal building that houses check-ins, security, and other functions.
Terminal 2 Air France primarily uses Terminal 2 at CDG, which is divided into several sub-terminals: 2A, 2B, 2C, 2D, 2E, 2F, 2G. Each sub-terminal serves different regions or types of flights. For example, long-haul international flights typically depart from Terminals 2E and 2F, whereas some regional and European flights may depart from Terminals 2C and 2D.
Terminal 3 is located 1 km away from Terminal 1 and consists of one single building for arrivals and departures. Terminal 3 has no boarding gates, so passengers are ferried to the aircraft stands by boarding buses.
How Long Does It Take To Get Out of CDG Airport
The time it takes to exit Charles de Gaulle Airport (CDG) can vary depending on terminal, purpose of visit (e.g., connecting flight, immigration procedures, baggage claim), time of day, and potential delays or lines.
Given that CDG is a large and busy airport, it is prudent to allocate sufficient time for the entire procedure. On average, it can take anywhere from 30 minutes to over an hour to depart the airport after completing the necessary procedures. Please note, however, that this is an approximation and individual experiences may vary.
These variables can affect the duration:
Customs and immigration:
If you're arriving from an international flight, you'll need to go through immigration control, present your passport, and potentially fill out customs declaration forms. The duration of these procedures can vary based on the number of passengers, the efficacy of the staff, and any other pertinent factors.
At the baggage claim:
After passing through immigration, you will proceed to the baggage claim area to retrieve your checked cargo. The time it takes for your bags to arrive on the baggage carousel can differ, and delays are possible.
Terminal design:
CDG is a large airport with multiple terminals, and the distance from your arrival gate to the departure varies. In some terminals, reaching the exit may necessitate a longer walk or transfer.
Security measures:
In some instances, additional security inspections may be required before exiting the airport. This may involve screening carry-on luggage or conducting random security inspections.
If you have connecting flights or time-sensitive plans after leaving the airport, it is generally advisable to book charles de gaulle airport fast track security to guarantee a stress-free journey and reduce anxiety
Things To Do at Charles de Gaulle Airport
Make the most of your time at CDG Airport by taking advantage of its many attractions and services. Here are a few of the best ways to make the most out of your time at CDG:
Shop 'til You Drop
If you have to wait for a while at the airport, you will be satisfied because there are plenty of places to eat and buy. The departures and arrivals areas both have a wide range of options, so you can pick the one that best suits your preferences. Numerous high-end fashion labels can be found here, including Gucci, Burberry, Bvlgari, Hermes, Hugo Boss, and the like.
Many 'Buy Paris Duty-Free' shops can be found in each airport; if you'd want to save money, there are also lots of other options. Almost every sub-terminal has a Marks & Spencers, 2F has a Travel & Co., and most have an FNAC, which sells electronics and movies.
Bringing Back Some Tasty French Treats
One of the most difficult parts of leaving France will be the food, and the Paris Charles de Gaulle airport gets that. Many delicious restaurants and shops selling their wares at duty-free prices can be found at the airport. La Maison du Chocolat, Ladurée (home of the world's best macarons), Petrossian (home of exquisite caviar), and Kusmi Tea are just a few of the renowned establishments you'll find in the airport.
Charles de Gaulle Facilities and Services
There is no shortage of services at the airport. In the majority of airport terminals, you may find the following:
Mail services
ATM's
Foreign Currency exchange
Toilets and baby care facilities
Rest areas
Workstations for a productive business or MICE Travel
Charging plugs
Tourist and general information centers
Smoking areas
WiFi free in all terminals
Is There Any Shower Facility at the Airport?
There aren't any showers in the terminal, but you can obtain lounge access, and many of them have showers. There is a motel with "Shower Only" rooms located inside the airport.
Then, What Are Charles de Gaulle Airport Passengers' Most Important Concerns?
It is always important to consider these things when planning your trip to Charles de Gaulle Airport
1- How Busy Is Charles de Gaulle Airport ?? , Which Makes It a Nightmare To Get Through
CDG Airport is probably the most well-connected in terms of available destinations. Its location and abundance of airlines mean that it's always crowded and full of travelers. The combination of its large terminals and chaotic layout makes it a nightmare for travelers who aren't familiar with its hectic environment.
Booking a fast-track service is the best way to expedite your journey through Charles de Gaulle Airport. You can either get lost in the crowded terminals and wait for hours at every procedure, or you can quickly escape the queues by gaining priority at all airport formalities.
Expedite your journey through Charles de Gaulle Airport by using airssist's VIP fast-track service!
2- Huge and Confusing, Which Makes It Easy To Get Lost
CDG Airport is a sprawling maze with two pairs of parallel runways. Giant airports are usually no problem for experienced travelers but there doesn't seem to be any strategy involved in the organization of this airport's layout.
Terminal 2 is split into 7 seven separate buildings which are named A to G. The gates are further divided into ports to add even more confusion. The airport is so large that terminals can be located miles away from each other.
Our professional greeter will escort you through the mazelike terminals and help you in overcoming the language barrier during your passage through Charles de Gaulle airport.
Hire a multilingual airport greeter to escort you through the airport today!
3- Chaotic and Cluttered, Which Makes It Stressful To Endure
CDG Airport is large, hectic, and confusing which makes it a stressful experience for any type of traveler. Different amenities and facilities are available based on which part of the airport you're in, and since the terminals are so large, it's a gamble whether or not you'll find what you're looking for.
Charles de Gaulle's massive size means that it has a lot of room for exuberant lounges to relax in while you wait for your flight. You can access the VIP lounge to rest and relax in a calm and peaceful environment away from the chaos of Charles de Gaulle's terminals.
Access the VIP Terminal and enjoy a stress-free airport experience now!
4- How Early To Arrive at Charles de Gaulle Airport
International flights departing from Charles de Gaulle Airport (CDG) require passengers to check in many hours prior to departure. The time you should plan to arrive at CDG depends on a number of circumstances, such as whether or not you have checked luggage, the policies of your airline, and the status of your flight check-in.
In most cases, it's best to get to the airport at least two or three hours before your international flight is set to take off. There will be plenty of time to complete check-in, get through security, clear immigration, and deal with any unforeseen delays or lines.
Last Words,
Charles de Gaulle Airport is a great choice for any travelers looking to fly through Paris, France.
The airport offers many amenities and services–including multiple shops & restaurants, an art gallery, and much more. So, if you are looking for a luxurious and Delightful airport experience CDG Airport is definitely worth considering!
If your requirement is different from the aforementioned services, we would be happy to hear from you and design a package meeting your travel needs.
Who is this service for?
Meet airssist Travellers
At airssist we create the whole range of airport experiences in every city in the world, whether you are a big family who loves to travel together; a company who goes to a team building event; a group of friends heading to the Brazilian Carnival; a couple who needs a romantic gateway; a VIP or even VVIP, who needs extra privacy; a businessman attending a congress or just a traveller with his expected annual holiday- the point is, we got you covered with airport services and more…