The United Kingdoms are a sight to behold during Christmas. Snow is falling, carolers are singing, and joyous families are rushing to the airports so they can go on their long-awaited vacation. UK airports are usually stretched thin during Christmastime as millions of vacationers depart for trips or return to enjoy the most wonderous time of the year with their families.
What to expect from UK Airports during Christmas?
Vacationers can expect a lot of things during their journey to the airport this holiday season. They can expect airports to be the busiest they've been in a long time, as well as the usual hassles and added security measures because of the pandemic.
Christmas falls on 25 December at the end of the week, the strain at UK airports happens immediately on the weekend preceding Christmas Day from 17 (Friday) December to 19 (Sunday) December.
Another surge in traveler numbers should take place over the weekend between Christmas and New Year's Eve, so plan your trips accordingly. Don't forget to use our Meet & Greet services to ensure a smooth and hassle-free airport experience.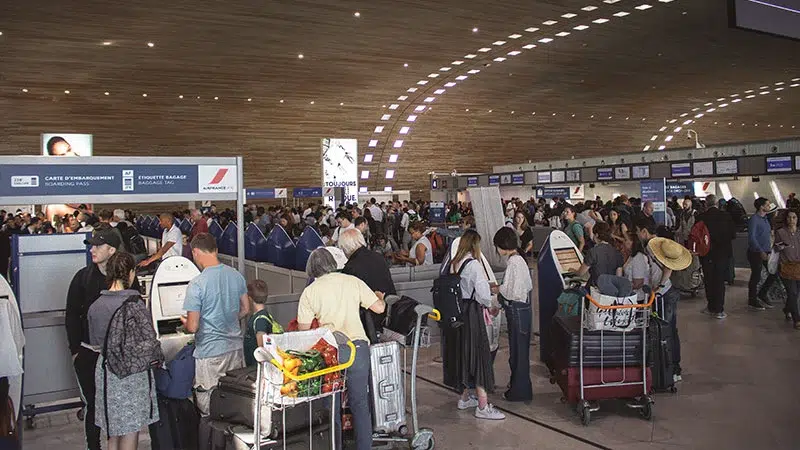 More about UK airports
According to data from previous years, Heathrow airport might experience the highest amount of activity on the 20th of December thanks to travelers and families departing or returning for the Christmas holidays. We expect over 250.000 passengers to go through Heathrow airport on Friday, which is liable to make the journey slower. There is nothing more annoying than being on time and still having to wait around for hours because of large crowds. Fortunately for you, our fast-track service allows you skip the hassle and avoid all the long queues.
The closure and reduced services of the Heathrow Express and Transport start on the 24th and end on the 26th of December. This is bound to create a major hindrance for any travelers looking to acquire transportation from the capital to the airport and vice versa. There is, however, a way for travelers to stick to their schedules without sacrificing their comfort. You can still reach the airport or get to the capital with time to spare using our luxurious chauffeured limousine services.
As for Gatwick and Sussex airport, Sundays are shaping up to be the busiest days, with London's airports expected to handle more passengers than most other cities in the world this holiday season.
7 Best places to visit and things to do during Christmas in the UK
1- Yorkshire
Yorkshire is, without a doubt, one of the most beautiful locations in the UK. It boasts a unique blend of natural beauty and historical significance, and its various festive attractions provide families with lots of activities to take part in during their stay. Don't forget to visit the picturesque snow-covered Yorkshire Dales and the many museums and markets. Take the family out and marvel at the giant Christmas tree in St. Helen's Square while making precious memories in the process.
2- Lincoln
A medieval city straight out of your dreams (or nightmares). This city is a hotpot of UK history and culture. Travel back in time by visiting the locales that have been preserved for thousands of years. Visit the magnificent Lincoln Cathedral, explore the vibrant Norman Castle, and tour the magical Christmas market, which showcases Lincoln's fine cuisine and local crafts. Lincoln is one of the most spectacular and serene settings in the entire UK, and you should try to spend Christmas there, at least once.
3- London
London is a beautiful city year-round, but it shines during Christmas. Downtown London is a winter wonderland straight out of movies and fairytales. Travelers should visit the magnificent Hyde Park and try out its various rides, skate on the ice rink, and possibly catch a show at the circus. West Sussex offers a more old-fashioned take on Christmas. Families can spend a comfortable afternoon drinking tea and listening to the remarkable Christmas carolers while huddled around a fire.
4- Edinburgh
Edinburgh is probably the most atmospheric and visually enticing city in the UK. Christmas brings out the best in Edinburgh by drenching its beautiful streets and fabulous markets with festive lights. Vacationers can enjoy the city's breathtaking architecture from the wonderous Edinburgh eye, and they can skate to their heart's content on the outdoor ice rink. Edinburgh is probably what Santa's hometown would look like if he were real.
5- Bournemouth
Even though it is more commonly known as a summer getaway, Bournemouth comes to life in the holiday season in an extraordinary way. The twinkling lights set a unique mood and spread a Christmas cheer that you won't experience anywhere else. Vacationers can enjoy all kinds of local food, drinks, and crafts at the Bournemouth Square Christmas Market. Be sure to visit Bournemouth's dazzling hillsides at least once during your stay.
6- Southwold
Seaside destinations aren't usually associated with Christmas vacation destinations, but this quaint town doesn't need a bright sun or the summer heat to come alive. Southwold is home to famous hotels and restaurants that have been around for years. Vacationers should make it a goal to visit The Swan or The Crown, two of the most popular hotels featuring an alluring combination of English culture and history perfect for the holidays.
7- Mousehole
The home of Christmas lights in the UK. This scenic village springs to life in the middle of December when the Christmas lights are draped over every street and corner. The switch-on is an event like no other, featuring music, sea serpents, and boats that bathe the village's harbor in a magnificent glow. This alone makes Mousehole a perfect place to visit for your Christmas vacation.
Interested in visiting a location in the UK for your Christmas holiday? Book our concierge services at Heathrow Airport today and make your journey a memorable experience.
Fun facts about Christmas in the UK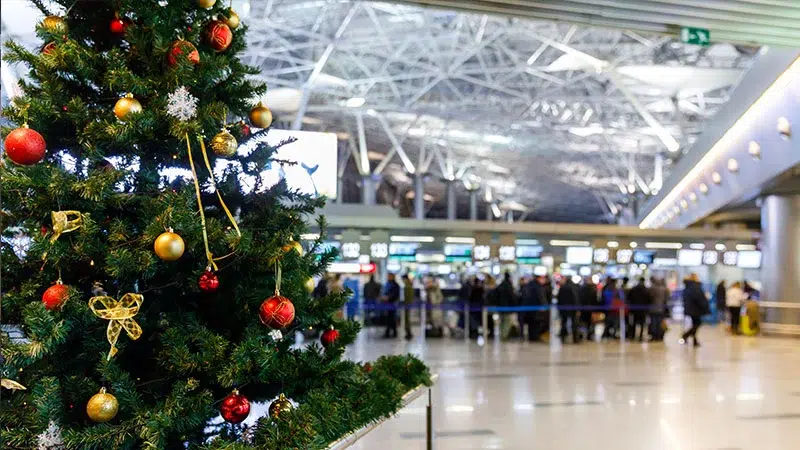 Like most other places in the world, Christmas in the UK is a time for families to unite and celebrate together. Most families decorate a Christmas tree together and place it in their house. The UK's very own Prince Albert, Queen Victoria's husband, popularized the act of decorating a tree.
Most UK cities are decorated with festive Christmas lights. Usually, it is a famous person who switches on these lights. Thousands of people flock to the UK to experience the "switch on" in various cities, villages, and towns.
A lot of churches in the UK have a "Carols by Candlelight" service where the church is lit up strictly by candles, giving visitors a unique festive experience when they listen to the awe-inspiring Christmas carolers.
Wassailing is an old Anglo-Saxon custom that isn't often heard about today. The Wassail was a drink made of mulled ale, curdled cream, roasted apples, eggs, cloves, ginger, nutmeg, and sugar. It used to be served in big bowls covered with silver and was favored by rich people who drank it on all the 12 days of Christmas. Another custom that you might have heard of is Boxing Day, an ancient holiday that is now a tradition in many countries.
Lunchtime is when people eat the main Christmas meal in the UK. It's usually a roasted turkey and vegetables served with cranberry and bread sauce. The most popular dessert is Christmas Pudding, a traditional end to a traditional Christmas meal.
British people say that you need to take down your Christmas tree and decoration within 12 days of Christmas, or a curse of bad luck will befall you for the entirety of the coming year. This is certainly a unique superstition and probably a procrastinator's worst nightmare, making the UK an unfavorable holiday destination for procrastinators around the world.