Your Guide To Dubai, United Arab Emirate
Dubai is nestled between the calm southern Gulf Waters and the bright desert. A business trip to Dubai won't involve any difficult situations for you, whether they be language barriers, cultural differences, communication issues, or airline pesters.
Top Industries: Petroleum industry, Financial Services and Construction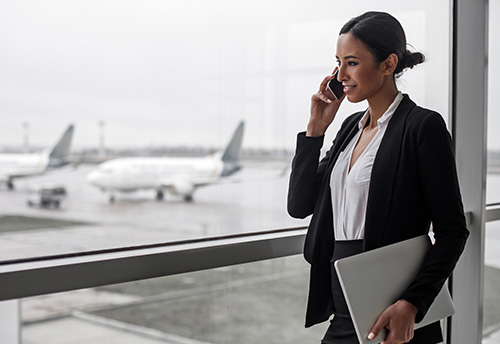 Dubai Overview
Dubai is the Capital of the Emirate of Dubai and the most populated city in the United Arab Emirates (UAE). The city, which began as a modest fishing community in the 18th century, expanded quickly in the early 21st century with a concentration on tourism and luxury. It now has the second most five-star hotels worldwide and the world's tallest skyscraper, the 828 meters tall Burj Khalifa.
Additionally, it's a significant hub for cargo and passenger transportation worldwide. Oil wealth sped up the city's development, which was already a significant center for commerce.
What Makes Dubai A Hub For Corporate & Business Travelers
Some of the brightest minds from across the world attend the numerous business summits and conferences held in Dubai. The city is ranked in the top five global centers for trade, logistics, tourism, and finance.The UAE is a very well-liked nation among businessmen due to its rapid economic growth and development. Dubai is the most well-liked. Dubai is a prosperous business center because of its world-class lifestyle for businesses and investors.
Business Exhibitions & Events That Happens In Dubai
Gitex Technology Week
Type: IT & Technology
Yearly Date: 16 – 20 Oct
The Big 5
Type: Building & Construction
Yearly Date: 05 – 08 Dec
Arabian Travel Market Dubai
Type: Travel & Tourism
Yearly Date: 01 – 04 May
Are you Traveling To Dubai For A Business Trip?
Dubai International Airport
Airport Code: (IATA: DXB, ICAO: OMDB)
Airport Name: Dubai International Airport
Location: Al Garhoud District, Dubai, United Arab Emirates
No. of Terminals: 3 Terminals
Distance from City:  14 Kilometers
Dubai International Airport is the primary international airport serving Dubai, United Arab Emirates, and is the world's busiest airport by international passenger traffic. It is also the nineteenth-busiest airport in the world by passenger traffic and the airport with the highest average number of passengers per flight
Business Facilities at Dubai International Airport "DXB"
Free Wi-Fi Across All DXB Airport
Currency Exchange & ATMs In All Terminals
Business Center For Those With Some Serious Work To Do
Private Meeting & Conference Rooms
Refresh Yourself With Free Shower Facilities Located In Terminal 3
Emergency And Medical
Meet & Greet Service at Dubai International Airport "DXB"
The goal of the Meet and Assist service at Dubai International Airport is to make Corporates Travelers, C-level Executives, and VIPs as comfortable and easygoing as possible by guiding them through all airport processes. however, At airssist, we promise you all of that and more.
Airport Greeter/Personal Assistant
Airport Fast-Track
Buggy Transportation
Porter's Assistance
DXB's Lounge Access
VIP Terminal Service at Dubai International Airport "DXB"
A stand-alone airport terminal called VIP Terminal provides business travelers with the most opulent travel experience possible. You will have access to a private staff that will take care of all the airport requirements on your behalf. A separate terminal's privacy and level of service are its benefits. The C-level executive can go through the entire pre-flight procedure in a separate VIP terminal and is delivered apart from the rest of the passengers on private transportation.
Rooms Of Various Sizes Air-Conditioned And Equipped With Various Amenities.
Private Check-In And Office Services
Private Lounge Access And Private TSA & Security Checks
Private Meeting Room
Comfortable Rest Hall
Executive Protection For The Highest Level Of Security
Chauffeured Transportation Services From/To Dubai International Airport "DXB"
Passengers in Dubai have access to a variety of public transportation alternatives, but there are challenges including carrying a lot of luggage, comprehending the system, and more, therefore, you can travel the world in the most Secure & Private Black Cars with the aid of airssist Chauffeur Transportation and Airport Limo. Whether you require transportation from/to Dubai International Airport for a full-day in-city transfer to attend meetings, exhibits, and events or an early morning interstate drive, we are here to make sure you arrive where you're going in luxury and style. Book now !!
Why VIP Concierge Services Are Important at Dubai International Airport "DXB"
Many business travelers are unaware of the importance of a VIP concierge service in Dubai.From booking your hotel room to making reservations at the top restaurants and tours, the VIP Dubai concierge will go above and beyond to make sure your trip to Dubai is one you won't soon forget. Concierge services at Dubai airport refer to services that simplify complicated airport procedures so that you can avoid long queues, ensure quick airport passage, and help each passenger with their individual travel needs. Most importantly, any passenger in any booked class can order these services without being required to be a frequent flyer, a member of an annual membership club, or a VIP traveler.
Top Hotels in Dubai for Business & Corporate Travelers
Marriott Marquis
Four Points by Sheraton
Rixos Premium Dubai
Atlantis The Palm
Rove Downtown
Sheraton Dubai
Top Rated Attractions In Dubai, UAE
Museum of The Future
Ain Dubai
Palm Tower
Burj Khalifa
La Perle
Making your business trip hassle-free is a good idea, especially with the help of the professional airport concierge services offered by airssist, which streamline all airport procedures and provide all the comforts and luxury you could want. Book now