Charles de Gaulle Airport (CDG, LFPG) is the main hub for Air France and one of the busiest airports in all of Europe. The airport handled over 76,150,000 passengers and 498,100 aircraft movements in 2019 alone, making it the 9th in the world and 2nd in Europe in terms of passenger numbers. The airport offers direct flights to most countries and hosts the largest number of airlines in the world, which makes it popular with all types of travelers.
Charles de Gaulles' popularity means that it is almost always busy.  Approximately 92,00 passengers travel to/from Charles de Gaulle Airport every day, with 54% of the total passengers taking a connecting flight from CDG. The crowded terminals and endless queues can be exhausting for even the most experienced travelers. Booking meet and greet services can alleviate the stress of traveling and make an otherwise troublesome journey into a memorable experience.
Everything you need to know about Charles de Gaulle Airport
Charles de Gaulle is probably the most functional hub in all of Europe. It is served by almost every major airline and connects travelers to every location in France. The airport covers 32.38 square kilometers of land and features three terminals that connect to France's high-speed rail network of TGV trains. Most flights will arrive in Terminal 1 or 2, both of which are huge and complex mazes that you can get lost in for hours. Terminal 1 was designed in the image of an octopus and consists of a circular terminal building that houses check-ins, security, and other functions. Terminal 2 is spread across seven sub-terminals and is so large that it is almost an entire airport unto itself. Terminal 3 is located 1km away from Terminal 1 and consists of one single building for arrivals and departures. Terminals 3 has no boarding gates, so passengers are ferried to the aircraft stands by boarding busses. Charles de Gaulle can be confusing for even the most experienced travelers. Book VIP concierge services to make your passage through CDG easier and more convenient today!
So, what are the major problems facing travelers at Charles de Gaulle Airport?
1- Charles de Gaulle is popular and busy, which makes it a nightmare to get through.
Charles de Gaulle Airport is probably the most well-connected in terms of available destinations. Its location and abundance of airlines means that it's always crowded and full of travelers. The combination of its large terminals and chaotic layout makes it a nightmare for travelers who aren't familiar with its hectic environment. Booking a fast-track service is the best way to expedite your journey through Charles de Gaulle Airport. You can either get lost in the crowded terminals and wait for hours at every procedure, or you can quickly escape the queues by gaining priority at all airport formalities. Our fast-track service can make your trip quick, stress-free, and as smooth as butter whether you're traveling for business, pleasure, or any other purpose. Expedite your journey through Charles de Gaulle Airport by using airssist's VIP fast-track service!
2- Charles de Gaulle is a huge and confusing, which makes it easy to get lost in.
Charles de Gaulle Airport is a sprawling maze with two pairs of parallel runways. Giant airports are usually no problem for experienced travelers but there doesn't seem to be any strategy involved in the organization of this airport's layout. Terminal 2 is split into 7 seven separate buildings which are named A to G. The gates are further divided into ports to add even more confusion. The airport is so large that terminals can be located miles away from each other. For example, Terminal 2A to 2F are clubbed together, but 2G is 1.5 miles away from the other terminals. Hiring a multilingual personal greeter or a dedicated porter can be the difference between missing your flight or getting lost for hours. Our professional assistants will escort you through the mazelike terminals and help you in overcoming the language barrier during your passage through Charles de Gaul airport. Hire a multilingual personal greeter to escort you through the airport today!
3- Charles de Gaulle is chaotic and cluttered, which makes stressful to endure.
Charles de Gaulle Airport is large, hectic, and confusing which makes it a stressful experience for any type of traveler. Different amenities and facilities are available based on which part of the airport you're in, and since the terminals are so large, it's a gamble whether or not you'll find what you're looking for. Charles de Gaulle's massive size means that it has a lot of room for exuberant lounges to relax in while you wait for your flight. You can access the VIP lounge to rest and relax in a calm and peaceful environment away from the chaos of Charles de Gaulle's terminals. Access the VIP lounge and enjoy a stress-free airport experience now!
Covid procedures at Charles de Gaulle Airport
Covid tests are not mandatory to enter Charles de Gaulle Airport. However, they might be mandatory upon departure from Paris based on current regulations. Keep in mind that a PCR test is required for all arrivals on French territory from overseas and foreign countries outside the European Union.
Travelers can present their Covid-19 health proof digitally via the Covid health pass. The Covid health pass is a simplified presentation of a Covid-19 health proof. You must submit a complete vaccination schedule, a negative RT-PCR or antigen test, or a positive RT-PCR or antigen test attesting to recovery from Covid-19 dating at least 11 days. The harmonization of the European health pass has made traveling freely possible throughout Europe by simply presenting a QR code, available directly in the TousAntiCovid application.
Increased sanitary measures have also been implemented throughout Charles de Gaulle airport to ensure the safety of all travelers. Self-service check-in kiosks and detectors have been installed to minimize physical contact, as well as floor markings to remind people of social distancing measures.
How many airlines land at Charles de Gaulle Airport?
We weren't exaggerating when we said that CDG serves the most airlines out of any airport in the world. Here is the full list of airlines that land at Charles de Gaulle Airport: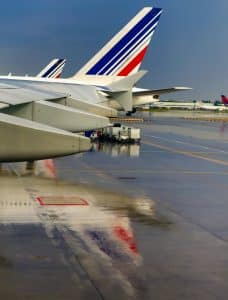 A:
AEGEAN
AER LINGUS
AEROFLOT RUSSIAN
AEROLINEAS ARGENTINAS
AFRIJET
AIR ALGERIE
AIR ARABIA.COM
AIR ASTANA
AIR AUSTRAL
AIR BALTIC
AIR BURKINA
AIR CAIRO
AIR CALIN
AIR CANADA
AIR CARAÏBES
AIR CHINA
AIR CORSICA
AIR EUROPA LINEAS
AIR EUROPA LINEAS
AIR FRANCE
AIR INDIA
AIR MADAGASCAR
AIR MALTA
AIR MAURITIUS
AIR SENEGAL
AIR SERBIA
AIR SEYCHELLES
AIR TAHITI NUI
AIR TRANSAT
AMELIA
AMERICAN AIRLINES
ANA
ARKIA ISRAELI
ASIANA AIRLINES
ASL AIRLINES FRANCE SA
ATLANTIC AIRWAYS FAROE ISLANDS
ATLAS GLOBAL
AURIGNY AIR SERVICES LTD
AUSTRIAN AIRLINES
AVIANCA
AZAL AZERBAIDJAN
AZUL
AÉROMÉXICO
B:
BELAVIA
BLUE AIR
BRITISH AIRWAYS
BRUSSELS AIRLINES
BULGARIA AIR
C:
CABO VERDE
CATHAY PACIFIC
CHALAIR AVIATION
CHINA AIRLINES
CHINA EASTERN AIRLINES
CHINA SOUTHERN AIRLINES
CORENDON DUTCH AIRLINES
CORSAIR
CROATIA
CSA CZECH AIRLINES
CUBANNA
D:
E:
EASY JET
EASYJET EUROPE
EASYJET EUROPE
EASYJET SWITZERLAND
EGYPT AIR
EL AL ISRAEL AIRLINES
EMIRATES
ENTER AIR
ETF AIRWAYS D.O.O
ETHIOPIAN AIRLINES
ETIHAD AIRWAYS
EUROWINGS AG
EVA AIRWAYS
EVELOP AIRLINES_S. L
F:
FINNAIR
FLY EGYPT
FLYBE
FLYONE
FLYONE ARMENIA
FLYPLAY
FLYR
FREEBIRD AIRLINES
FREEBIRD AIRLINES EUROPE
FRENCH BEE
G:
GARUDA INDONESIA AIRWAYS
GEORGIAN AIRWAYS
GOL LINHAS AEREAS INTELIGENTES
GULF AIR
H:
HAINAN AIRLINES
HONG KONG AIRLINES LTD
I:
IBERIA
IBERIA EXPRESS
IBERIA
ICELANDAIR
IRAN AIR
ITA AIRWAYS
J:
JAPAN AIRLINES
JET AIRWAYS (INDIA)
COM
JORDAN AVIATION TRADE EST.
JUNEYAO AIRLINES
K:
KENYA AIRWAYS
KLM
KOREAN AIRLINES
KUWAIT AIRWAYS
L:
LA COMPAGNIE
LATAM
LOT POLISH AIRLINES
LUFTHANSA
LUXAIR
M:
MALAYSIA AIRLINES
MEA MIDDLE EAST AIRLINES
N:
NATIONAL AIR SERVICES
NILE AIR
NORWEGIAN
NORWEGIAN AIR INTERNATIONAL
NOUVELAIR
O:
P:
Q:
R:
RJ_ROYAL JORDANIAN
ROSSIYA
ROYAL AIR MAROC
S:
S7 AIRLINES
SATA INTL
SATA INTL
SAUDIA
SCANDINAVIAN AIRLINES
SINGAPORE AIRLINES
SKY EXPRESS
SMARTWINGS
SRILANKAN
SUNEXPRESS
SWISS INTERNATIONAL
T:
TAP PORTUGAL
TAROM
THAI AIRWAYS
THOMSONFLY
TNT AIRWAYS
TOMONTENEGRO DOO
COM
TRANSAVIA HOLLAND
TRANSAVIA HOLLAND
TUI FLY
TUNIS AIR
TURKISH AIRLINES
TURKMENISTAN AIRLINES
TWIN JET
U:
UKRAINE INTL AIRLINES
UNITED AIRLINES
UR AIRLINES
URAL AIRLINES
UZBEKISTAN AIRWAYS
V:
VIETNAM AIRLINES
VIRGIN ATLANTIC
VISTARA
VOLARE AIRLINES
VOLOTEA
VUELING
W:
WEST JET
WIZZ AIR
WIZZ AIR UK LTD
X:
If your requirement is different from the aforementioned services, we would be happy to hear from you and design a package meeting your travel needs.
Who is this service for?
Meet airssist Travellers
At airssist we create the whole range of airport experiences in every city in the world, whether you are a big family who loves to travel together; a company who goes to a team building event; a group of friends heading to the Brazilian Carnival; a couple who needs a romantic gateway; a VIP or even VVIP, who needs extra privacy; a businessman attending a congress or just a traveller with his expected annual holiday- the point is, we got you covered with airport services and more…