Dubai Airport is one of the most famous and busiest airports in the world. Therefore, it provides many recreational activities for travellers who have a long layover at Dubai Airport to spend an enjoyable time away from the boredom of long waiting.
In this blog, airssist recommends amazing things to do through your long layover at Dubai airport that will transform your long layover into a memorable part of your journey.
How to Enjoy Your Long Layover Time at Dubai Airport?
1-      Enjoy the fancy of Private Lounges
You can book VIP Terminal service through the airssist online platform to enjoy special access to a premium lounge at Dubai airport, spending special moments of luxury and privacy, isolated from the crowds of Dubai airport with many advantages like having Individual Sleeping area, Fine dining, Smoking lounge, Complimentary wardrobe, Complimentary manicure, Wi-Fi, and other luxurious facilities.
2-      Get a Unique Shopping Experience
Roam among the Dubai Airport Free Zone stores with the world's most famous designer brands. You can find everything you want from electronics stores, jewelry, clothes, food, and everything in your mind. Your pleasure in shopping will make you spend hours without feeling the passage of time.
3-      Take a fresh shower
You can relax and get a shower at Terminal 3, between B13 and B19 to refresh your body so that you can continue your travel actively.
4-      Take care of your health and exercise
The Health Club in Dubai airport located between Terminals 1 and 3 is your best choice not only for sport but also to enjoy with pool, steam room, Jacuzzi, sauna, and shower facilities.
5-      Have peace of mind at Zen Gardens
Escape the airport noise and spend a quiet time in Zen Gardens in Terminal 3 of the airport and enjoy the view of the flowing stream and green scenes. Zen Gardens is your best choice to spend some time in long layover at Dubai Airport.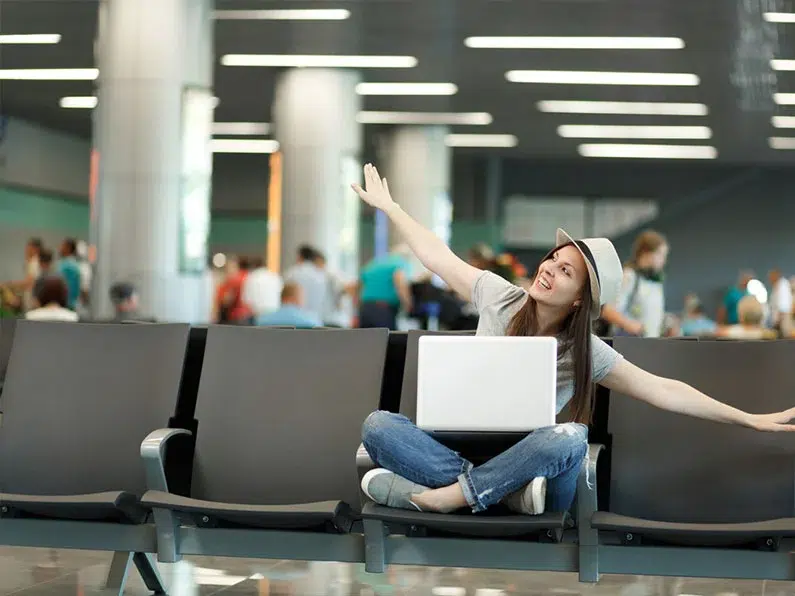 6-      Surf the net
With the fastest Wi-Fi network in the world at Dubai airport, you can stay online and communicate with your family and friends, sharing the detail of your journey at social media platforms and monitor your business developments to maintain productivity at the highest levels.
7-      Eating yummy food
You will find unlimited options of delicious foods. There are many Western, Middle Eastern, Italian and many other restaurants with multiple cultures and countries, you can take an exceptional adventure and try new meals in the most famous restaurants in the world like: The Noodle House, Taqado, Mexican Kitchen, KFC, MCDONALD'S and many more.
8-      Make a tour of Dubai's landmarks
Visit the tallest building in the world, Burj Khalifa (828 meters) and enjoy a breathtaking view from the top.  Don't forget to shop and visit the famous Dubai Mall, you can also join a specialized Dubai layover tour to make sure of spending a nice time through your long layover at Dubai airport.
9-      Have a deep nap at Snooze Cube!
Get back lost sleep hours during your travel and take a safe nap while maintaining your privacy as you can rent a Snooze Cube in Terminal 1 with additional facilities like high-speed internet, a touch screen computer, and an outlet for charging any electronics.
Now you have useful tips to know what to do during your long layover at Dubai Airport. Just follow airssist tips and you will have a very enjoyable travel experience. airssist is ready to give you the ultimate luxurious services when you book your private VIP lounge.