Business Trip to Doha
Doha, the bustling capital of Qatar, is a city renowned for its flourishing business landscape and rich cultural heritage. Doha has emerged swiftly as a global business center, attracting international businesses and entrepreneurs from a variety of industries. Therefore, whether you are a seasoned traveler or visiting Doha for the first time, this guide is designed to help you plan a successful and fruitful business excursion to this cosmopolitan city in the Arabian Gulf.
Get ready for an unforgettable experience at the airport with airssist !!!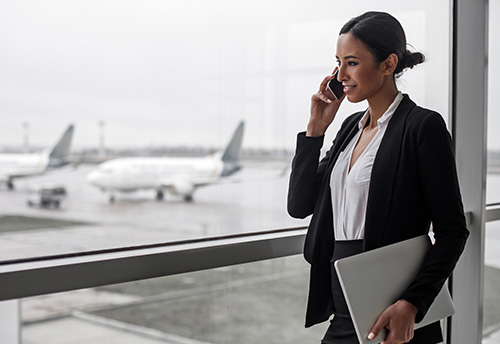 More About Doha
Doha is the capital city of Qatar, a small but wealthy country located on the northeastern coast of the Arabian Peninsula. Situated on the shores of the Persian Gulf, Doha is a vibrant and modern city that has rapidly transformed itself into a major global hub in recent decades.
One of the defining features of Doha is its impressive skyline, which is dominated by sleek skyscrapers and futuristic architecture. The cityscape is characterized by iconic structures such as the Torch Tower, Tornado Tower, and the distinctive silhouette of the Aspire Tower. Doha's skyline is a testament to the city's rapid urban development and its aspiration to become a world-class metropolis.
Why Do So Many People Think Cancún Will Grow Into A Major Business Hub?
Many people believe that Cancún has the potential to evolve into a major business hub due to several compelling factors. Cancún's strategic location in Mexico's Yucatán Peninsula, with its proximity to the United States and easy accessibility through its international airport, makes it an attractive destination for international business travelers. The city's well-developed infrastructure, including modern hotels, conference centers, and transportation facilities, further enhances its appeal as a business-friendly destination.
Overall, the convergence of these factors – strategic location, tourism-driven economy, government support, quality of life, and technological advancements – has fueled the belief that Cancún has the potential to grow into a major business hub.
Business Exhibitions & Events That Happen In Doha
Project Qatar
Type: Exhibition
Date: 2023-05-08
Qatar International Agricultural Exhibition
Type: Exhibition
Date: 2023-03-01
Qatar International Education Exhibition
Type: Exhibition
Date: 2023-05-10
Kuwait International Petroleum Conference & Exhibition:
Type: Petroleum Conference
Date: May 2023
Qatar International Real Estate Exhibition
Type: Exhibition
Date: 2023-08-07
Qatar Motor Show
Type: Motor Show
Date: 2023-10-18
Are you Traveling To Doha For A Business Trip?
Business travelers to Doha will be favorably surprised. In addition to being a global financial center, the city is home to innovative culinary practices and artistic manifestations due to its rich history. Follow these tips for a successful business journey to Doha.
Hamad International Airport
Airport Code: (IATA: DOH, ICAO: OTHH)
Airport Name: Hamad International Airport
Location: Doha, Qatar
of Terminals: One terminal with five concourses
Distance from City Center:1 kilometers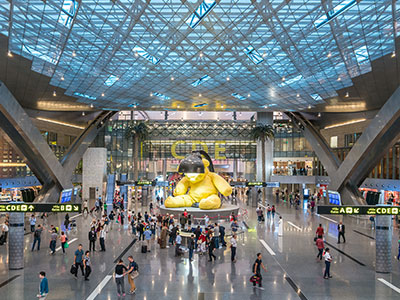 Business Facilities at Doha Airport
Modern and well-equipped passenger terminals
Duty-free shopping and retail outlets
Restaurants, cafes, and food courts
Business lounges
Meeting rooms and conference facilities
Wi-Fi and internet access
Banking and currency exchange services
Car rental services
Hotel and accommodation options
VIP and executive services
Meet and Greet at Doha International Airport
At Doha International Airport, passengers can use airssist VIP Meet & Greet Service. Trained in the art of customer service, our airport greeters are here to help ease your mind as you embark on your journey. airssist Meet & Greet service provides convenient access to these high-end establishments.
VIP Terminal Service at Doha International Airport
Feel free to take advantage of our VIP terminal service as you wait for your flight to depart from Kuwait Airport. Our private terminal at DOH Airport features a business center, conference rooms, bathrooms, wireless internet, and workstations in the lobby. Newspapers and magazines are also available.
Shuttle Service from/to Doha International Airport
Whether you require an airport transfer, a day transfer, or interstate transportation, we will transport you in style and comfort. While you relax inside, our limo driver will be patiently waiting outside.
airssist Airport Concierge Services at Doha International Airport
Passengers traveling through Doha International Airport can take advantage of airssist's airport concierge services. By enrolling in airssist, frequent travelers can benefit from the exceptional concierge offerings that streamline the airport check-in and boarding processes, ultimately reducing the time spent at the airport.
Top Hotels in Doha for Business & Corporate Travelers
Four Seasons Hotel Doha
The Ritz-Carlton, Doha
Mandarin Oriental, Doha
InterContinental Doha
Shangri-La Hotel, Doha
The St. Regis Doha
Hilton Doha The Pearl Residences
JW Marriott Marquis City Center Doha
W Doha Hotel & Residences
Kempinski Residences & Suites, Doha
Top Rated Attractions In Kuwait
Souq Waqif
The Museum of Islamic Art
Katara Cultural Village
The Pearl-Qatar
Doha Corniche
Aspire Park
Villaggio Mall
Qatar National Museum
Mathaf: Arab Museum of Modern Art
Al Zubarah Archaeological Site
If you have any demands during your business travel to Doha , contact airssist airport concierge service. Please contact us!