As the deadly coronavirus is spreading throughout the world, airlines and airports around the world are implementing measures to battle is out. With the IATA has predicted a 13% loss of passengers just in the Asia Pacific Region. As COVID-19 spreads to more than 77 countries worldwide, we look at the various health measure that airports and airlines globally are opting for.
Which airlines are affected by coronavirus and have stopped flights?
Airlines are affected the worst by the coronavirus epidemic. If the virus continues to spread, the airline industry is predicted to lose more than $113 billion in revenue.
Airlines which are affected the worst include-
South Korean Airlines-
Korean Air has been affected the worst. The airlines have been warned that the coronavirus outbreak could threaten its survival in a memo sent to employees.
Qantas
Qantas airlines are cutting down 25% of its flights. While its budget airline Jetstar will reduce its operation for the next six months.
Flybe
The UK based airline has been one of the first casualty of the coronavirus, folding after failing to secure financial aid from the government
Flight cancelled by airlines, or change fees being waived off due coronavirus
In wake of the COVID 19 spread, flight change fees are being waived off in these airlines-
American Airlines
Travelers booking a flight between 1st to 16th March with American Airlines, do not have to pay any additional fees for rescheduling their flights.
For people planning to fly to China or Hong Kong, refund will be provided if tickets are cancelled before the departure date.
Flights between DFW/LAX and mainland China are suspended till April 24.
Flights between DFW and Hong Kong (HKG) are suspended till April 23.
Flights between LAX and HKG are suspended till April 24.
JetBlue Airways
Change and cancellation fees for JetBlue Airways will be waived off, for bookings made between 27th Feb to 11th March, for flights booked till 1st June.
Alaska Airlines
Alaska Airlines too will waive off change and cancellation fees for tickets made between 27th Feb to 12th March, for flights till 1st June.
United Airlines
The change and cancellation fees are waived off for flights booked for Northern Italy, China, Hong Kong and South Korea.
Delta Air Lines
For Delta Airlines, travelers who have booked flights to Beijing, Shanghai and Incheon, South Korea, can make a one time change without incurring any amendment fees.
Hawaiian Airlines
While flights to Honolulu, Incheon, and South Korea, have been cancelled till 30th April. Rebooking ca be done till 31st Oct without any additional price.
Lufthansa
While flights to China by Lufthansa till 24th April have been cancelled, flights to Hong Kong have been reduced. Travelers affected by these cancellations can get a full refund or make changes without any additional fees.
Air France
For flights to China, Air France are allowing customers to change flight till 1st June, without any additional fess. While for flights to Italy, flights can be changed till 31st May, without any amendment fees.
KLM
For flights to China, South Korea, Singapore and Italy, change fees have been waived off.
Emirates
Emirates is offering refund for unused tickets 23rd Jan to 31st March.
The following airlines have cancelled flights to Hong Kong
Air Canada- flights suspended till 30th April
Air New Zealand- flights suspended till 29th March
ANA- flights suspended till 28th March
British Airways- flights suspended till 31st March
Cathay Pacific- flights suspended till 28th March
Finnair- flights suspended till 28th March
Philippine Airlines- flights suspended till 28th March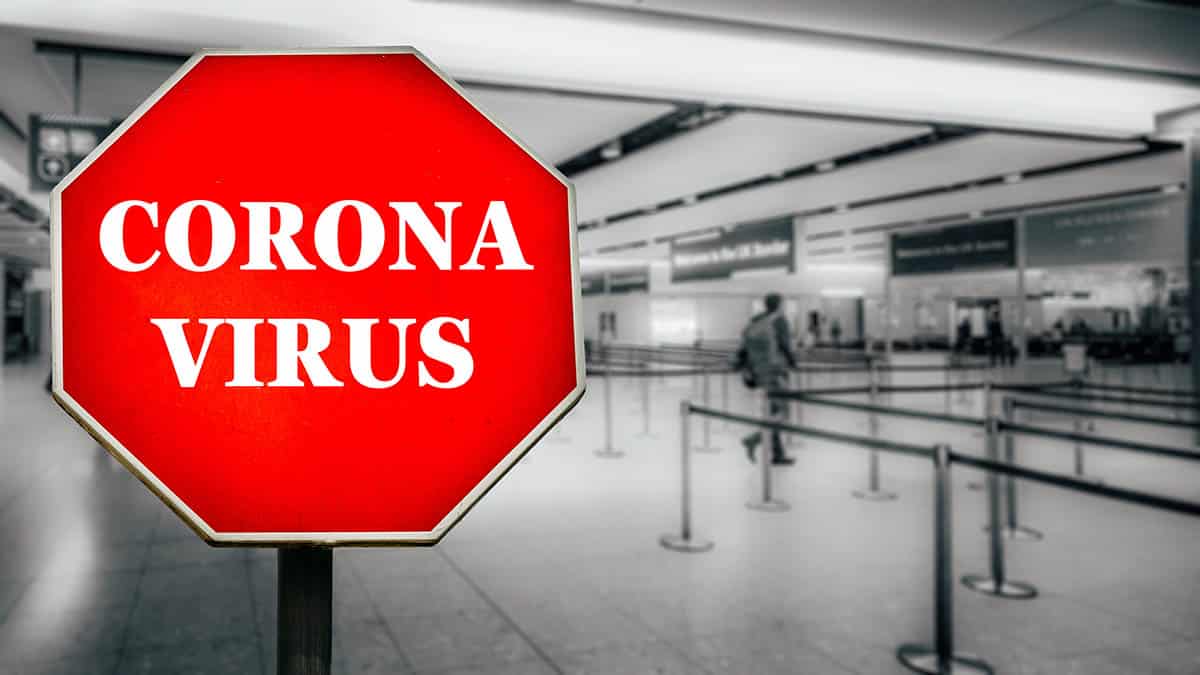 Ghost Flights
Many carriers are flying empty flight, rather than cancelling it, to not loose coveted landing and take-off spots which airlines pay dollars to secure. Such flights are known as ghost flights. Airlines like Delta and American Airlines are flying ghost flights instead of losing these spots. Virgin Atlantic too has agreed to having operated ghost flights due to the coronavirus spread.
Health screening at airports for coronavirus
Spreading to over 77 countries in the world, airports around the world are installing extra measures and health screening due to the coronavirus spread.
Airports in Italy
With an alarmingly high number of deaths by coronavirus in Italy, airports in Italy are health screening all measures. At Leonardo da Vinci international airport, doctors are present to test travelers for symptoms of COVID-19. While at Venezia Airport, Milan Bergamo Airport and Naples international Airport thermal screening for all passengers is mandatory.
Airports in China
While traffic from Wuhan has been closed, airports in China are screening all passengers rigorously, admitting passengers with slight symptoms of COVID-19.
Airports in Thailand
All 28 airports in Thailand, have implemented thermal screening, using thermal scans and thermometer.
Airports in Turkey
 All airports in Turkey, including the Istanbul Airport have installed thermal cameras for passengers.
Airports in South Korea
In South Korea, airports are going the extra mile to prevent the crew for catching coronavirus by providing them with a hazardous-material suits.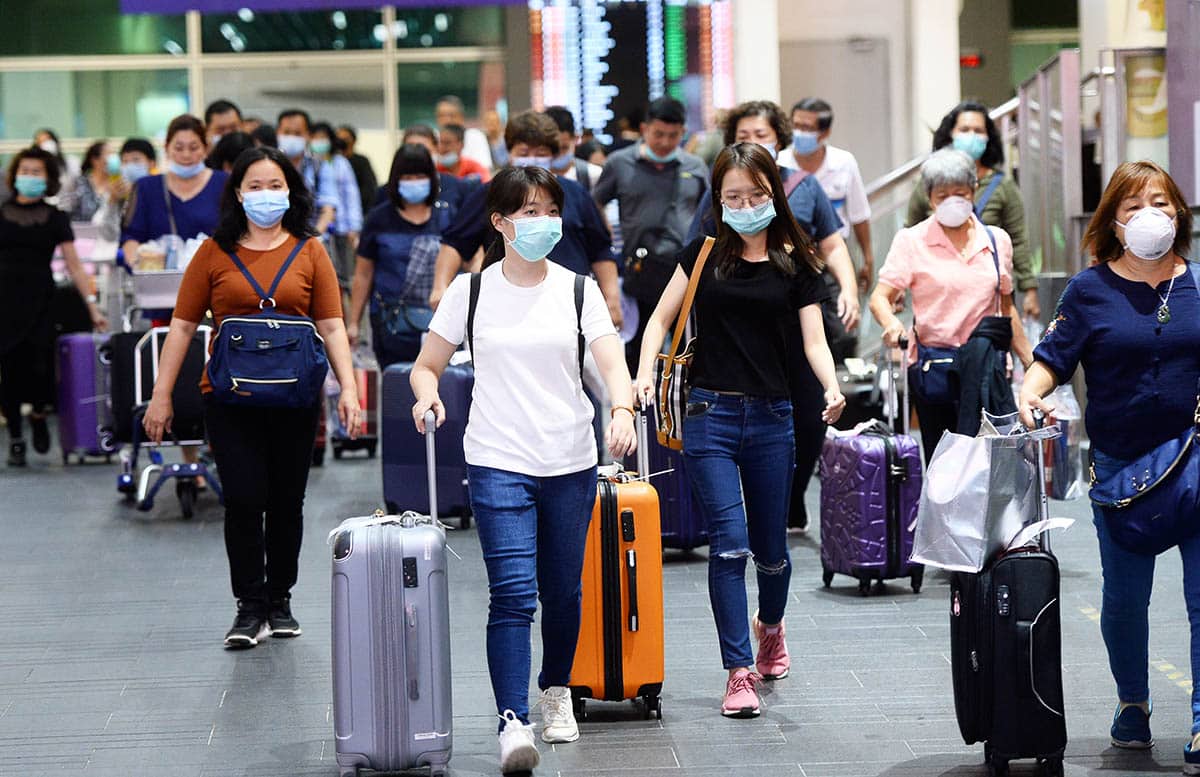 Changi Airport Singapore
Passengers from China arriving at Singapore's Changi Airport will have to go through a thermal screening. With travelers with disease symptoms being isolated.
A special medical team are looking after any passengers who seems to have symptoms of coronavirus for inbound flights from China.
Prague Airport
As the Coronavirus death tolls high in Italy, Prague Airport in Czech Republic, has assigned separate gates for travelers arriving from Italy.
Airports in India
20 airports in India have implemented thermal screening for all international passengers, including airports in Chennai, Vishakapatnam, Bengaluru, Bhubaneswar, Hyderabad, Cochin, Delhi, Mumbai, Amritsar, Kochi, and Kolkata.
Sofia International Airport
Sofia International Airport in Bulgaria have cancelled all flights to Milan in Italy. Along, with implementing screening measures for all travelers.
Airports in Middle East that have opted for coronavirus screening
Abu Dhabi International Airport
Dubai International Airport
Kuwait International Airport
Muscat International Airport
Bahrain International Airport
In Saudi Arabia, in addition to cancelling umrah visa for all and banning travel have restricted flights from nearby countries too. Apart from three airports, all other Saudi Airports have stopped flights from United Arab Emirates, Kuwait, and Bahrain. The three airports which will operate flights to these countries are King Khalid International Airport in Riyadh, King Abdulaziz International Airport in Jeddah, and King Fahd International Airport in Dammam.
European airports that have opted for strict screening measure for travelers arriving from China and Italy
Bratislava Airport in Slovakia
Marco Polo Airport in Venice
Sarajevo International Airport in Bosnia
Belgrade Nikola Tesla Airport in Serbia
Zagreb Airport in Croatia
Chișinău International Airport in Moldova
Airports in US
The US government have imposed a China travel ban on foreigners who have recently visited the nation. Along with this the Trump government have today imposed ban on many Europeans nations too, in fear of the COVID-19 spread. Airports in US have implemented thermal screening for passengers too.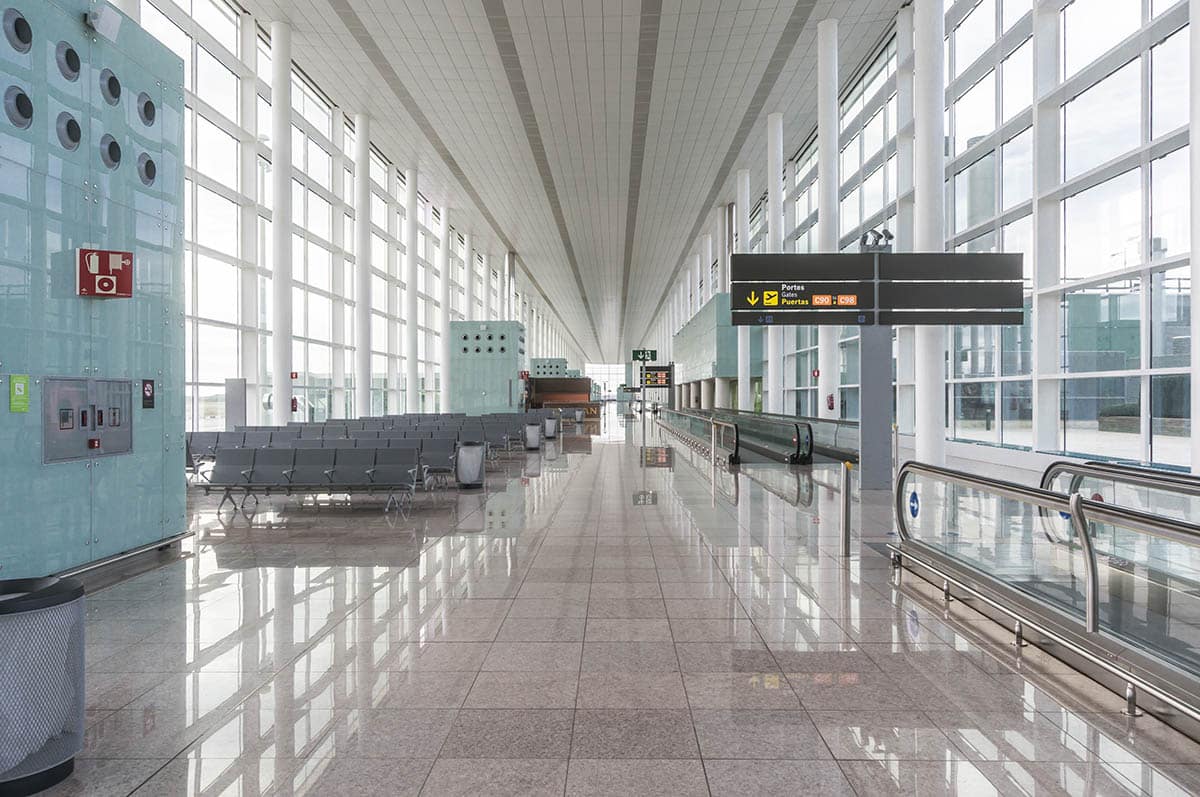 Safety measures at airports for coronavirus
What is thermal screening at airports?
Thermal screening at airports helps to spot fly caused by infections like COVID-19. The thermal screening is done usually through mass screening systems which help to measure a traveler's temperature.
How much time people are spending in the airport for the health test and checkups?
In addition to the airport formalities, majority of the airports in the world are opting for thermal screening. This will increase the time to complete the airport formalities. In a normal day it takes traveler anywhere around 1 to 1.30 hours to complete all the airport formalities at a busy airport. With thermal screening and strict preventive measure for coronavirus at airports, the time spent now at airports will increase to around 1.30 to 2 hours.
What can do to protect yourself?
Airports in today's world have crowds herded into long airport queues. This increases the risk of infection, by standing for long time in a queue in close proximity of other travelers. Putting you at greater risk of virus spread possibility. To prevent this the best way out is Airport Meet and Greet and VIP terminal. You can make your airport journey faster and safer by booking airport services from airssist.
With airport concierge services, you get to skip long airport lines. Your greeter will help you to expedite your airport travel by helping you complete all the paperwork and formalities, taking you through short cuts and assisting you through every step of the way. The dedicated buggy service will make your travel swift and quick helping you to get out of the airport as soon as possible. And access to the lounge will mean not being in the crowded common space.
Read the blog to know how step by step how Airport Meet and Greet can make your travel safer, smoother, and faster.