Airport meets and greet services are useful for travelers of all kinds. They are perfect for frequent flyers, first-time fliers, business travelers, unaccompanied minors, and most importantly, the elderly.
We understand just how tiresome and complicated airport procedures can be for elderly travelers, which is why are committed to providing our clients with the necessary services to make their journeys comfortable and convenient.
How Can Elderly Travelers Benefit From Meet & Greet Services?

A thought-provoking study by the Transportation Research Board's Airport Cooperative Research Program showed that airports are struggling to deal with the increasing number of elderly travelers. Airports are simply not equipped to support the physical and psychological needs of elderly travelers. Senior citizens are having trouble with the complex layouts and stressful airport environments.
Most elderly travelers report having difficulty with airport terminology and directional signs. Long queues, security checks, and other bothersome procedures are causing them stress and fatigue. Airports have a long way to go before they can comfortably accommodate elderly travelers, but we're here to help until they do.
We've designed our meet and greet service to make traveling easier, faster, and more luxurious. Elderly travelers require more care than regular travelers, and we can make sure that their needs are properly met. Our Senior assistance services make traveling comfortable and safe. We go above and beyond the standard offered by airlines because we care about the comfort of our clients.
Our services are available for arrivals, departures, and transit. Everything is designed to turn a tiresome airport experience into a relaxing and memorable journey that is just as exciting as the rest of the trip. Book your elderly assistance services with airssist today!
Hassle-free departure
Get quickly and easily from the driveway to the boarding gate.
Meet and greet
Priority check-in
Lounge access
Fast-track security
Expedited arrival
You can leave the airport easily and promptly with the help of our airport concierge.
Fast-track immigration and customs
VIP concierge
Baggage assistance
Limousine services
Smooth Transit
Never miss a flight, especially if there is just a little window for a transfer.
Gate to Gate service
Lounge access
Expedite transfer from terminal
Meet and greet
Why Do Elderly Travelers Need Meet and Greet?
Travel can be a great opportunity for seniors to challenge their minds, engage with the larger society, and just have fun. Exploring new places and making new friends helps keep older individuals socially and physically active. Travel may be quite rewarding, whether the goal is to see more of the globe, spend time with loved ones, or simply take a vacation from daily life.
Wheelchair or cart at the airport
There are times when travelers need help navigating airports and mobility issues can be daunting getting from the airport curb to the gate for your flight including through a security checkpoint. Larger airports, also have electric carts available for those who can't walk long distances, need a little extra help, or need to get to a gate quickly to make a flight.
Save time and energy
Be fast-tracked and guided through all the formalities. Don't lose time and energy understanding and reading through unknown airport signs.
A dedicated porter for your luggage
One less thing to worry about, a dedicated porter will join you at luggage claim and deliver it for check-in or to your receiving party like an arrival meet and greet.
Access to lounge
Have time to spare before your flight takes off? Enjoy and relax in one of the airport lounges before your travel begins.
What Are The Best Meet & Greet Services For Elderly Travelers?
There are plenty of airport concierge services that can make traveling easier for seniors. Here are the best and most essential services that you should book for your parents, grandparents, or elderly loved ones.
Personal greeters can escort elderly travelers through the airport
A multilingual personal greeter can be the difference between a smooth airport trip or a horrifying travel nightmare. Elderly travelers are more likely to get lost in complex airport environments. Our greeters will be waiting with a personalized name card so they can pick up the client as soon as they land. The client will be personally escorted through the airport and assisted with all the tiring formalities. Book a personal greeter to guide your elderly loved ones today!
Dedicated porters can assist elderly travelers with their bags and luggage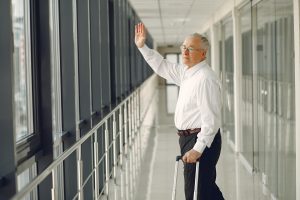 Not all elderly travelers are the same, nor do they require the same type of assistance. Senior citizens can be familiar with airport environments and not need an escort. However, they might still need assistance in carrying their bags or luggage. Elderly travelers shouldn't have to deal with everything on their own, no matter how capable they are. Our dedicated porters will carry the client's bags and luggage until they have left the airport. Book a dedicated porter to assist your elderly loved ones with their bags and luggage today!
VIP lounge access can provide elderly travelers with a calm place to rest
Peace and quiet are hard to come by in a stressful airport environment. Traveling is a challenge for everyone, and elderly travelers are no exception. It's important to provide them with plenty of rest, food, beverages, and amenities. Elderly travelers shouldn't have to spend hours on their feet; they deserve to rest and enjoy their time instead of stressing about the journey and stressing themselves out. Book VIP lounge access for your elderly loved ones so they can rest and enjoy their airport experience!
Chauffeured transportation can offer elderly travelers unparalleled comfort and convenience
Acquiring transportation after exiting the airport is one of the hardest parts of traveling. Running after taxis and busses is exhausting, especially after a long and challenging trip. Travelers must also worry about transportation scams and language barriers, making things more of a hassle. Booking chauffeured transportation services means that you don't have to worry about any of that. An experienced multilingual chauffeur will be waiting outside the airport to assist elderly travelers. Our clients can enjoy many luxurious amenities in the comfort of a premium vehicle while they are safely delivered to their destination. Book chauffeured transportation for your elderly loved ones and guarantee their safety!