Airport Porter Service at Tribhuvan Airport in Kathmandu (KTM)
At Tribhuvan Airport in Kathmandu (KTM), your journey begins with a touch of luxury and convenience, thanks to our Airport Porter Service. Imagine arriving in the heart of Nepal, ready to explore its breathtaking landscapes and vibrant culture, without the burden of heavy luggage or the hassle of navigating through the bustling airport. Our dedicated porters are here to transform your travel experience into a seamless and stress-free adventure. With their expertise and warm hospitality, they'll handle your bags, leaving you with more time to savor the sights, sounds, and flavors of Kathmandu. So, whether you're embarking on a spiritual pilgrimage or an adventure into the Himalayas, let airssist take the load off your shoulders and make your arrival at KTM Airport a delightful beginning to your Nepali odyssey.
Let Our Airport Private Porter Service Help You At Tribhuvan Airport in Kathmandu (KTM)           
Indulge in the art of stress-free travel at Tribhuvan Airport in Kathmandu (KTM) with our Airport Private Porter Service. Allow us to transform your arrival into a VIP experience, where your every need is met, and your luggage is effortlessly managed. Start your Kathmandu adventure with unparalleled comfort and ease – because every journey should feel like a first-class experience.       
Friendly and experienced staff provide: 
Assistance at the baggage carousels  

Transportation of items to the Check-in desks 

Transportation of baggage to taxi and/or bus area, etc

Assistance to groups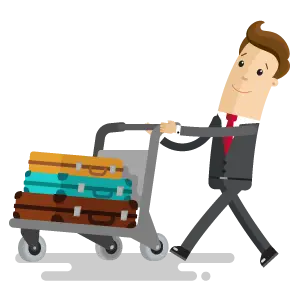 Why is it important to use airssist airport private porter at Tribhuvan Airport in Kathmandu (KTM)?
Embrace the difference and elevate your travel experience with airssist's Airport Private Porter Service at Tribhuvan Airport in Kathmandu (KTM). We understand that the first impression of a new destination sets the tone for your entire journey. That's why choosing our private porter service is not just a convenience but a travel essential. Our expert porters go above and beyond to ensure that your arrival in Kathmandu is smooth and memorable. They handle your baggage with care, navigate airport procedures effortlessly, and provide invaluable local insights. By entrusting us with your luggage, you free yourself to soak in the beauty of Nepal's capital city from the very moment you land. Don't just travel; embark on an adventure with airssist, because your journey deserves nothing less than excellence.