Say Goodbye to Baggage Woes with Our Porter Assistance Team at Toulouse–Blagnac Airport 
Bid farewell to baggage worries and embrace a hassle-free travel experience at Toulouse–Blagnac Airport. Thanks to the airssist Porter Assistance team, your journey becomes a breeze. Our skilled porters are there to make your arrival or departure from Toulouse–Blagnac a stress-free delight. From handling your luggage to guiding you through the airport, we're your trusted travel partners, ensuring you focus on what truly matters during your trip.
The Ultimate Travel Companion of airssist Toulouse–Blagnac Airport Porter Service
Discover the ultimate travel companion with airssist's Toulouse–Blagnac Airport Porter Service. Our team is dedicated to transforming your journey into an experience like no other. From handling your bags with care to offering expert guidance, we ensure your airport experience is nothing short of exceptional. Trust in airssist for a seamless, stress-free travel adventure at Toulouse–Blagnac Airport. Our friendly and experienced staff provide: 
Assistance at the baggage carousels  

Transportation of items to the Check-in desks 

Transportation of baggage to taxi or bus area, etc

Assistance to groups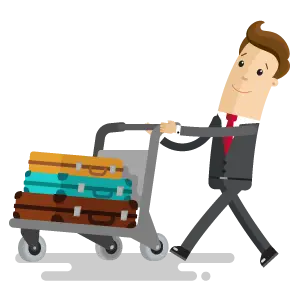 Why is it Important to Use airssist Porter Assistance at Toulouse–Blagnac Airport?
Embrace the convenience, reliability, and personalized care that define the airssist experience, and let our Porter Assistance be by your side as you explore the world with confidence. Say goodbye to travel hassles and hello to a new era of airport service.