Curate Every Aspect of Your Airport Journey at at Sharm El Sheikh Airport with our Porter Assistance.
At Sharm El Sheikh Airport, we believe in putting the power of choice in your hands. With airssist's porter assistance, you can curate every aspect of your airport journey to match your preferences. We're not just your luggage handlers; we're your personal airport concierge service. From the moment you step in, we make sure every detail aligns with your travel vision.
Let Our Friendly Baggage Assistance Service Make Your Stay Incredible at Sharm El Sheikh Airport
At Sharm El Sheikh Airport, our friendly baggage assistance service is more than just a convenience; it's the key to making your stay truly incredible. We're not just here to handle your luggage; we're your partners in creating memorable travel moments. Our team's dedication ensures that every step of your journey is made with care and attention. Embrace the incredible at Sharm El Sheikh Airport, where your adventure begins with a warm welcome and a smile. Our friendly and experienced staff provide: 
Assistance at the baggage carousels  

Transportation of items to the Check-in desks 

Transportation of baggage to taxi or bus area, etc

Assistance to groups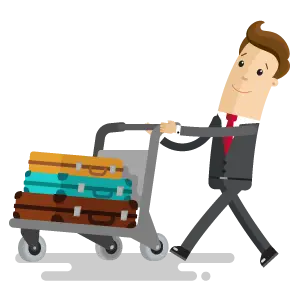 Why is it Important to Use airssist Airport Porter at Sharm El Sheikh Airport?
Choosing our Airport Porter at Sharm El Sheikh Airport is essential because we see travel as more than just a series of logistics; it's an opportunity to create lasting memories. Our dedicated team is committed to transforming your travel experience beyond traditional baggage assistance. We want to make your journey not only effortless but extraordinary. Ready to embark on a trip where every aspect of your travel is taken care of with precision and care? Experience the airssist difference at Sharm El Sheikh Airport.