Porter Assistance at Port Moresby Airport
Unleash a world of convenience and ease when you opt for porter assistance at Port Moresby Airport, brought to you by airssist in lowercase letters. Our dedicated team is here to elevate your travel experience, taking the weight off your shoulders both literally and figuratively. From expertly managing your luggage to providing invaluable guidance within the airport, we're your trusted partners in ensuring a seamless journey. Let us handle the details while you focus on enjoying your trip to its fullest. With airssist's porter assistance, your arrival and departure at Port Moresby Airport become moments of relaxation and anticipation, setting the tone for a memorable travel experience ahead.
Let Our Baggage Assistance Help You at Port Moresby Airport
Experience effortless travel at Port Moresby Airport with our dedicated baggage assistance by airssist. We're here to lighten your load and make your journey smoother from start to finish. Friendly and experienced staff provide: 
Assistance at the baggage carousels  

Transportation of items to the Check-in desks 

Transportation of baggage to taxi and/or bus area, etc

Assistance to groups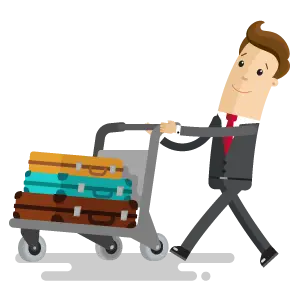 Why is it Important to Use airssist Airport Porter Service at Port Moresby Airport?
Choosing airssist's Airport Porter Service at Port Moresby Airport is a strategic decision that transforms your travel experience into a seamless and stress-free adventure. Our team understands the value of hassle-free travel and is committed to making every aspect of your journey comfortable and efficient. From expert luggage handling to providing valuable assistance within the airport, we ensure your needs are met and exceeded. With airssist, your time at Port Moresby Airport becomes a testament to convenience and relaxation, setting the stage for a memorable trip ahead. Make the smart choice for a smoother journey – airssist Airport Porter Service at Port Moresby Airport.