Porter Service at Piarco Airport in Port of Spain (POS)
Prepare to embark on a journey of refined elegance and seamless travel at Piarco Airport in Port of Spain (POS), where airssist's Porter Service awaits to elevate your experience. As you step into this Caribbean haven, our dedicated team stands ready to turn every moment into a cherished memory. Imagine effortlessly gliding through the airport, unburdened by the weight of your luggage, while our skilled porters attend to every detail. With airssist, your arrival and departure in Port of Spain become more than just a transition; they become a celebration of convenience and comfort. Step into the world of airssist's Porter Service and let your travels in the Caribbean begin in style and ease
Get Your Hands on Extraordinary Possibilities at Piarco Airport in Port of Spain (POS)
Embrace a world of extraordinary possibilities as you set foot in the bustling heart of Miami, courtesy of Miami Roberts County Airport. This gateway to the magic city invites travelers to embark on a journey like no other. From its vibrant culture to its dynamic energy, Miami offers a tapestry of experiences waiting to be discovered. And with airssist's exceptional services, including our Porter Service, your arrival and departure become seamless chapters of your Miami adventure. So, get ready to unlock a world of extraordinary possibilities at Miami's doorstep. Friendly and experienced staff provide: 
Assistance at the baggage carousels  

Transportation of items to the Check-in desks 

Transportation of baggage to taxi and/or bus area, etc

Assistance to groups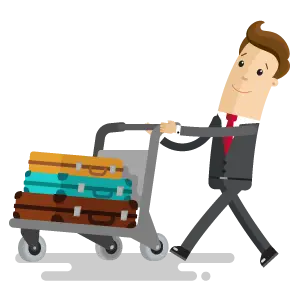 Why is It Important to Use airssist Airport Private Porter at Piarco Airport in Port of Spain (POS)?
Experience the Essence of Travel Excellence at Piarco Airport in Port of Spain (POS) with airssist's Airport Private Porter Service. The importance lies in the transformation of your journey from ordinary to extraordinary. Our private porters serve as your personal travel concierge, ensuring your arrival and departure are seamlessly executed. Picture a world where luggage concerns are a thing of the past, and airport procedures become a breeze. By choosing airssist, you reclaim the gift of time and the joy of travel. Dive into the vibrant culture of Port of Spain with ease, knowing that every detail is expertly handled. Elevate your journey today because, in travel, the extraordinary is the only way to go.