Porter Service at Oslo Gardermoen Airport in Oslo (OSL)
When you arrive at Oslo Gardermoen Airport (OSL), your journey truly takes off with airssist's unparalleled Porter Service. Our skilled porters are dedicated to ensuring your arrival and departure are marked by effortless convenience and elevated comfort. Whether you're a seasoned traveler or exploring Oslo for the first time, our team is there to take care of your luggage, guide you through the airport's intricacies, and provide you with insider tips for an unforgettable stay in this Scandinavian gem. Trust airssist to transform your OSL airport experience into a seamless and memorable part of your adventure. Elevate your journey with us today!
Experience Effortless Travel At Oslo Gardermoen Airport in Oslo (OSL)  
Arriving at Oslo Gardermoen Airport (OSL)? Let us make your travel experience a breeze with our dedicated Porter Service. Our friendly and experienced team is here to lend a helping hand, ensuring that your arrival and departure are smooth and stress-free. From handling your luggage with care to providing valuable airport guidance, we're here to make your time at OSL Airport as enjoyable as your stay in Oslo itself. So, why carry the load when you can rely on us? Let airssist's Porter Service be your trusted companion for a hassle-free journey at OSL Airport. Friendly and experienced staff provide: 
Assistance at the baggage carousels  

Transportation of items to the Check-in desks 

Transportation of baggage to taxi and/or bus area, etc

Assistance to groups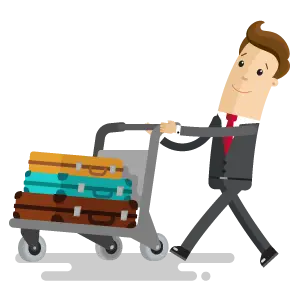 Why is it important to use airssist airport private porter at Oslo Gardermoen airport in Oslo (OSL)?
Choosing airssist's Airport Private Porter Service at Oslo Gardermoen Airport (OSL) is a travel decision that can truly make a world of difference. Imagine arriving in Oslo, ready to explore the stunning Norwegian landscapes and vibrant city life, without the burden of lugging heavy bags or the hassle of navigating the airport's intricacies. Our private porters are your key to a seamless and stress-free travel experience. They handle your luggage with precision, guide you through airport processes effortlessly, and provide you with invaluable local insights to enhance your visit. By entrusting us with your baggage, you gain the freedom to savor every moment of your journey, knowing that every detail is taken care of. Don't just travel; embark on a remarkable adventure with airssist, because your Oslo experience deserves nothing but excellence.