Elevate Your N'Djamena Airport Experience with Our Ultimate Baggage Assistance.
At N'Djamena Airport, we're here to take your experience to new heights with our ultimate baggage assistance. Our dedicated team ensures that your journey is effortless, making every moment memorable. Elevate your travel with us, and savor the exceptional service that sets N'Djamena Airport apart.
Craft Unforgettable Memories with N'Djamena Airport Porter Service
Turn your journey at N'Djamena Airport into a memorable experience with our dedicated porter service. Let us handle the logistics, leaving you with more time to create lasting memories. Craft unforgettable moments at N'Djamena Airport with our assistance. Our friendly and experienced staff provide: 
Assistance at the baggage carousels  

Transportation of items to the Check-in desks 

Transportation of baggage to taxi or bus area, etc

Assistance to groups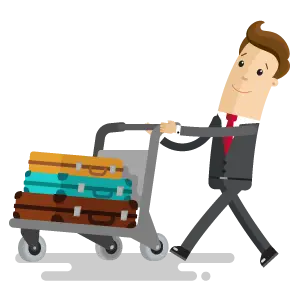 Why is it Important to Use airssist Airport Porter at N'Djamena Airport?
Because we believe that every traveler is a story waiting to be told, and we are here to ensure your journey is not just an ordinary passage but an extraordinary narrative. With our dedicated team, your travel experience transforms into a seamless and remarkable adventure.