Breeze Through the Milano Linate Airport in Milan (LIN) with Ease with an Airport Porter Service
Transform your Milano Linate Airport (LIN) experience in Milan with the help of airssist's Airport Porter Service. From the moment you arrive, our dedicated team is at your service, ready to take the weight of your luggage and the stress of navigating the airport off your shoulders. With our expert porters guiding you through, you'll breeze through check-in, security, and baggage claim, leaving you with more time to savor the beauty, culture, and culinary delights of Milan. Make every moment count on your journey through LIN with airssist's unparalleled airport porter service, your key to a seamless and enjoyable travel experience.
Make Your Journey Relaxed with Airport Private Porter Service at Milano Linate Airport in Milan (LIN)
Embrace the art of relaxation on your journey through Milano Linate Airport (LIN) in Milan with airssist's Airport Private Porter Service. Leave the stress and hassles of travel behind as our dedicated team handles your luggage, ensuring a seamless and effortless airport experience. With airssist, your arrival and departure in Milan become moments of pure relaxation, allowing you to fully enjoy the beauty and culture of this vibrant city. Let us transform your travel into a tranquil and memorable experience, making every step of your journey a breeze. Friendly and experienced staff provide: 
Assistance at the baggage carousels  

Transportation of items to the Check-in desks 

Transportation of baggage to taxi and/or bus area, etc

Assistance to groups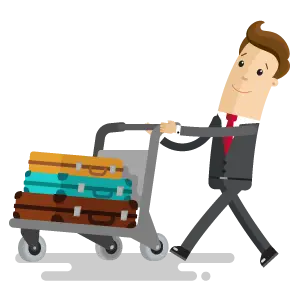 Why is It Important to Use airssist Porter Service at Milano Linate Airport in Milan (LIN)
Choosing airssist's Porter Service at Milano Linate Airport (LIN) in Milan is an essential step towards making your journey not just memorable, but truly remarkable. Our service transcends the ordinary by ensuring your arrival and departure are characterized by effortless elegance and unparalleled comfort. By entrusting our expert porters with your luggage, you free yourself to fully immerse in the charm and culture of Milan, right from the moment you touch down. Time is a precious commodity, especially when you're traveling, and airssist's Porter Service gives you the luxury of time to explore, discover, and create unforgettable moments. Elevate your travel experience, because in Milan, every detail matters.