Baggage Assistance at Luxembourg Airport
Luxembourg Airport's Baggage Assistance is your passport to convenience and peace of mind. Picture yourself strolling through the airport, unburdened by heavy luggage, as we handle the logistics. Your journey begins with ease, setting the stage for a memorable adventure. Choose Baggage Assistance at Luxembourg Airport and bid farewell to travel hassles.
Let Our Airport Porter Service Help You at Luxembourg Airport
Unlock a world of ease and comfort at Luxembourg Airport with our Airport Porter Service. We're here to handle your luggage and make your journey effortless, ensuring you can focus on enjoying every moment of your travels. Say goodbye to the weight of your bags and hello to a stress-free start to your adventure. Choose our Airport Porter Service and experience the difference at Luxembourg Airport. Friendly and experienced staff provide: 
Assistance at the baggage carousels  

Transportation of items to the Check-in desks 

Transportation of baggage to taxi and/or bus area, etc

Assistance to groups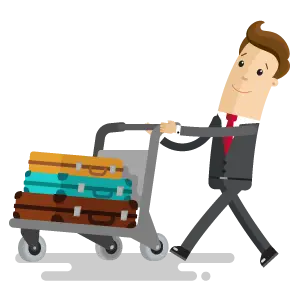 Why is it Important to Use airssist Airport Porter Assistance at Luxembourg Airport?
Elevate your Luxembourg Airport experience with airssist's Airport Porter Assistance. Our dedicated team is here to make your journey smoother and more convenient. With our expert assistance, you can navigate the airport hassle-free, saving time and effort. Choose airssist for added convenience and a stress-free start to your adventure.