Why is it important and beneficial to use airssist Porter Service at Los Angeles International airport in Los Angeles (LAX)?
An airport porter will assist in your luggage to make your airport passage more comfortable and stress free.
You don't need to wait beside the baggage belt as airssist porter will take care of this while you sit and relax at the airport.
What does an Airport Porter service include:
A dedicated airport porter can give personalized attention and service to fit your specific demands, delivering a comfortable and joyful travel experience.

A dedicated airport porter can help you with your luggage, which is especially useful if you have big or bulky products or several bags to transport. This can help you avoid strain or injury while also ensuring that your luggage reaches securely at your destination.

If you're on a tight schedule or need to catch a connecting flight, a specialized airport porter can assist you through check-in, security, and baggage claim, saving you a lot of time and aggravation.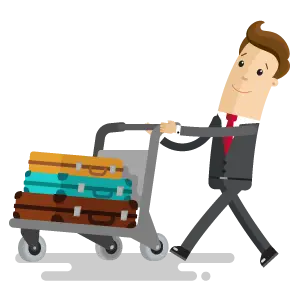 A specialized airport porter may offer expert advice and assistance throughout the travel process, from check-in to boarding, helping you feel more confident and secure.

If you don't speak the language, a personal airport porter can assist you in communicating with airport personnel, understanding essential announcements, and navigating the airport with ease.

By hiring a specialized airport porter, you may improve your total travel experience, making it unique and delightful from beginning to end.
An airport porter who is knowledgeable with the airport and nearby areas can provide useful information about transit alternatives, local customs, and tourist attractions. This is especially useful if you're traveling for the first time.

A specialized airport porter can assist you navigate the airport swiftly and efficiently, avoiding confusion and delays, especially if you're in a hurry or have a connecting flight to catch.

A specialized airport porter can assist with unique needs, such as mobility challenges or food restrictions, guaranteeing a comfortable and safe travel experience.
Overall, hiring a personal airport porter at Los Angeles International Airport can give a number of advantages that can make your trip more pleasant, convenient, and pleasurable. You may feel confident and relaxed as you traverse the airport and prepare for your flight with the help of an educated, courteous, and committed porter.