Why is it important and beneficial to use airssist Porter Service at London Gatwick airport in London (LGW)?
Passengers may easily navigate the airport with the help of the airport porter service, which also helps them with their bags. Typically, qualified professionals with distinguishable uniforms and badges work as airport porters.
Save valuable time and hassle at London Gatwick Airport by booking airssist Porter Service at LGW
Our professional airport porters can:
✓ Speed you through the airport and straight to your gate  
✓ Take the weight off your shoulders by handling all your luggage  
✓ Arrange priority screening and check-in to cut wait times  
✓ Provide personalized assistance based on your specific needs
✓ Offer a helping hand if you have limited mobility    
✓ Relieve the stress so you can focus on your trip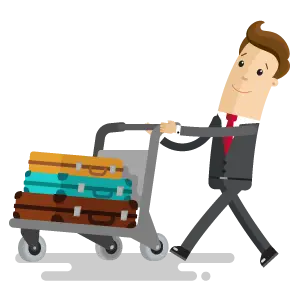 Whether you're a busy business traveler or need physical assistance, our airport porters can make your experience at LGW quicker, easier and far less stressful.
Don't go it alone – let our airport professionals take the hassle out of  your next trip through London Gatwick Airport.
Hire an airport porter today and travel through LGW with ease and peace of mind!