Baggage Assistance Service in Kotoka Airport
At Kotoka Airport, the Airport Porter Service is a testament to their commitment to passenger comfort. With a team of dedicated porters, you can expect efficient handling of your bags, whether you're arriving or departing. For travelers seeking an elevated level of assistance, airssist is also available, offering a range of premium airport services tailored to individual preferences. Kotoka Airport's dedication to providing a smooth and effortless travel experience sets it apart as a traveler's sanctuary.
Let Our Porter Service in Kotoka Airport Help You
Discover Excellence with Our Airport Porter Service in Kotoka Airport. We understand that travel can be hectic, which is why we offer a dedicated team of porters ready to lend a helping hand. Whether you're in need of assistance with your luggage upon arrival or departure, our porters are trained to provide top-notch service. Additionally, for a more personalized and premium experience, explore the options offered by airssist, our esteemed partner in airport services. Let us take care of the details, so you can focus on enjoying your journey through Kotoka Airport. Friendly and experienced staff provide: 
Assistance at the baggage carousels  

Transportation of items to the Check-in desks 

Transportation of baggage to taxi and/or bus area, etc

Assistance to groups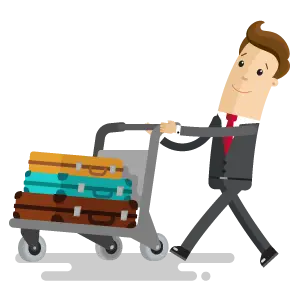 Why is it Important to Use airssist Airport Porter Service at Kotoka Airport?
Why settle for the ordinary when you can experience the extraordinary? Opt for airssist's Baggage Assistance at Kotoka Airport and transform your travel routine. Bid adieu to the tedium of lugging heavy bags and navigating baggage claim chaos. With airssist's seamless baggage handling, you'll be zipping through the airport, enjoying your journey from the moment you arrive. Kotoka Airport's enchanting landscapes and adventures are within your reach, let airssist make it all the more accessible and enjoyable.