Why is it important and beneficial to use airssist Porter Service at Indira Gandhi International airport in New Delhi (DEL)?
The porter service lets travelers get through the airport easily and assists them with their bags. The majority of the time, qualified professionals who can be identified by their uniforms and badges will come to you and escort you through airport procedures.
At Indira Gandhi International Airport (DEL), an airport porter service might be extremely useful. Here are some of the reasons:
Airport porters can help passengers negotiate crowds and handle their luggage, which is generally big and heavy.
Some passengers may need physical help when traveling through the airport. Airport porters can assist passengers in transferring between wheelchairs, walkers, automobiles, and check-in facilities.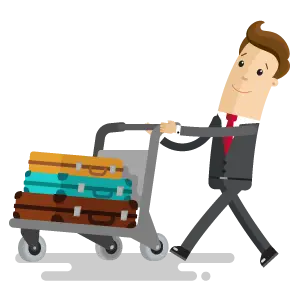 Priority for VIP passengers – VIP passengers and important business travelers appreciate the priority screening, check-in, and quick help that airport porters can provide at DEL airport.
Airport porters give a personalized experience by picking up guests and directing them directly to their destination based on their specific needs.
Trained airport porters are familiar with DEL airport and are familiar with local customs and regulations. They have a professional, calming appearance and provide excellent service.
While airport porter rates vary, they are an acceptable expenditure for many travelers transiting through DEL for the value they deliver in ease, time savings, and stress reduction.
In conclusion, because of the airport's large size and complexity, heavy passenger numbers, need for mobility help, and the value airport porters provide at a fair cost, an airport porter service can be very worthwhile at Indira Gandhi International Airport. Porters may considerably improve the airport experience at DEL by providing customized attention and priority where necessary.