Sail Smoothly through Your Hurghada Airport Adventure with Top-tier Baggage Assistance.
At Hurghada Airport, embark on a journey like no other, where you can sail smoothly through your adventure with the finest in baggage assistance. With airssist's expertise, your travel experience transforms into a seamless and stress-free voyage. Let us redefine your journey at Hurghada Airport, making every moment a delightful memory to cherish.
Unlock the Charm of Effortless Travel with a Hurghada Airport's airssist Baggage Assistance
At Hurghada Airport, experience the captivating charm of effortless travel with airssist's specialized baggage assistance. Our dedicated team ensures that your journey is a seamless and stress-free adventure from start to finish. Let us redefine your travel experience at Hurghada Airport, turning every moment into a cherished memory. Our friendly and experienced staff provide: 
Assistance at the baggage carousels  

Transportation of items to the Check-in desks 

Transportation of baggage to taxi or bus area, etc

Assistance to groups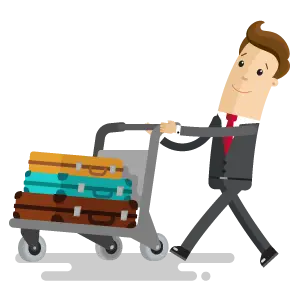 Why is it Important to Use airssist Airport Porter at Hurghada Airport?
We believe in the magic of travel, where every moment should be memorable. Our dedicated team at Hurghada Airport is not just about baggage assistance; we're your guardians of extraordinary adventures. With us, your journey is a tapestry of ease, where every thread is woven with care and precision.