Why is it important and beneficial to use airssist Porter Service at London Heathrow airport in London (LHR)?
Airport porters at London Heathrow Airport provide vital services to business travelers and other passengers. It makes your airport passage easier and comfortable.
What can airssist Porter do at London Airport?
Businessmen frequently travel with a large amount of luggage, including laptop bags, carry-on suitcases, and sometimes even garment bags. An airport porter can help the businessman collect and convey all of his luggage at the airport, saving him the trouble of dragging multiple pieces.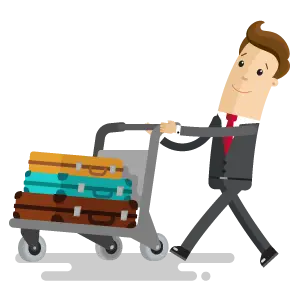 An airport porter can direct the businessman to his gate, check-in desk, or meeting location.
Because some airport porters have ties with airport personnel, they can assist business travelers with priority security screening and check-in, thereby expediting the procedure.
Prior to the businessman's arrival, an airport porter can be dispatched to arrange for a meeting person or vehicle to greet him.
In conclusion, an airport porter at LHR delivers significant time-saving, hassle-reducing, and personalized services that can help relieve some of the stress for busy businesses passing through one of the world's busiest airports.
Passengers with mobility challenges or who require assistance with large or bulky bags may find airport porter service at London Heathrow Airport very advantageous. The airport porter service can save time and bother by ensuring that passengers navigate the airport with ease and arrive safely and comfortably at their destination.