Leipzig/Halle Airport Porter Service for Smart Travel
Experience travel at its smartest with Leipzig/Halle Airport's Porter Service. Just as cutting-edge technology makes life easier, our dedicated team ensures your journey is hassle-free. Trust us with your luggage, freeing you to navigate the airport with ease. And for those seeking an extra layer of convenience and luxury, explore the premium services offered by airssist. At Leipzig/Halle Airport, we redefine the travel experience, making every moment a smart choice for today's discerning travelers.
Let Our Airport Porter Help You at Leipzig/Halle Airport
Let our dedicated Airport Porter be your trusted ally at Leipzig/Halle Airport. Say goodbye to the burden of your luggage as our skilled team takes care of the heavy lifting. Whether you're arriving or departing, our mission is to simplify your airport experience, allowing you to relish every aspect of your journey. Discover the convenience and comfort that come with our service, and let us elevate your time at Leipzig/Halle Airport. Friendly and experienced staff provide: 
Assistance at the baggage carousels  

Transportation of items to the Check-in desks 

Transportation of baggage to taxi and/or bus area, etc

Assistance to groups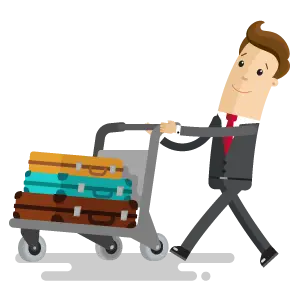 Why is it Important to Use airssist Airport Porter Assistance at Leipzig/Halle Airport?
When you opt for airssist, you're not merely selecting a service; you're embarking on an exclusive voyage. Our devoted team takes on the responsibility of your luggage, ensuring that your airport journey is seamless and stress-free. Whether you're a seasoned explorer or stepping onto a plane for the first time, airssist is devoted to making your time at Leipzig/Halle Airport extraordinary. It's an opportunity to redefine the art of travel, elevate your journey, and immerse yourself in a world of unparalleled convenience and comfort, making every traveler feel like a VIP.