Baggage Assistance at Ezhou Huahu Airport
Discover a world of ease and convenience at Ezhou Huahu Airport with the assistance of airssist's Baggage Assistance. Our dedicated team ensures your journey through the airport is effortless, taking care of your luggage so you can focus on your travel experience. Say goodbye to the hassles of handling bags and queues, and let us make your time at Ezhou Huahu Airport truly enjoyable. Choose Baggage Assistance with airssist for a smoother and more relaxed journey.
Let Our Airport Porter Service Help You at Ezhou Huahu Airport
Ezhou Huahu Airport warmly invites you to experience the personalized care of our Airport Porter Service. We're more than just luggage handlers; we're your partners in crafting a seamless and enjoyable journey. Bid farewell to travel hassles and embrace an adventure marked by tailored assistance. Choose our Airport Porter Service and let Ezhou Huahu Airport set the stage for a remarkable travel experience. Friendly and experienced staff provide: 
Assistance at the baggage carousels  

Transportation of items to the Check-in desks 

Transportation of baggage to taxi and/or bus area, etc

Assistance to groups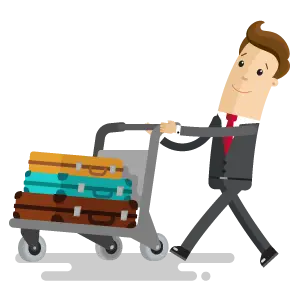 Why is it Important to Use airssist Airport Porter Assistance at Ezhou Huahu Airport
Elevate your Ezhou Huahu Airport experience with airssist's Airport Porter Assistance. We're here to ensure a smoother, more convenient journey, expertly handling your luggage and making your airport experience stress-free. Opt for airssist and enjoy added convenience as you embark on your adventure with ease.