Why is it important and beneficial to use airssist Porter Service at Chhatrapati Shivaji International airport in Mumbai (BOM)?
Airport porter services at Mumbai's Chhatrapati Shivaji International Airport (BOM) provide several efficiency and benefits for time-sensitive businessmen, and tourists, to avoid waiting on long queues and wasting tie at the baggage belt.
airssist Porter Service at Chhatrapati Shivaji International airport in Mumbai BOM
Porter services collect and convey bags while navigating baggage claim, customs, and check-in.
Through established contacts with airport employees, some porters have faster security screening, check-in, and boarding privileges.
Porters give full guidance from arrival to departure gate, plane, or meeting place, saving businessmen time spent navigating on their own.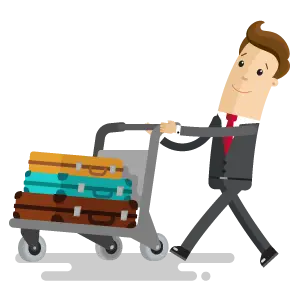 Porters adjust their services and lodgings to each traveler's special needs.
Porters help passengers transition between modes of transportation, check-in facilities, and boarding zones, allowing them to properly navigate BOM's frenetic environment.
Knowing that a skilled porter is handling luggage and logistics throughout a business trip via BOM lets executives to concentrate on more productive duties.
Though rates vary per porter service, the time savings, reduced hassles, and specialized help provided often represent a worthwhile investment for efficient businessmen considering Mumbai's airport's difficult character.
To summarize, airport porter services at Mumbai's BOM provide several productivity-boosting perks such as baggage handling, navigation aid, priority where needed, and individualized housing – usually for fair costs commensurate with the actual efficiency obtained.