Embrace convenience as You Enter Cape Town Airport with an Expert Airport Porter Service.
Embrace convenience and ease as you step into Cape Town Airport with airssist's expert Airport Porter Service. Our dedicated team ensures a seamless journey by handling your luggage with care, allowing you to focus on enjoying your travel experience to the fullest.
Arrive and Leave with Outstanding Baggage Assistance at Cape Town Airport
Arrive and depart with unparalleled convenience at Cape Town Airport, courtesy of our outstanding Baggage Assistance service. We handle your luggage with precision, ensuring your journey is hassle-free from start to finish. Friendly and experienced staff provide: 
Assistance at the baggage carousels  

Transportation of items to the Check-in desks 

Transportation of baggage to taxi or bus area, etc

Assistance to groups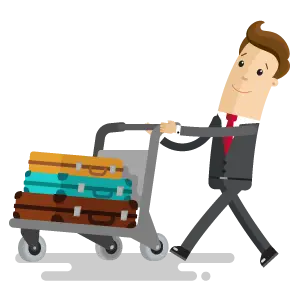 Why is it Important to Use airssist Airport Porter at Cape Town Airport?
Choosing airssist's Airport Porter service at Cape Town Airport is the key to unlocking a travel experience that transcends the ordinary. We're more than just luggage handlers; we're your partners in making every moment of your journey memorable. With our expert assistance, your arrival and departure become seamless, allowing you to immerse yourself in the beauty of Cape Town without the burdens of logistics.