Airport Porter Service at Brussels Airport BRU
At Brussels Airport, we believe that every journey should begin with a touch of luxury and convenience. That's where our Airport Porter Service steps in, ready to assist you with your luggage and make your travel experience smoother. Just like having a friendly guide in a new city, our team is here to help you navigate the airport effortlessly.
And if you're looking to take your airport experience up a notch, consider exploring the premium services offered by airssist
Let Our Baggage Assistance Help You at Brussels Airport BRU
Whether you're a frequent flyer or a first-time traveler, we've got your back. Let us simplify your airport journey and welcome you to Brussels with a warm smile. Your adventure starts here, where every traveler is a valued guest. Let Our Baggage Assistance Help You at Brussels Airport. Traveling can be stressful, but we're here to make it easier. Our dedicated team is ready to take care of your luggage, so you can focus on enjoying your journey. Whether you're arriving or departing, trust us to provide a seamless and hassle-free experience. Let's make your time at Brussels Airport as smooth as possible. Friendly and experienced staff provide:(LONG) 
Assistance at the baggage carousels  

Transportation of items to the Check-in desks 

Transportation of baggage to taxi and/or bus area, etc

Assistance to groups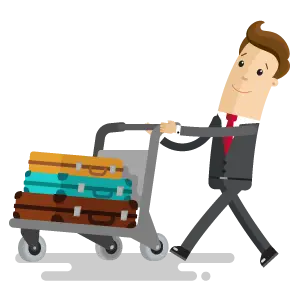 Why is it Important to Use airssist Airport Porter Assistance at Brussels Airport BRU?
With airssist, you're not just another traveler; you're a valued guest. Our dedicated team is here to handle your luggage with care and guide you through the airport with grace. Say goodbye to the burdens of heavy bags and the maze of airport logistics. By choosing airssist, you're choosing a journey where comfort, convenience, and an extra touch of luxury take center stage.