Glide Through Your Amílcar Cabral Airport Journey with Exceptional Baggage Assistance
At Amílcar Cabral Airport, we're turning the ordinary into the extraordinary. Picture gliding through your journey with the grace of a seasoned traveler, thanks to our seamless baggage assistance. We're not just your companions; we're your travel wizards, your co-pilots in the sky. Trust the magic of airssist at Amílcar Cabral Airport, where each moment of your voyage is a story waiting to be told.
Baggage Assistance Meets Travel Magic at Amílcar Cabral Airport
Amílcar Cabral Airport is where the world of baggage assistance meets travel magic. With our dedicated team, your journey transforms into a seamless, stress-free adventure. From handling your luggage with care to guiding you through the airport, we're here to ensure your experience at Amílcar Cabral is pure travel enchantment. Come, and experience the magic with us. Our friendly and experienced staff provide: 
Assistance at the baggage carousels  

Transportation of items to the Check-in desks 

Transportation of baggage to taxi or bus area, etc

Assistance to groups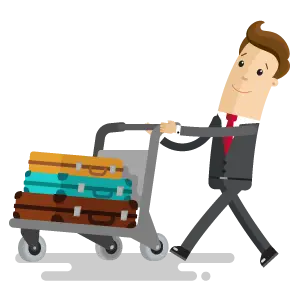 Why is it Important to Use airssist Airport Porter at Amílcar Cabral Airport SID?
Why is selecting airssist Airport Porter at Amílcar Cabral Airport (SID) such a crucial decision? We believe that travel should be a symphony of seamless moments, where every note plays harmoniously. Our dedicated team is the conductor, ensuring that from the first step through the terminal to the final wave goodbye, your journey is orchestrated to perfection. Ready to turn travel into a captivating melody? Let airssist be your composer at Amílcar Cabral Airport.