A hotel concierge main duty is to see the requirements of hotel guests, including making bookings for meals and entertainment. However, today's concierges go far beyond that standard. A dependable hotel concierge is frequently on hand to guarantee that hotel guests have a pleasurable stay by assisting with a long list of requests from the hotel concierge desk, which is typically in a hotel lobby.
What is a Hotel Concierge?
It's likely that if you've ever stayed in a hotel, you've seen a professional helping guests in the lobby or next to the front desk. A hotel concierge performs a variety of duties in the hospitality sector and is an essential component of the hotel experience. It's crucial to comprehend the duties of a concierge whether you already have one on staff or are thinking about hiring one.
What is a Concierge?
A concierge is a specialized customer service agent who works in the hospitality sector. They are also known as guest relations managers or residential concierges. They are there to ensure that guests or customers have a good time and can access any resources or services they might require. They mostly work in hotels or upscale apartment buildings, though occasionally they are also employed by upscale office buildings.
Why Is Concierge Important in A Hotel?
The hotel's concierge services are another important source of revenue because they play a role in controlling the flow of business and can help direct customers to the hotel's business partners. Concierge services are also an effective source of word-of-mouth promotion and a marketing opportunity.
A concierge is essentially a guest's personal assistant, local expert, problem solver, and event planner. For a hotel, a Concierge is its best spokesperson, adds to its prestige, and enhances its ability to offer personalized service.
What Does a Hotel Concierge Do?
To keep hotel guests satisfied, a concierge oversees fulfilling several personalized chores and services. They serve as the company's public face and a trusted resource for visitors.
Because of this, it's expected of a concierge to connect with clients in a warm and personable way and have outstanding communication and customer service abilities.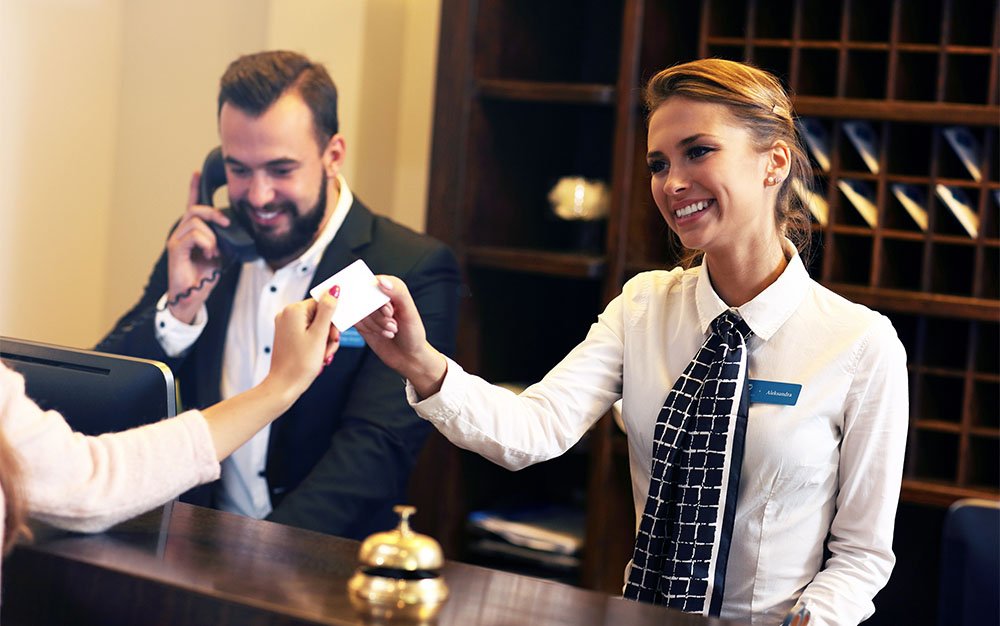 The duties a concierge might perform on a regular basis vary depending on the building in which they work, however some examples include:
Welcome Both New and Returning Visitors
Dealing With Complaints
Taking Care of Mail, Luggage, Deliveries, Or Visitor Messages
Arranging And Coordinating Guest Transportation as Needed
Providing Details About Nearby Restaurants, Sights, And Events
Arranging Reservations for Dinner
Taking Care of Requests for Cleaning and Maintenance
Establishing And Growing a Network of Relationships in The Neighborhood
8 Things a Hotel Concierge Can Do for You
1.      Promote Your Loyalty Program
The concierge can be a great ambassador for your hotel's loyalty program because customers frequently ask about discounts and benefits.
2.      Arrange A Room Upgrade
Not only do concierges know the area well, but they also have a wealth of knowledge about the hotel. Want the farthest room from the elevator or one with a view of a famous location? The hotel can generate some extra revenue while the guests can get the room of their dreams.
3.      Share Tips On Avoiding Traffic
Google Maps can only tell you so much; a concierge can suggest alternative routes, public transportation, or ridesharing because they are aware of the busiest periods on the road from personal experience.
4.      Get You A Ride During Peak Hours
The concierge can call up a car for you at a lower price when Uber, Lyft, or the local ride-sharing service is experiencing price spikes. They have contacts available and ready to pick up people at any time.
5.      Run Your Business
If you're in town for a conference or business meeting, you might need to locate a printing facility or locate a venue to have event signs created. A concierge can assist you with finding a printer, signing for goods, courier service, and more.
6.      Help Avoid queues
The concierge service is knowledgeable on the area's top attractions as well as some tips for skipping ticket and entrance lineups. They can direct you to the appropriate websites where you can purchase tickets in advance or print your ticket for you so you can expedite your site-seeing.
7.      Coordinate A Business Retreat
If you're hosting a retreat with attendees arriving from all over, a concierge can be standing by to greet people as they arrive, provide the schedule, and hand out gift bags to kick things off.
8.      Get You A Table At A Restaurant
Obviously, a concierge can make a reservation for you when given enough time. But sometimes, a concierge may also move your name up the waiting list.
Why Is Airport Concierge Important For Hotel Clients
Hotel concierge managers in international hotels partner with airssist to cover all airport concierge requests for their clients. airssist is an Award-winning & Top-rated Airport Concierge Services partner for Top Companies around the world. We served Business executives Teams of BBC news, Netflix, Volkswagen, NATO, CBC, Lufthansa, Quintessentially, Adidas, American Express and more.
What Do We Offer?
You team will surely have a one-of-a-kind experience with airsisst and learn about one of the best VIP airport high-end concierge services ever. Because we care about our client's comfort and happiness during their travel from A to Z.
Meet And Greet Service
Business travelers can take advantage of fast-track service to skip long queues and pass through empty special lanes for check-in, immigration, security, and airport greeter service in order to avoid the inconveniences of difficult airport formalities.
Airport lounges where you may unwind instead of waiting in airports queue, buggy transportation services that save you time and effort at busy airports, and porter assistance for carrying your bulky luggage are all available.
Book Meet & Greet service for your arrivals, departures, and transit flights
VIP Terminal Service
Private lounge service, also known as VIP lounge service, offers travelers the best amenities to ensure that their privacy is maintained in a private lounge away from crowds. The VIP airport service offers a wide range of premium amenities to make the passenger feel at home.
Book VIP Terminal service for your arrivals, departures, and transit flights
Limo Transportation
With the help of airssist Chauffeur & Limousine service, travel the globe in the safest,  most luxurious, and most practical vehicles. We're here to make sure you reach your destination in luxury and style, whether you need transportation from/to, for a full-day transfer or an interstate transfer. The most well-known limousine service, airssist, has the largest and most up-to-date fleet of limos, SUVs, and vans.
Book Chauffeur & Limousine Service From/to Airport or Full-Day, And Inner-City Transfer