Nowadays business travel shows no sign of slowing down as the world opens to a new era of travel. Even in this world of instant communication and social media, business travel is as necessary and advantageous as ever where Global Business Travel Association recently announced a surge in business travel demand.
Business Travelers are hitting the road for meetings and conferences and sales presentations, etc. Therefore, Business travelers are looking for service providers who can value add to their offerings with additional amenities, drinks, extra legroom, and other inclusions and services.
Why Do Businessmen Travel So Much?
Businessmen usually travel to a different location for meeting suppliers or business partners , attending business meeting, conferences, Trade shows, exhibitions, investment, opening new offices and branches for their company and much more. Clearly, companies still see value in business travel. One of the main reasons why business travel is important is the personal interaction that builds good foundations for a future or existing relationship. This can also reduce miscommunication and encourage almost a sense of unity. As the concept of travel looks to be a reliable tool that helps you to streamline your business operations at a higher level.
Travelling makes business managers or owners establish many new connections. More importantly, it provides you with an opportunity to meet different kinds of people such as investors, freelancers, suppliers, and so on. Interestingly, you can also meet many potential customers who can create a great impact on your business.
airssist offers high quality services for business travelers , which save their time and make their business trip easier and more enjoyable such as; Meet and Greet, Fast Track, VIP Terminal, Airport Transfer, Executive Security, Airport Assistance and VIP Services
Top 6 Business Travel Trends 2024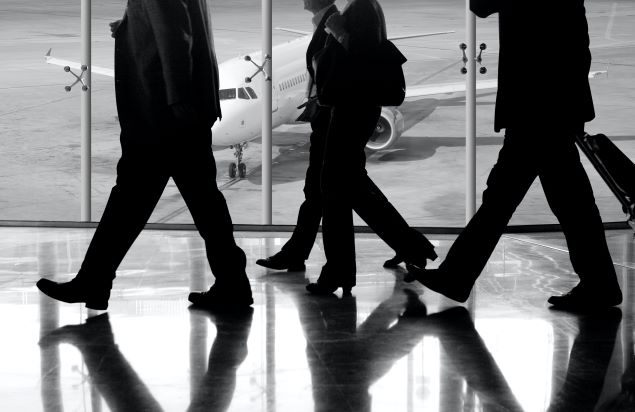 Reviving Interest in Business Travel
When more and more businesses start holding in-person meetings and events again in 2024, business travel will likely be back to pre-pandemic levels. Spending on business travel will hit $1.4 trillion in 2024 and over $1.8 trillion by 2027, as predicted in the Business Travel Index Outlook study by GBTA.
The sector has begun to stabilize in 2023, propelled mostly by the return of international business travel and the revival of in-person meetings and events. We anticipate that this momentum will keep on growing at a strong pace into 2024.
The Growth of Bleisure: Combining Work and Play Vacations
The tastes of today's business travelers are evolving as they look for ways to mix work and pleasure, including staying for an extra weekend.
The trend toward a younger workforce is mainly caused by changes in demographics. A new generation of workers is changing the nature of business travel by looking for ways to mix work and play.
Traveling professionals can take advantage of flexible travel schedules and relax thanks to this "bleisure travel" trend. The good news for hotels is that customers are reserving accommodations for longer duration than their events really last.
Sustainability is Receiving More Attention
Sustainable travel options, such as flying carbon offset or staying in Eco-friendly hotel room amenities, are becoming more appealing to organizations and business travelers who are concerned about their environmental impact.
Some current tendencies in Eco-friendly corporate travel are:
Eco-friendly lodgings
Green modes of transportation
Electronic travel
New policies for Eco-friendly vacations
Sustainability reporting for business travel
Greater Application of Technology
In the future, technology will be an integral component of business travel, influencing the complete process of organizing meetings and events.
Platforms for sourcing venues will enable event organizers to locate and compare locations in accordance with their requirements, eliminating the need for site visits for each alternative. The utilization of virtual reality and augmented reality (VR/AR) for virtual site visits and training programs is anticipated to increase in business travel by 2024.
Platforms for corporate travel management will facilitate traveler monitoring, optimize reservations, and provide complete visibility into business travel expenditures. In addition, end-to-end corporate travel technology will be heavily utilized by organizations to manage logistics, obtain insights, ensure duty of care, and control costs.
New business travel solutions will be powered by AI and machine learning and will be capable of analyzing data to suggest hotels, forecast flight delays, and more.
Innovative solutions will remain at the forefront of the business travel sector as it continues to become more dependent on technology for venue sourcing, travel management, trip planning, expense reporting, and more.
Secondary Market Expansion
Expansion into developing economies, particularly in sub-Saharan Africa and Asia, will be a big theme in business travel in 2024.
An estimated 2,997.2 billion USD would change hands in the worldwide business travel market by 2030, up from $711.1B in 2021, a CAGR of 13.3%. A major factor fueling this expansion will be the quick penetration of developing countries in Africa and Asia.
A growing number of Asian nations, including India and Indonesia, are becoming popular destinations for business travelers. Alternative lodgings, such as vacation rentals, are experiencing explosive expansion to accommodate business visitors, and business travel agencies are increasing their presence in these areas to meet the demand.
To reach customers in these untapped areas, businesses will have to change the way they plan trips and work with their suppliers.
Connectivity and Personalization Are Needed by Business Travelers
Both vacationers and event organizers have come to anticipate individualized service from technological platforms. Guests in today's tech-savvy world are looking for cutting-edge, hassle-free digital solutions to personalize their vacations and make the most of their time away.
The booking procedure is where it all begins. A recent survey found that eighty percent of vacationers consider booking their entire trip online to be extremely important. So, it's important for hotels to let customers simply browse and filter the services and amenities they may expect when they arrive.
Travel apps that make things easier are appreciated by 76% of travelers worldwide. The seamless integration of personal devices with on-property technology, such as Wi-Fi and streaming apps, is emphasized by an additional 80% of respondents.
Mobile technology that people use every day, such as the ability to pay with a tap of a credit card or a smartwatch, are what tourists desire, beyond just communicating. The personalized experience and connectivity that visitors today expect can be achieved by utilizing their own devices and platforms.
Purposeful, ROI Trips Will Replace Unproductive Business Travel
A greater emphasis on return on investment (ROI) will characterize corporate travel in 2024. Traveling light with a briefcase is a thing of the past. Currently, the ROI and expected return on investment of each trip are meticulously assessed. Travel that directly impacts revenue, such as finalizing contracts or transactions, would be given more leeway for approval, whereas visits aimed at fostering relationships will be subject to additional scrutiny.
Travel is now less pleasant than in the past due to workforce shortages and supply chain concerns. There has also been an uptick in the frequency of flight delays. This complicates matters for travelers and could ruin their meeting encounters.
Staffing shortages can have a major influence on the guest experience, especially at hotels. Despite criticism from within the sector, hotels in 2024 will prioritize empathy training and service in order to provide guests with unforgettable stays.
Brands that care about their customers and the reasons they travel will breathe fresh vitality into business travel. Return on investment (ROI) and "Return on Experience" (ROTE) will dictate how businesses handle employee travel, with only worthwhile excursions approved.
7 Different Types of Business Travel Purposes
1- Event and conference travel
Many companies send their employees to corporate events and conferences. Conference attendees may attend seminars and workshops, as well as organized meals or networking sessions. These events are meant to offer professional learning and development, while facilitating networking with peers, potential clients, and service providers.
2- Company retreats
Some companies choose to hold retreats annually or multiple times per year. Corporate retreats help teams grow stronger and build company culture through shared activities. They can also provide remote teams with some much-needed "face time" — this is especially important for remote-first businesses, some of which don't have any offices at all.
3- Internal meetings and visiting offices
For national and multinational companies with multiple offices, business travel is a key way to ensure the entire organization is aligned. Employees and leadership may need to travel to other offices to discuss specific projects and business strategy. They may also visit other offices to build a more integrated organizational culture.
4- Trade fairs
Trade fairs, also known as trade shows or trade exhibitions, are a key sales channel in certain industries. Trade fairs give companies the opportunity to present their products or services to interested buyers. They can be a valuable tool for direct sales, brand awareness, and building customer relationships.
Employees of both business-to-business (B2B) and business-to-consumer (B2C) companies may travel to exhibit at trade shows. B2B trade shows are focused more on relationship-building, while B2C trade shows are geared towards direct sales.
5- Client meetings
Employees or executives may need to travel to meet clients or prospects. In some countries, such as Japan, face-to-face meetings and informal gatherings are an important part of the local business culture, so business travel is essential in order to maintain strong client relationships.
6- Bleisure travel
Bleisure travel is very popular where Bleisure travelers extend their business trips to leave time for sightseeing and relaxation. Since business trips often involve visiting interesting new cities or countries, it's understandable that many travelers are eager to make the most of their travel experience and see a bit of the world.This hybrid travel style can be beneficial to both employers and employees. By allowing bleisure travel, businesses can encourage employees to volunteer for business trips more often. In addition, travelers may benefit from the relaxing break, arriving back at the office refreshed and recharged.
7- Transfers and offshore work
While a typical business trip lasts only a few days or weeks, long-term transfers are a much more significant commitment. Employees sometimes need to relocate to a different city or country for a certain period of time. They may be required to work on a specific project, set up a new function or business process, or otherwise transfer knowledge from one location to another.
Transfers are often more challenging than short-term business travel, especially when they involve moving to another country. In this case, businesses may need to handle visas and taxation paperwork. They'll also need to support the transferred employee with issues like culture shock, finding housing, and setting up their lives in the new location.
airssist offers range of unique services for business travelers in more over 700 airports around the world, such as Airport Lounges service which are often filled with complimentary amenities such as premium food and snacks, fully stocked bars, modern shower facilities, fast Wi-Fi, plentiful power outlets, comfortable working areas and much more.
Business Travelers Needs:
Business travelers have specific needs that are different from those of leisure travelers. Here are some important considerations for business travelers:
1. Efficient Transportation: Business travelers need reliable and efficient modes of transportation to reach their destinations. This includes flights with convenient schedules, reliable ground transportation options such as taxis or car rentals, and access to public transportation if available.
2. Business-Friendly Accommodation: Business travelers require accommodations that offer a comfortable working environment. This includes amenities like high-speed internet access, a well-equipped workspace, and access to business centers or meeting rooms.
3. Connectivity: Business travelers need to stay connected while on the road. Access to reliable and fast internet connectivity is crucial for communication, accessing online resources, and conducting business-related tasks.
4. Convenient Location: Proximity to business centers, conference venues, and client offices is important for business travelers. Being located in or near commercial districts or business hubs can save valuable time and make it easier to attend meetings and events.
5. Security: Business travelers often carry important documents, electronic devices, and sensitive information. They require hotels or accommodations that provide adequate security measures, such as secure access to rooms, safes for storing valuables, and privacy features.
6. Business Services: Business travelers may need access to additional services such as photocopying, printing, faxing, courier services, and secretarial support. Hotels with business centers or concierge services can cater to these needs.
7. Fitness and Wellness Facilities: Maintaining a healthy lifestyle while traveling is crucial for business travelers. Hotels with fitness centers, swimming pools, or access to nearby gyms can help them stay active and relieve stress.
8. Dining Options: Business travelers often have time constraints and may need quick and convenient dining options. Hotels with on-site restaurants, room service, or nearby dining establishments can provide the necessary convenience.
9. Loyalty Programs: Many business travelers participate in loyalty programs offered by airlines, hotels, and car rental companies. These programs can provide benefits such as priority check-in, upgrades, and access to exclusive lounges.
10. Travel Support: Business travelers may require assistance with travel arrangements, itinerary changes, or other logistical needs. Access to a dedicated travel desk or concierge service can be invaluable in managing these aspects of their trip.
It's worth noting that the specific needs of business travelers can vary depending on their industry, the purpose of their trip, and personal preferences. Therefore, it's important for business travelers to communicate their requirements to travel agents or accommodation providers to ensure their needs are met.​
With airssist we ensure business travelers a relaxed business travel experience .
Frequency of Business Trips
Business Traveler travels nine times a year on average as business trip frequency is between one and five times a year. Recently, Business trips are reported to last 6 days on average, with an average minimum of two and a maximum of 28 days.
The fact is, the younger members of the workforce aren't complaining about having to travel for work as Most of them consider business travel to be a perk of the job, and 65% of them see it as a status symbol.
Why Business Travel Industry Is Growing?
Business travel is growing, thanks to factors like globalisation and the availability of flights where Business travel is a division of regular tourism in which people travel for a business-oriented purpose. It includes transportation, accommodation, business work, entertainment, and other activities.
The business travel segment witnesses the highest growth rate in Global travel & tourism industry, as employees working in multinational organizations are often required ttravel across various countries for business purposes. In business tourism, destinations are commercial places, which are well-developed and suited for trade work.
Which Businesses Industry Travel the Most?
Business travel is a critical input to virtually every industry and business. And some industries use travel much more intensely than others.
The industry of Food Processing and Services is an enormous and fast-growing industry with a high level of business travel intensity that jumped up the Global BTI (Business Travel International) rankings this year and is now the largest business travel sector in the world with $112.1 Billion USD spent on business travel.
6 Business Travel Advantages
When you have a busy travel schedule, you never know who you might meet, what skills you might acquire or what new horizons await. Here are 6 great benefits of business Travel:
1- Enjoying everything in the new place:
For instance, if you're a history buff, it means limitless museums and historical sites and If you're a foodie, this means staking out the best restaurants, food carts and hole in the wall diners around the world.
2- Face to face meetings are more effective
Remote interactions are adequate but not as effective as when you meet in real life. Face to face meetings are essential for established long term business relationships. You can get more deals made and create longer lasting and stronger business relationships when you meet face-to-face, as fostering and maintaining relationships is a vital part of the process.
3- No routine burnout for you
If you get bored doing the same old thing every day, business travel can help keep things interesting. It's one way to make sure the daily grind isn't so "daily" after all where humans are creatures of habit but also prone to boredom. Traveling for business ensures that you'll never get stuck in the rut of daily routine.
4- Discover different ways of working
Travel is a fantastic tool for broadening your mind and expanding your knowledge. When you travel for business, you get the chance to experience new places, new cultures and different ways of working, all of which will help you build a more well-rounded world view. Interacting with and experiencing different cultures will also help to foster creativity, which you can then bring to your job. Research shows that business travel cultivated creativity and productivity, two traits which will help you get noticed at your job.
5- Build confidence
One of the most valuable benefits of travel is that it puts you out of your comfort zone and helps to build your confidence. As The commute to the office is automatic, our everyday tasks do not challenge us, but Business Travel plucks you out of that routine and challenges you to adapt to a whole new environment. Navigating a new city successfully, understanding and acknowledging cultural differences and successfully building a business relationship or closing a deal will give you a huge confidence boost and help you navigate unfamiliar and challenging situations in the future.
6- Time management
Business travel improves your time management skills in a great way. You cannot relax in your business travel as you have to follow your time schedules to meet your clients in your destination. An experienced traveller is considered to be a good planner in handling the available time. Remember the fact money lost can be recovered, but a time lost is lost forever.
airssist provides Business Travelers Meet and greet service in addition to Chauffeur & Limousine Service for business trip which include business travelers transportation from/to the airport , full-day transfer, or inter-city transfer for business travelers movement inside the city, Wide variety of luxury vehicles available for booking, Multi-lingual licensed drivers who are well acquainted with the requested city.